Optimize your SEO Onpage as the main factor for being in the top positions of Google
Reaching the top of Google is not easy. Although we know that if we succeed, our project will impact very positively.
When we talk about SEO we often come immediately to mind offpage SEO or analysis of what the competition is doing. While this is important, is the most important SEO Onpage. It really is the basis of SEO and be able to rank in the SERPS. If we have optimized our site properly, much time and effort you devote to SEO Offpage hardly get the site will rank in the top positions.
Onpage SEO is to make it easy for Google in relation to index the site to do it as quickly as possible. So important is the content as well optimize the site in general. In this way, we will provide that Google understands exactly what we want to position in search results and consider that our site is one of the best it can display.
How XOVI helps you to boost your SEO Onpage?
Well, with this Xovi SEO Tool we can make a wide monitoring Onpage optimization, both of our website, how specific items.
This tool is actually which offers more options and features when and analyze the SEO Onpage. For that alone we are going to explain the 2 most powerful, the rest of you can try the free full version.
Xovi Dashboard Analysis Overview
In this section, we can see in summary form the overall optimization of our website. At a glance we can see valuable information.
On the one hand, we can see the errors, warnings and tips to improve optimization. And secondly, the total level and optimization needs to detail. With this information, we will not miss anything.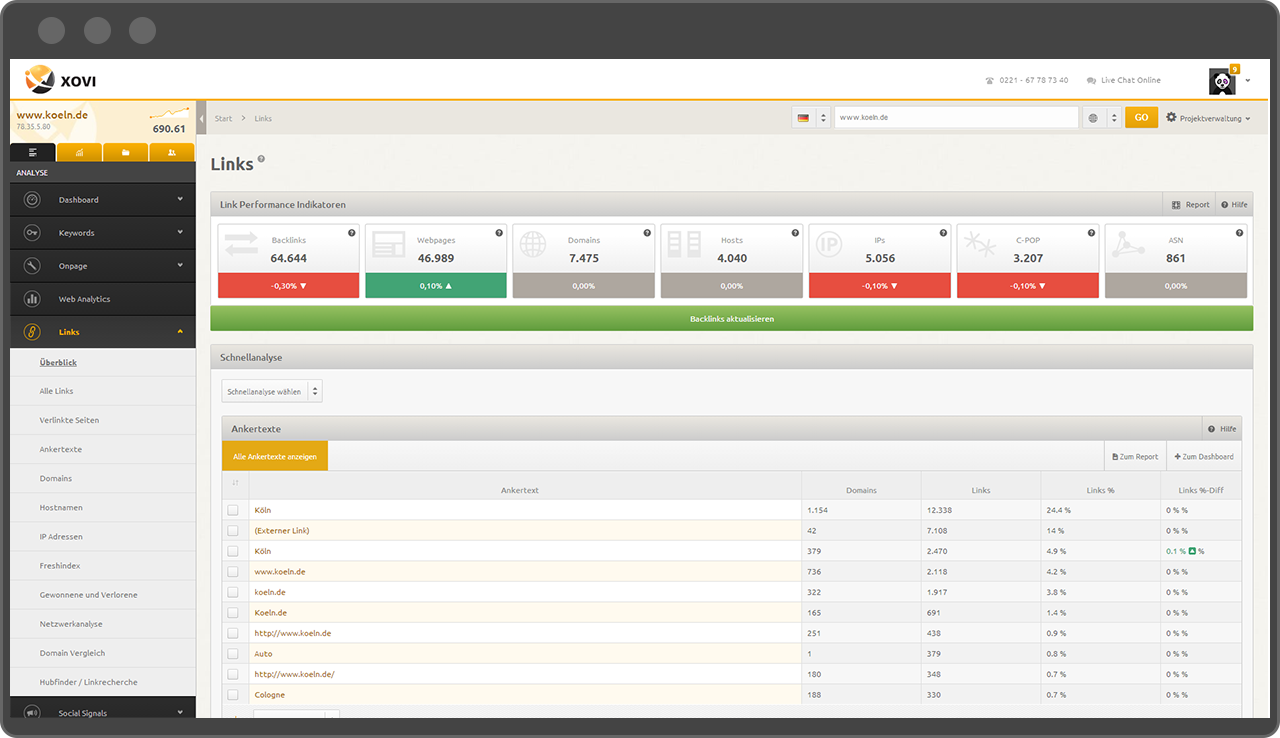 Thus, with a glance and a few clicks you can know in detail of links where every one of the errors and dangers of your Onpage optimization. As well as tips to improve it.
On the other hand, in the keywords section we can also see a summary by Positions, Top 10 Rankings etc.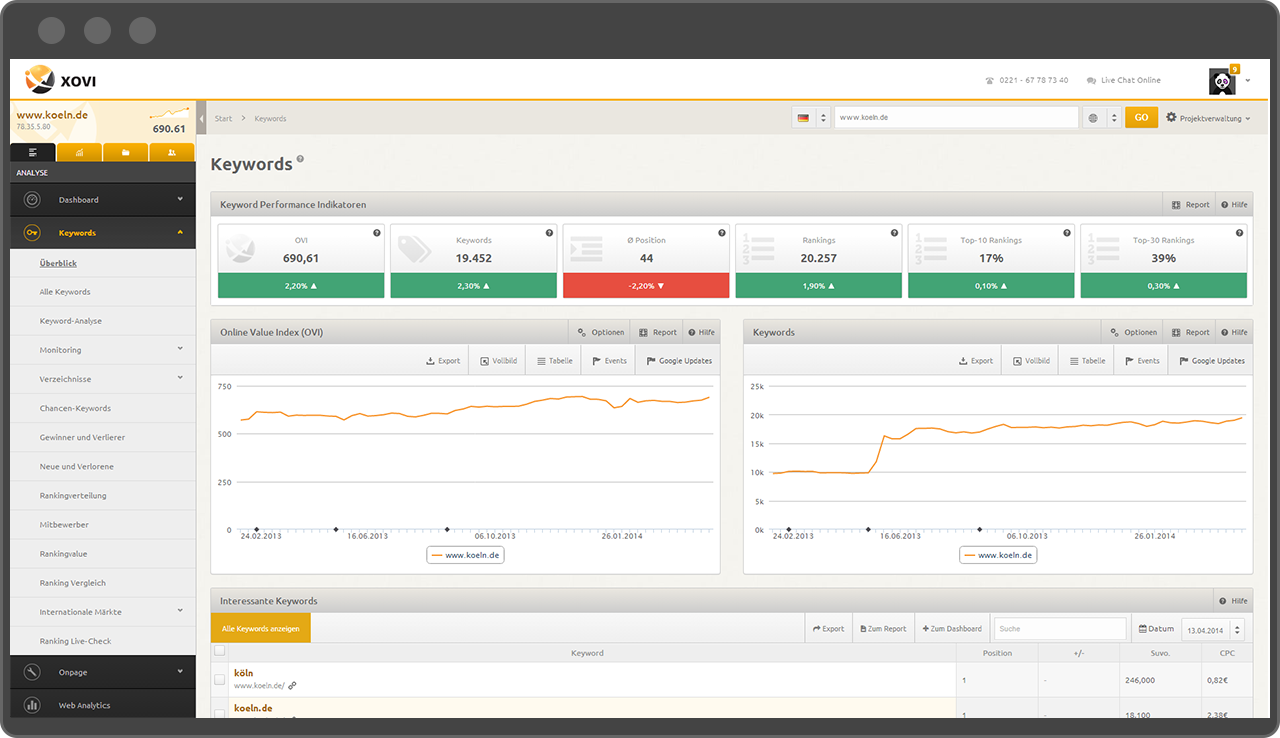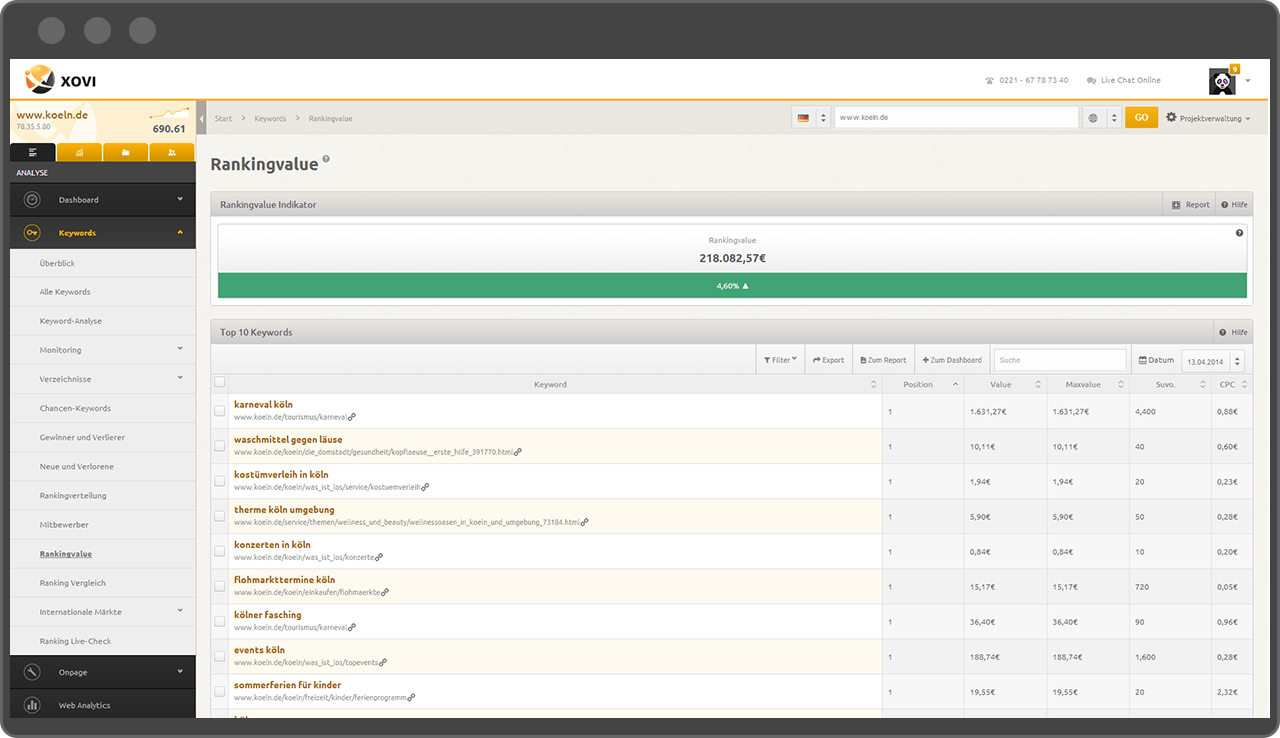 Most striking is the level of detail that can be achieved, if we are entering filtering and URL's concrete, gives us all the unimaginable information about the specific article.
You can see the errors, warnings and tips specific URL.
The description of the content that contains the URL.
The links both external and internal URL.
A summary of the titles that have the item H1, H2, H3 …
If there is duplicate content.
The complete meta description.
It is containing images and all information about them.
The remaining sections of Onpage SEO analysis of XOVI will analyzing further information on the general report. I strongly recommend that you yourselves shall ascertain the totally free trial version by sending an email to support@xovi.com recommend. So you can know exactly what you or I speak.
SEO Onpage of XOVI analysis we can analyze both the website at a general level, how to get reeled to enter specific URL's. Well, incredibly there's more.
XOVI has an option to compare your content with your direct competitors and gives you the result with what level should improve text to get beat your competitor.
In this article we have shown you only a minimum of what Onpage Optimization functionality of XOVI can do for our projects. If you want to find out more and discuss your project today, you just have to send an email. I hope you serve and you can take full advantage.