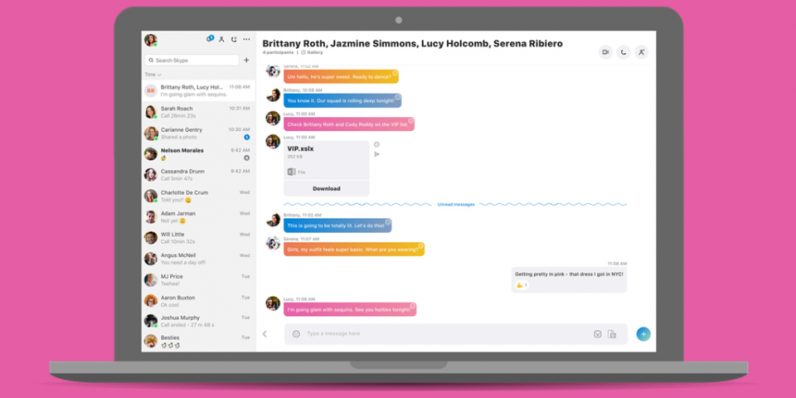 The Skype messaging application is not exactly the most popular among mobile phone users, considering above all the important weight that WhatsApp, Telegram and other similar messaging applications maintain.
In the desktop platform obviously things are somewhat different and therefore Microsoft takes the opportunity to make some adjustments each time you update the service.
News in Skype for PC 
After that in August of this same year a preview of the new interface design for the Skype application for computer was known, Microsoft is ready to introduce it as an update in the different platforms that include Windows, Linux and Mac.
Related articles: Whatsapp And Snapchat Add New Features To Their Services

The new design of Skype for PC, maintains the design line used in the Skype application on mobile devices. Of course, the redesign of the interface and the way in which the different tools can now be accessed means a better user experience for those who use this application.
Skype for PC is updated with new design
Click To Tweet
Now, if you use Skype frequently for voice and video calls, you can also benefit from some changes that have been made and are very useful, such as:
A new notification panel so that all users can scan and check their notifications at all times.
A gallery of chat media has also been added to locate all the photos, as well as files and links that have been shared with other users in one place.
Now Skype also supports as add-ons so that users can, for example, send moving GIF images, even schedule events with contacts in a single site.
Also in this new version of Skype for desktop you can exchange images and reactions during the morning.
Likewise, the @mention users capacity has been added so that it is possible to draw attention in the different chat groups.
Along with the above, Skype for PC now also includes a night mode that is much easier for the user's eyesight when using the application at night.
Related articles: The high value of Gaming PCs and how to prevent their theft

Finally, it is worth mentioning that Microsoft has added a new feature Stories that surely many users might be interested. The updated version of Skype will be reaching Windows 10 automatically, however for users who use Linux, they must activate automatic updates or download the latest version from the official website.