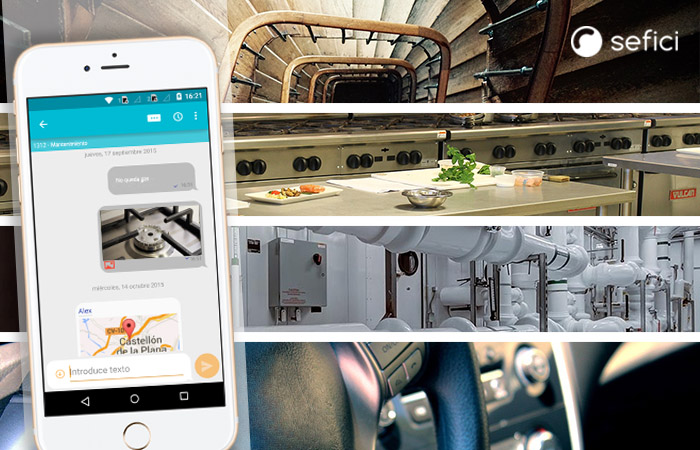 Sefici is an application designed to streamline the management of incidents that usually occur in any company.
In this article you'll know the type of projects that can be created and some of the many uses that can give Sefici.
But remember, the first thing you should do before you begin is register and create your project through the website of the App. This done, download Sefici, enter your key and begins to report incidents from the App.
Create these 3 types of projects Sefici to the needs of your company
Each project has specific needs for access and visibility. Therefore Sefici has developed different levels of authority and public visibility to users. Sizes Choose the one that best suits your needs!
Authorized public project
Such projects are visible to all users but need explicit permissions administrator to access them. That is, they have a wide visibility but restricted access by authorization.
Let's set an example!
Such projects can be very practical for companies in the insurance sector. Since only customers have access.
Through the geolocation any client who has suffered a mishap in your vehicle can send the location of that time so that it can activate the assistance service in the most efficient manner possible. But not only that, but Sefici can also help in managing the incident through the App processed the accident reports and including photos.
Related articles: 4 Best Applications For Download Free Music On Android
Open public project
If you create a project of this type will be visible and accessible to all users. That is, these projects are entirely public. Normally usually they created for public entities such as municipalities can be.
Let's set an example!
Who better knows a city or town are its inhabitants and these are the most interested in the preservation of this / e. Why not give them a more active role ?. With Sefici everyone will give some of the damage it finds on your day to day and to inform the services of your local council.
Private project
Such projects have the characteristic that they are completely closed. If you create a private project with Sefici only they have access to the users involved in.
Let's set an example!
Such projects are very practical to manage internal incidents of a company. For example it can be very useful in the management of an amusement park.
There are many attractions that require control and maintenance, as well as more generally the management of any incident that may occur at various levels in the amusement park. Sefici enables all staff to report any incident that may occur and these are sent immediately to the appropriate staff: technical, cleaning, security … It will facilitate operators information when you have made the last revision, who , what was done … you can even download the information in Excel format.
Ahora we know the types of projects that can be created in Sefici and we have seen an example for each of them according to visibility and access credentials we want to give to users, we will see some other types of projects you can create with this app.
Try it now for free! Download it for both iOS and Android devices.
More examples of using Sefici by company type
We will explain four examples in which use Sefici will add value to your company, although these are not the only ones, you can see many more in the application page. And if you have a particular case that does not appear in these examples, you can contact the team and will help Sefici. Actually, the list of uses of this application is very extensive and largely depends on the specific needs of the company and imagination.
1. Damage control in a vehicle leasing company
If you have a car rental company, with Sefici you can control any incidents there have been in each vehicle associating these to each vehicle registration.
Related articles: Best Tripods For Mobile: Create Spectacular Recordings
2. Collect the incidents on neighboring farms
Sefici is a great tool for property managers, and so is showing the volume of records. Neighbors need to communicate these to notify any incidents that may have occurred on his farm. With Sefici they can do comfortably and even may consult at any time the statutes. Once discharged incidents by residents, administrators should only assign the most appropriate professional to perform repairs.
Does your estate common areas ?. You can also manage reservations through the event module.
3. In the industrial sector
This is one of the sectors that often suffer more operational incidents. This is because their nature is to work with operators, processes and machines susceptible to incidents. Sefici help reduce further damage informing the various breakdowns that occur: jams, malfunctions, very noisy machines …
4. In the hotel sector
A hotel is known for offering comfort, relaxation and wellness. There can be no effect without solving as directly affect the customer satisfaction. Sefici will help you get it, you can manage incidents entire building centrally and with maximum efficiency. Any employee may report failures, damage to the building or need any work material.
As you can see, Sefici is a very handy tool to have controlled all kinds of incidents that may arise in your company. Try it now for free! Download it for both iOS and Android devices.