ERP software allows companies across industries to take a holistic approach towards managing their businesses. It cuts operational costs, improves efficiency, forecasts market trends, identifies changing customer preferences, enhances profits, and helps maintain excellent customer and vendor relationships.
In short, it brings various business departments, including finance, sales & marketing, production & manufacturing, inventory & warehouse, together. ERP systems can also be customized based on a company's needs.
Top 5 Benefits of Machine Learning in ERP Software Click To Tweet
But today, organizations need lightning-fast forecasting ability that helps them quickly and accurately analyze what products possess a high selling potential or which products should be put off the shelf.
Another critical challenge is identifying products with a higher probability of breaking down soon.
And this is where Machine Learning (ML) comes in. ML algorithms feed the essential data required for developing predictive analysis and becoming better at estimating future events.
With industry 4.0 solutions like AI and ML, ERP software can make predictions faster and more accurately.
Let's analyze the top 6 benefits that Machine Learning promises for ERP software and how it enables organizations to evolve faster.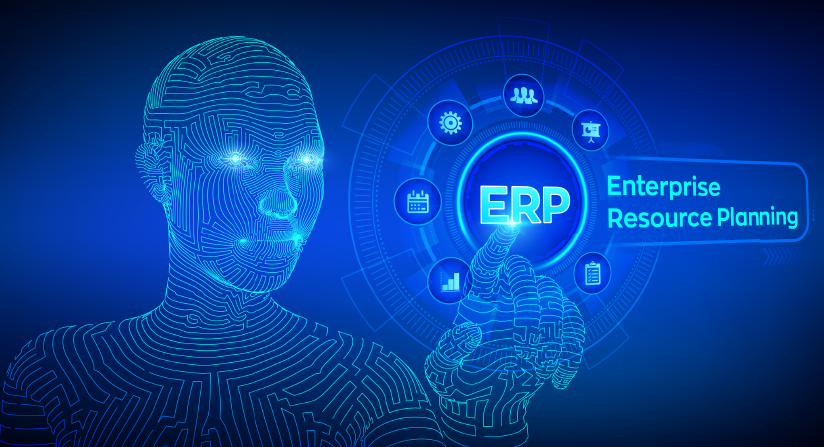 1. Customer Lifetime Value Prediction
Gartner reveals that 20% of assured customer retention leads to 80% of confirmed business revenue. And Customer Lifetime Value (CLV) plays a vital role in determining how profitable a customer will be over a long duration. In addition, this data helps to decide which products/services they are most likely to buy/subscribe to.
But companies face challenges in determining valuable insights from enormous amounts of data. Thankfully, the supervised learning capability of ML algorithms refines vast piles of information to find insights that help brainstorm effective customer retention strategies and drive organizational profitability.
2. Enhanced decision-making for streamlining operations
Do you know that 29% of the web comprises duplicate data?
Businesses require error-free predictive modeling algorithms to identify duplicate columns and rows and distinguish anomalies based on the discovered valuable insights.
Machine learning algorithms can automatically detect missed revenue capital and sales opportunities, identify wasted costs and find reasons for poor customer retention through its accurate reporting feature.
Moreover, companies can overcome challenges like poor performance metrics and miscommunication early, eliminating their risks.
With ML algorithms providing vital inputs for effective decision-making, employees can streamline operations to enhance their profits.
3. Predictive maintenance
ML algorithms use historical and real-time data for predicting problems even before they occur. This technique finds broad applications in manufacturing companies as it helps provide unmatched customer service.
For example, assume a washing machine manufacturer produces hundred IoT-enabled washing machines. After some days, a customer buys one of them from a retail shop. Unfortunately, that machine has an outdated motor that would abruptly stop functioning after a month.
ML algorithms in the IoT-enabled washing machine will identify the issue and notify the customer service department. This department will shoot an email (or call the customer) to share the issue's details. Later, a mechanic will visit the client's house to repair the machine.
Thus, ML helps significantly enhance the customer's trust in the company, which ultimately helps increase the client base.
The following statistics shed more light on the growing importance of predictive maintenance:
The predictive maintenance market is expected to touch USD 26.2 billion by 2026, growing at an unprecedented rate of 31%.
The number of vendors for this technology is expected to increase from 280 in 2021 to 500 by 2026.
Today, information is circulated across several data points. But experts suggest that there will be an intelligent data mesh in the future that will act as an information exchange hub.
Most ERP systems today provide some enterprise integration with ML algorithms. But with their increasing dominance and growth in the number of applications, ERP systems will fully integrate with cutting-edge ML algorithms.
4. Complete financial analysis
Financial analysis allows companies to get a comprehensive understanding of their portfolio. For example, it provides a clear picture of the cost of acquiring raw materials and manufacturing finished products, inventory storage costs, shipping products to the end-user, accounts payable, accounts receivable, and other expenses like employee salaries and machine repair expenses.
With the help of quantitative and qualitative features of ML algorithms, businesses can substantially enhance their productivity and scale their operations.
Moreover, companies can gamify historical and real-time data from which even the non-technical staff can understand and derive valuable insights.
Machine learning's enhanced capabilities, including credit-score management, security interface, and compliance administration, help handle internal audits and taxes.
Chatbots are another application area where ML algorithms help eliminate financial inefficiencies between the company and its vendors, suppliers, and distributors.
Finance chatbots help:
Know why a particular payment was declined.
Provide built-in finance templates for insurance assistant, merchant service, mortgage help, and mortgage survey.
Identify non-paying clients and those with bad credit scores.
Smoothen customer onboarding process with AI sentiment analysis.
Enhance customer experience through voice assistant and AI face.
Update terms and clauses in the contract.
Provide banking and accounting services and self-service insurance transactions.
Users during account opening, user registration, and authentication process.
Automate various repetitive finance & accounting tasks.
5. Provide better product recommendations
Machine Learning recommends personalized customer content based on their needs, wants, desires, and ambitions. Companies across various industries, including construction, accounting, medical, manufacturing, and entertainment can increase customer stickiness by showing personalized content.
For example, Netflix uses ML algorithms for identifying the type of content you mostly watch on the platform. Then, based on that, it recommends the movies/shows you would most likely watch in the future.
Similarly, companies can identify products with the most positive user experiences in the manufacturing industry and label them with minimal supervision. This way, businesses can drive better conversion rates, reduce workloads, and control merchandising.
ML algorithms allow ERP software to segment customers based on geographic, demographic, psychographic, and behavioral parameters. For example, companies can design products based on customers' lifestyles, income, education, city, marital status, past purchasing habits, and many more attributes.
To sum up, predictive algorithms are helping new-age businesses to significantly increase customer loyalty by offering them precisely what they need.
Recommended Read:
TOP 6 DIGITAL MARKETING COURSES THAT WILL PREPARE YOU FOR A SUCCESSFUL CAREER IN 2022
5 BEST SOCIAL MEDIA ANALYTICS TOOLS FOR MARKETERS IN 2022
AMAZING TRICKS TO INCREASE SUBSCRIBERS AND VIEWS ON YOUTUBE IN 2022
General FAQs
What is ERP in machine learning?
Enterprise Resource Planning (ERP) uses software to manage key business processes vis-à-vis Human Resource Management, Order to Cash, Source to Pay, Record to report, Lease management, Budgeting, Planning, and Forecasting.
How can AI help ERP systems?
AI technology built directly into ERP systems can learn, and then help to automate routine processes, or create better user experiences by learning and adapting to users language, allowing systems to better understand and respond to users.
What is ERP and what are the benefits of ERP?
An Enterprise Resource Planning (ERP) system centralizes all core business processes in one location, providing real-time visibility into all operations from supply chain to customer relationship management (CRM).