Digital marketers that are good and can easily turn campaigns into conversion machines are not that easy to come by. Most companies think if they have the marketing tools, then their digital marketing strategies will work automatically.
Yes, you need the right tools, but on their own, they do not make campaigns successful. The right tools in the hands of the right people can bring the right results you need.
10 Skills Every Digital Marketer Needs in 2021 Click To Tweet
Successful marketing campaigns are also the work of successful teams. It is not a one-man band. You'll need team members and outside partners or affiliates. You will also need to invest in the professional training and continuous equipping of your team.
For instance, tasks such as aligning to current trends in UI/UX Design (User Interface/User Experience) takes a team, not just a person or tools. It involves several aspects of a website that revolve around providing the best product, through the most meaningful consumer experience, for the greatest possible ROI.  
People are actually your marketing company's greatest resource, whether they be your marketing targets, or the people behind the scenes making things work together.
If you are looking for a talented digital marketer, or you are aiming to be one, then these are the skills you need to get the job done.
Top 10 Skills You Need to Master as a Digital Marketer in 2021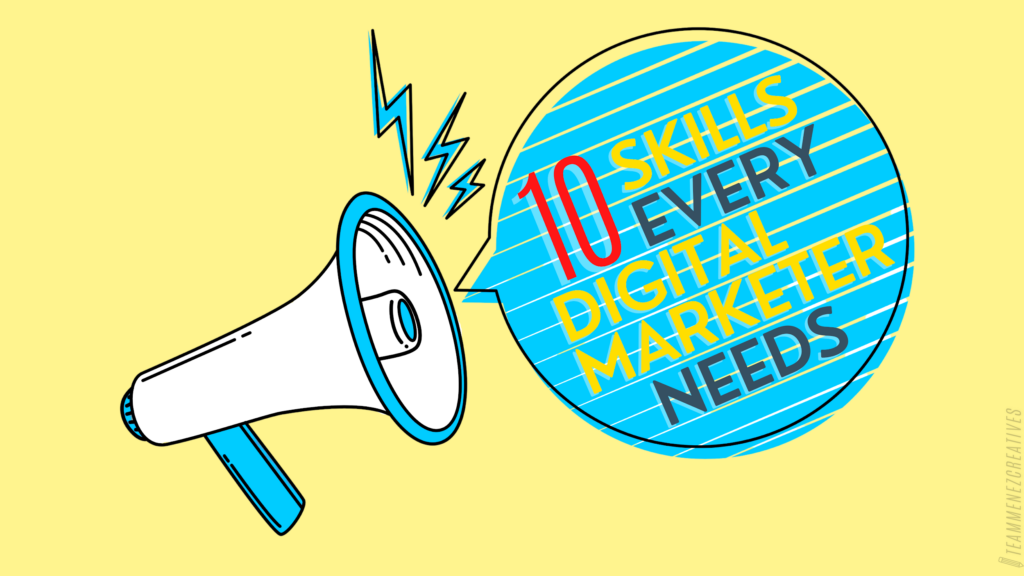 1. Writing and Editing
To be a digital marketer, you need to have a good foundation. Part of that good foundation is knowing and being gifted or skilled in writing. It is not just any kind of writing that is needed. It is not about the high-falutin words or brain-numbing terminologies. It is about the skill of knowing how to write to convert.
You are writing to sell, whatever you are working on. Be it the titles and tags, body and meta descriptions, blurbs and emails, you are writing to connect and convert.
Therefore, a digital marketer must be good in different aspects of content marketing. A digital marketer can get ahead in their career if they know what makes a blog post great, sourcing great content, researching, and even troubleshooting low-quality content and turning it into a high-quality one.
2. SEO and Data Analytics
Google updates its search algorithm thousands of times per year. It can update to as much as 9 to more than 10 times than that per day. It is all for the purpose of producing the best possible curation of results on SERP (Search Engine Results Page) in response to users' search intent.
Your page can get there via organic reach or paid reach. A good digital marketer knows his or her way around the labyrinth of SEO and excellently hit as many algorithm factors as possible
There are more than 200 algorithm factors, from cybersecurity and managing cookies, to web design and mobile responsiveness, to conversion and bounce rates, and many more.
Of course, you cannot keep changing your inbound leads strategies as many times as Google updates its algorithms. Customer behaviors also do not change that often.
So a digital marketer must know how to balance between the aim of good SEO with producing content that brings meaning to people's lives. A good digital marketer can analyze traffic data, tweak marketing strategies where needed, and stay focused on making conversions and sales.
3. Content Marketing
You need to have content that can convert, whether it is for social media, videos, websites, and the like. As a digital marketer, you have to have the expertise to produce social media posts that most engage your target audience.
You also need the skill to create the best blogs that are compelling to share. Lastly, you must strive to publish content for optimum results using the best format for the best CX (customer experience) possible.
All these revolve around content marketing, still the best form of marketing around.
4. Email Marketing
Even at the highest peak of social media, it still cannot defeat email marketing when it comes to reliable, consistent, and high conversions.
You need to know how to optimize email marketing to either echo web and social media campaigns, or nurture existing client base. Email marketing is also great for getting new leads, which needs to be a natural, regular occurrence for your website or brand.
Learn how to create email drip campaigns that drive your target market down your sales funnels effectively, and encourage previous customers to come back.
Be skilled in building strategies for email outreach so you are not running your digital marketing campaign on one leg.
Start by learning how to write and schedule useful broadcasts, setting up email sequences for your audience, and tagging and categorizing your subscribers for that personal touch.
Personalization is trending more than ever now, so better create emails with personalization strategies to increase conversion.
5. Video
Video is taking the digital marketing world by storm. More often than not, a high-quality video has that touch of gold on content and marketing. Businesses now recognize that video marketing can grow brands and businesses.
Videos have the capacity to grab customer attention on eCommerce sites for two minutes longer than average content. An optimized video can boost Google ranking by at least 50. Further, approximately 80% of customers are likely to buy a product because of a good and compelling video.
One of the skills, then, that a good digital marketer must have, is video production. Since video content is important to SEO, then a digital marketer must know how to at least curate videos. Eventually, a digital marketer must learn how to create original video content.
You can use the best software for creating videos and movies whether through your desktop or laptop, and even on your mobile.
Video editing skills and talents will not be a waste because video will continue to rise as an effective marketing tool. If you want to learn more professionally, invest in video editing tools like Apple Final Cut Pro X or Adobe Premiere Pro.
6. Conversion Rate Optimization
Your campaigns may pull in a lot of traffic and views, but can they convert? Traffic is nothing, even with the millions of views, if prospects do not convert. Instead of relying on thousands of views without any conversions, it is much better to have a few leads that have the greatest potential to convert. Those are quality leads.
Nowadays, you find a lot of the spectacular on ,social media and on the web. But a good digital marketer is not just after the spectacular and popularity.
He or she is after the sales and the ROI, because that is the expertise they lay on the table that not many wannabe's can easily do.
Study and master CRO and stay focused on your target market and sales goals. Your digital marketing strategies need to create moments that connect with your audience that pushes them to know more about you, and eventually become your customers, even avid followers.
Make it your optimal marketing goal to get leads and have your leads take a particular desired action. You will need CRO skills to be able to do this.
CRo strategies come into play when you want our leads to purchase something, avail of new downloads, subscribe to your mailing lists, and similar marketing decisions.
Learn about A/B testing, conversion funnels, engagement metrics, and so on. Also be mindful of your site's page elements and usability, because they all play a part in a successful CRO drive.
7. Be familiar with AI and Machine Learning
When businesses migrate online and work smarter, it is driving future-driven products and services as well. t For example, for any digital marketer, cloud storage is a must since they work in distributed teams, outsourcing talents, and the like.
Digital marketers are also going scientific with the integration of artificial intelligence and machine learning functions in their strategies and tools. Digital marketing tasks with AI and machine learning brings an overwhelming competitive edge for any digital marketing team.
But bots cannot brainstorm high-conversion ads or write the relatable, personalized content. That is still your part as a digital marketer, along with your team.
But bots can tackle repetitive, low-quality tasks, so you and your team can save time, reach targets faster, and focus on those high-quality tasks.
Acquaint yourself with AI and machine learning, and not just rely on your technical or IT team. You must have a perception of how they work, and be familiar with a software's machine learning features.
If you develop in skills such as this, you immediately cut yourself above the rest of digital marketers who do not take time to boost their skills and knowledge for future digital technologies affecting business and economy.
8. Curiosity
Marketing is always evolving. A digital marketer must remain curious, dynamic, and teachable. He or she must stay up to date with new trends.
Your constant curiosity and hunger for learning something new as a digital marketer will enable you to be ahead of trends, and even perceive them before they happen.
Ask questions about concepts that you do not understand./ Tap into other experts if you need assistance in some areas. In saturated industries, this will help you remain competitive and in demand.
9. Creativity
Over the years, digital competition has grown, making it hard to stand out from the many businesses and websites with the same niche as you do.
Digital marketers need to find ways to make their brands or businesses stand out creatively. They need to be imaginative, think outside the box, and make people see something different and worth following.
Authenticity is such a plus for digital marketing nowadays because consumers demand authentic experiences. They demand unique experiences too, and to be able to give that to your audience takes creativity.
Your prospects are waiting to see what you have that other brands don't, before they decide to follow or support you.
If they find a stronger brand that compels them, they will continue scrolling and skip your site.
That's why inventiveness still wins. Take the time to do things that stimulate those creative juices, from having fun activities, cycling, or motivating research.
10. Persuasion
If marketing is all about one thing, it's persuasion. When dealing with prospective clients, digital marketers need to have the persuasive ability to skyrocket marketing targets to get prospects to convert.
As a digital marketer, you can apply persuasion in many ways. Do not be discouraged if one way does not work. To be persuasive, you need to be persistent as well. You need to be fully convinced yourself of why people must go after your brand and not others.
Remember that you are serving your target audience, aiming to provide meaningful products and experiences, so if you get this straight, you will know how and when to approach to get the best results.
Persuasion is something that does not take overnight. It takes time to develop. It is a skill that needs experience to perfect. It is more than head knowledge or having the right tools. It is more about having the right discernment in approaching customers, understanding trends, and having the confidence to push a product or a service gracefully towards your client.
If you are a young digital marketer and do not have much experience, then learn from others. Learn from the best digital marketers in your field. Invest to hear their insights, attend seminars or classes, so you can glean from their expertise and experience, and gain confidence for what you do.
Conclusion
Your journey as a digital marketer will not be a walk in the park, but with hard work, initiative, persistence and confidence, you can have the most fruitful journey. You can be an expert in your field, and be in-demand for what you do. It may take a while, but if you keep going and keep learning, it is a journey worth taking.
Recommended Read:
15+ MARKETING TOOLS & TIPS FOR AMAZON AFFILIATES
5 BEST ONLINE DIGITAL MARKETING COURSES IN 2021
SEO V. PPC: WHAT'S THE DIFFERENCE?
General FAQs
What are the benefits of digital marketing?
The main advantage of digital marketing is that a targeted audience can be reached in a cost-effective and measurable way. Other digital marketing advantages include increasing brand loyalty and driving online sales.
What are the 5 basic digital skills?
Essential Digital Skills are:
1) Using devices and handling information.
2) Creating and editing.
3) Communicating.
4) Transacting.
5) Being safe and responsible online.
Is Digital Marketing a good career?
Digital marketing is a rapidly growing and evolving career path. As more channels of communication become available, the need for people qualified to keep pace with the demands grows as well. The type of person best-suited to excel in a digital marketing career is someone that possess certain personality qualities.