The future looks virtual. Forecasts suggest that by 2022, more than 300 million virtual reality (VR) helmets will be sold.
Besides, according to Forbes, 75 percent of the world's most popular brands have created some sort of virtual experience to engage customers better.
3 Ways Virtual Reality Is Changing Digital Marketing Click To Tweet
The immersive nature of VR makes it a powerful marketing tool. As such, virtual reality can be an incredible storytelling tool, thereby enhancing the user experience.
In this article, you will learn about the types of virtual reality and how this technology can help transform the digital marketing space.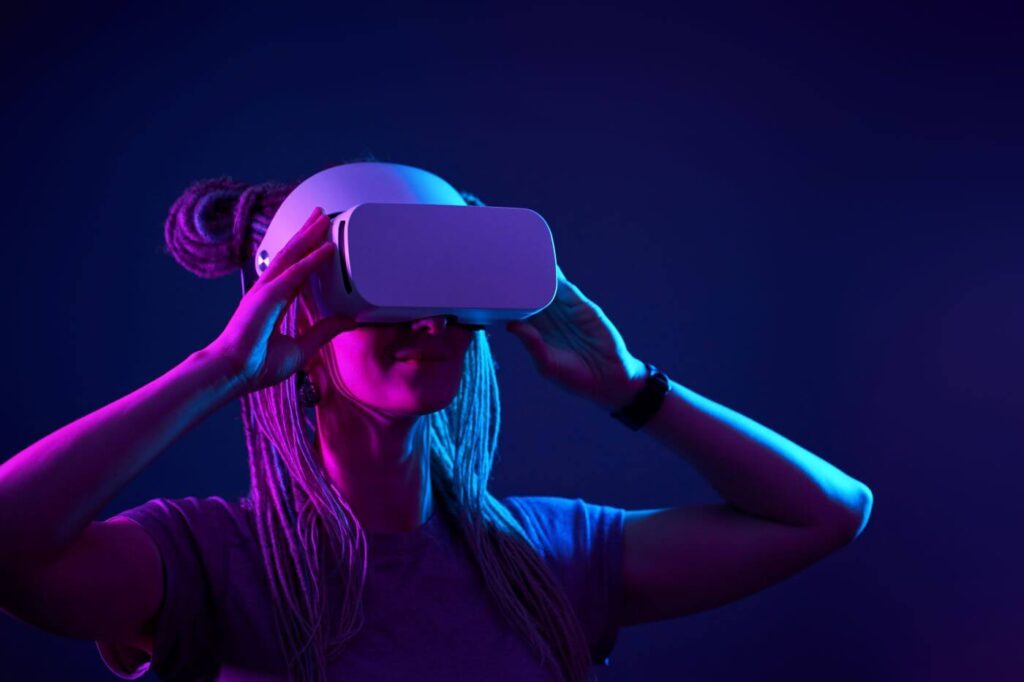 3 Main Types of Virtual Reality
There is a wide range of VRs that you can use regardless of your area of expertise. You can experience these solutions using virtual reality platforms in Dubai or wherever you reside.
1. Non-immersive Virtual Reality
Non-immersive VR is a virtual experience delivered by computer software. With this kind of virtual reality, you are not immersed in the experience at all.
This type of VR is commonly used in video games. You control a character who performs certain activities in the software on your computer.
A real example of a non-immersive virtual reality is Wii Sports where the system detects your movements and displays it on screen.
2. Fully immersive Virtual Reality
Unlike non-immersive virtual reality, fully immersive VR is at the other end of the spectrum.
Fully immersive VR offers users the most realistic experience possible, complete with sound and sight. Such an experience requires equipment such as gloves, sensors, helmets, and motion detectors.
Sensors detect your body movements, reactions, eye movements and computer software. The special feature is that your environment in this virtual world reacts accordingly.
Currently, fully immersive VR is used in medical training where surgeons can perform virtual operations to gain experience and practice.
3. Semi-immersive Virtual Reality
Semi-immersive Virtual Reality stands between non-immersive VR and fully immersive VR. However, keep in mind that this type of VR still gives users the impression of being in a different reality.
This type of VR is much more widely used for educational purposes. Some semi-immersive VR experiments are available on your mobile phone. When the phone is moved in different directions, the virtual environment adjusts accordingly.
Semi-immersive VR is the right balance between cost and user experience, making it ideal for marketers.
Many companies are starting to use it to create virtual tours, and its success has grown exponentially with the COVID-19 lockdown. For example, real estate companies have begun to use semi-immersive VR to hold virtual open houses.
How Is Virtual Reality Changing the Digital Marketing Space?
Consumers are continually being inundated with content and are becoming insensitive to most of it.
When it comes to digital marketing, it is essential to engage consumers and raise brand awareness. The use of new technologies to achieve this has become a growing trend. As such, virtual reality remains a relatively untapped resource compared to more traditional platforms.
Here are three ways that virtual reality revolutionises digital marketing:
1. It enables immersive storytelling.
In the '80s and '90s, film and television were the best channels for storytelling. But with the advent of social media and virtual reality, you now have a wide range of options for sharing your story with people.
Using VR, you will be able to completely immerse the consumer in the product or story presented to them.
Telling a good story through virtual reality creates a more emotional and personal link between the consumer and the company, which is more likely to call for action.
Perhaps one of the most notable uses of this storytelling technique is the implementation of VR at the Rio de Janeiro Olympic Games. During the games, Samsung collaborated with NBC to provide fans with 85 hours' worth of VR Olympic entertainment.
If your brand has a compelling story to tell, don't hesitate to contact a virtual reality service provider to discuss how to create your customers' best possible experience.
2. It showcases products.
VR can be invaluable for product presentations. Companies such as Vroom, McDonald's and TOMS shoes use VR technology to highlight and sell more of their product.
For example, online car retailer Vroom uses VR to make the online car buying experience as realistic as a visit to a dealership.
Upon virtually opening the car's glove compartment and hearing the real engine noises, customers can see and experience car models in the comfort of their own homes.
By using VR, you can offer customers a memorable experience, which boosts your conversion rate. Best of all, you can save money and create even more engaging content.
3. It facilitates relationships.
Many e-commerce brands are accustomed to digital shopping carts that never make it to the final checkout.
Another aspect of digital marketing that VR can completely revolutionise is the ability to create and facilitate relationships.
Just like other forms of technology, you can use VR in the consumer's smartphone to continually update it with new products and offers.
An additional benefit of creating a digital shopping experience with VR is that shoppers are more likely to be satisfied with the product that arrives at their door. As a result, the number of product returns is reduced, making consumers more confident in their future purchases.
The goal of using VR in marketing is to get people to come to you. By making your digital marketing campaign attractive and current, you are more likely to build new relationships while retaining old ones.
A Virtual View of Digital Marketing
The virtual reality industry is growing dramatically and is not about to stop. As proof, the latest virtual reality statistics predict that by 2027, its market size is expected to reach $92.31 billion.
Now is the perfect time for your brand to consider using technology as part of experiential or event-based marketing activation.
Using VR to stand out will give you a significant competitive advantage. By adopting VR technology now, you will have the opportunity to test and innovate before it becomes mainstream. And when it does, you'll be at the forefront.
Recommended Read:
UPCOMING TRENDS IN DIGITAL MARKETING THAT YOU SHOULD NOT IGNORE THIS 2021
TOP 10 DIGITAL MARKETING SKILLS YOU NEED TO LEARN IN 2021
5 BEST ONLINE DIGITAL MARKETING COURSES IN 2021
General FAQs
How is virtual reality used in marketing?
Virtual reality marketing involves brands promoting themselves and their products using virtual and augmented reality technology. The technology creates a fake but realistic environment. Sometimes VR marketing is visual, and sometimes it's multi-sensory, depending on the device.
What is virtual digital marketing?
Virtual marketing is essentially just another name for digital marketing or viral marketing. All three of these terms simply mean marketing that is done in a virtual or digital space. It is marketing, without physical presence.
How does virtual reality work?
The primary subject of virtual reality is simulating the vision. Every headset aims to perfect their approach to creating an immersive 3D environment. Each VR headset puts up a screen (or two – one for each eye) in front of eyes thus, eliminating any interaction with the real world.