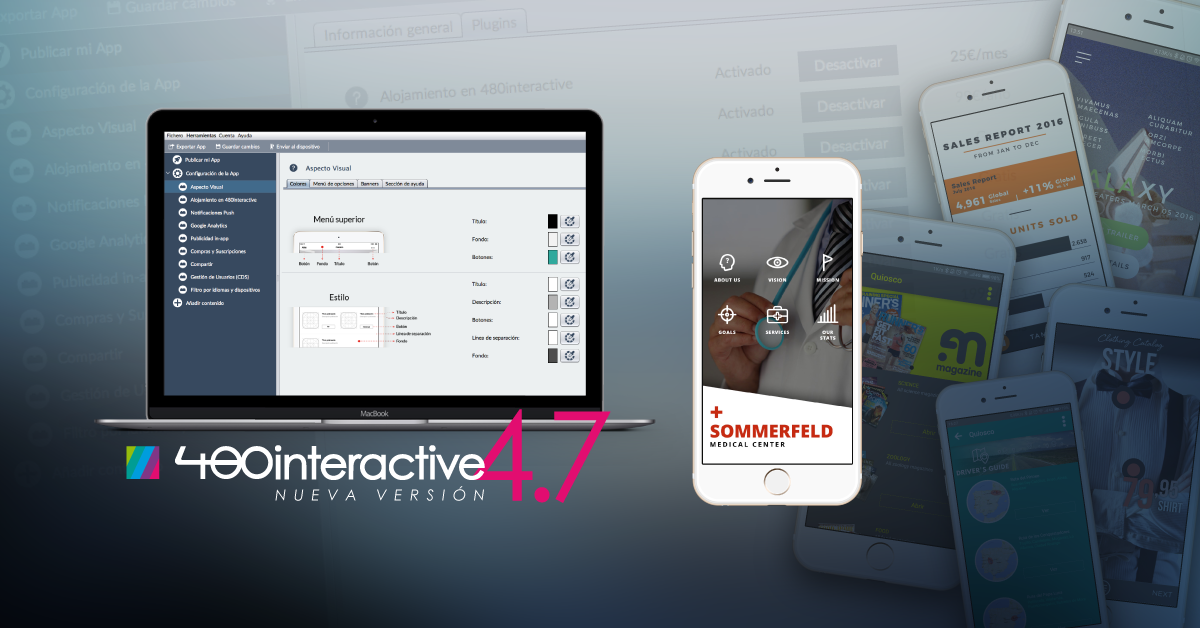 Focused on the technological demands of the market in terms of user experience and adaptability of content formats, 480interactive has just presented its new version to create content marketing apps.
The consolidated professional software of creation of apps, used by advertising agencies like deRepente Madrid, Saatchi & Saatchi and Complot Estudio Creativo in addition to companies like Danone, Editorial Unit or Banco Santander to carry out its App projects, continues in the process of growth After 4 years in the market. 
The main novelty of version 4.7, which you can download for free from your website, is the possibility of publishing applications with the number of content you want, without having to limit to Apps 1, 6, 14 or unlimited content. In addition, you can add plugins with which to send notifications to clients, obtain statistics of the App or give access to exclusive content to your users easily and quickly.
480interactive presents its new version for 2018
Click To Tweet
Using 480interactive, creating App projects and previewing them on mobile devices is free. Once you want to publish the App in the App Store and Google Play, you must activate the "Publish my App" payment option, which is now flexible and whose price is calculated based on the number of content and plugins added to the application.
Related Articles: The omnicanality is getting closer every day thanks to corporate mobile applications

All these innovations are accompanied by a more intuitive design, usability improvements and a new section of free templates that the user can use as a source of inspiration and customize to their liking to make it a real application.
All this without losing the ease of use and professionalism that characterizes it, since the bases of its operation remain the same: 1) the user creates the application in a step without programming with 480interactive, 2) adds the content of his app in The format you want (InDesign, HTML, PDFs, etc.) and 3) preview it on your mobile device with the free 480i Viewer application.
As announced earlier this year in its 2017 novelty plan, the reference tool among designers to create native applications without a line of code continues to offer its customers a quality solution in line with market needs (each Interactive content applications are more demanded) as well as specific practical templates and resources (catalogs, journals, guides, presentations … adapted to any mobile device) that guide the user and enable 100% personalized and functional design of the applications .
Related Articles: Net & Get the new app to do business you should know

Applications "ClinicApp" (Library of clinical cases in app format created by the Spanish Society of Cardiology), "Bizkaia in three dimensions" (interactive application of the Basque Museum), "Donostia Aste Nagusia" ) Or "ED Magazine", the App Magazine of the Nursing Syndicate (SATSE) and the Foundation for the Development of Nursing (FUDEN) are just some of the Apps created with this tool.
480interactive is a product of the company specialized in the comprehensive development of apps and programming to improve work processes Cuatroochenta, which has just closed a capital increase of 600,000 euros and has been selected in the first 'Pre-Market Environment' to Go shopping