Launching a B2B startup is no easy task. It takes time to build brand and product awareness, especially in a B2B market with a lot of competition from well-established brands.
Startups need robust marketing strategies to differentiate their brand and generate business. Without it, a startup could be dead in the water.
In most cases, startups struggle with minimal budgets and few marketing professionals, instead putting money into brand strategy and product development. Search engine optimization (SEO) solves this problem.
B2B SEO for Startups: SEO to Energize Your Organic Traffic in the First Year Click To Tweet
A solid SEO strategy can help a brand's website and content rank higher in the search engine results pages, driving organic traffic to the site and boosting sales. SEO needs to be approached differently for B2B businesses vs. B2C businesses, however.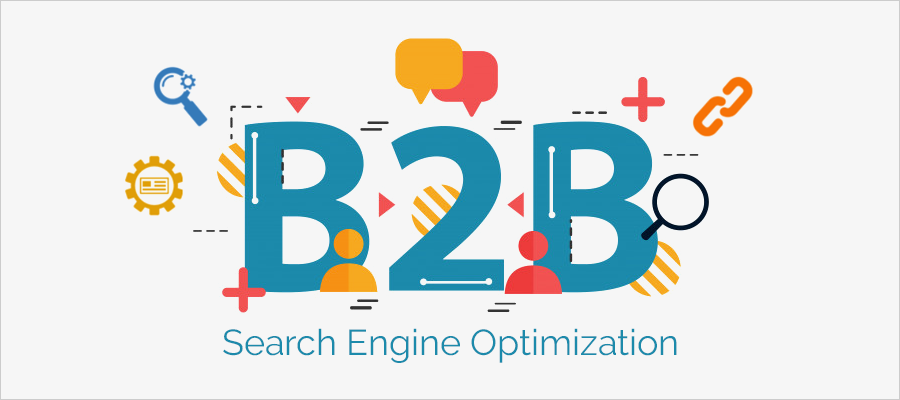 B2B vs. B2C
B2B companies have a lot of similarities to B2C companies, but the buyer behaviors are different. Because B2B companies are selling to another business, they can't rely on impulse buying decisions or emotions to get buyers to make the purchase.
B2B buyers are investing in their business and seeking solutions to a problem. They often need to seek approval from groups of people, including executives, department heads, or other stakeholders. B2B products usually come at a higher price as well, which requires more persuasion.
How to Launch an Effective B2B SEO Campaign
The core of an effective B2B SEO campaign is knowing your audience and your product, and using that information to create valuable content.
Segment Your Audiences
Making a purchase as a consumer is different than investing in a product or service as a business. B2B products are typically business investments, such as sales inventory, commercial equipment, or software solutions.
This makes the buying decision a little more complicated, because businesses are taking a risk when they buy something with the goal of generating a return. If it fails, they may fail to turn a profit.
Products and services also need to be approved by a variety of decision-makers, including department heads, managers, and executives. All of these stakeholders are looking at the potential purchase from different angles and pain points – basically, they're all wondering what's in it for them.
All of the content for your B2B business needs to be directed at these individual stakeholders. You need to answer their questions and address their concerns, which may be wildly different.
The best way to do this is by segmenting your audience. Consider the various stakeholders involved in the decision-making process, as well as what they're looking to solve with your product or service, and tailor your content to them.
Create Brand Trust
B2B buyers need trust to make a purchase. They're investing in a product or service for their business and typically have a long consideration process to ensure they're making the right choice. Their goals may be different, from getting more time to saving money on salaries to creating more efficient processes, but all of those goals translate to return on investment.
Your content should communicate your value as a leader in your industry. You understand the challenges and pain points of the industry you're targeting, and you can effectively communicate why your product or service solves that problem. If the buyer feels that you understand what they need and you consistently address their problems and concerns in your content, they'll come to trust you over time.
Choose Low-Volume Keywords
Keyword research is important for effective SEO, but B2B companies need to prioritize different keywords than B2C companies, such as this eBay to Kenya page. Remember, all of the stakeholders involved in the decision-making process will be searching for different things with different keywords and phrases.
Your keyword research should target each audience segment and their search intent. For example this prenuptial agreement page that was created for this law firm. Our focus was to target potential customers looking to sign a prenup agreement.
This way you can target each stage of the buying process for each of your segments and create highly targeted content. Fortunately, most of these keywords will have low search volume and lower competition than high-volume keywords.
Use the Three Pillars of SEO
Whether you're working with B2B or B2C SEO, the three pillars are mostly the same.
On-Page SEO
On-page SEO refers to the front-facing aspect of your website and its technical aspects. On-page SEO should be optimized by investigating search intent and researching the right keywords to target, then tailoring the content to provide value.
Here's how:
Research low-volume keywords
Do your own search to check out the content that's already on the internet
Take note of the top search results
Consider what the content does well and not so well
Create content that's better
Off-Page SEO
Off-page SEO is a challenging aspect of SEO. This is all about building backlinks, which can be frustrating because there's no way to speed it up. It takes time and effort to build links, but it's well worth the effort.
Linkbuilding is valuable because it drives traffic to your website from external, authoritative sources. When these sources link to you, some of their authority passes on to your site and boosts its search ranking.
Remember, using blackhat methods or paying for links won't do anything for your SEO. Take the time to produce quality content that authoritative sites want to link to, and you'll reap the rewards in the future.
Technical SEO
Technical SEO benefits your business by creating a positive user experience. It requires some technical know-how, but you can seek help from a professional if needed.
Here's how you can improve your technical SEO:
Check your website for slow loading times
Develop an internal linking model to establish a hierarchy of your site, so search engine crawlers can determine which content is most important
Use nofollow links and follow links to show users where to go
Include the target keyword in the title, meta tags, and URL
Avoid duplicate content
Make your content and website indexable
Search for, and correct, broken links
Optimize your site for mobile devices
Ensure site security with HTTPS
Use structured data to help search engines index
Use B2B SEO Strategy to Energize Your Startup
SEO strategy for B2B companies targets B2B buyers and drives valuable traffic to your site to generate awareness and sales. Marketing to B2B buyers can be more challenging, but an effective SEO strategy can earn you traffic and authority without significant marketing spend.
Recommended Read:
TOP 6 DIGITAL MARKETING COURSES THAT WILL PREPARE YOU FOR A SUCCESSFUL CAREER IN 2022
5 BEST SOCIAL MEDIA ANALYTICS TOOLS FOR MARKETERS IN 2022
AMAZING TRICKS TO INCREASE SUBSCRIBERS AND VIEWS ON YOUTUBE IN 2022
General FAQs
Is SEO Good for B2B?
SEO is one of the most important customer acquisition channels for B2B companies. Having strong organic visibility across all stages of the buying cycle is a proven way to accelerate growth.
What is B2B SEO?
B2B SEO is the practice of creating web pages that rank high for queries your buyer persona makes about anything related to your product or services. In short, an effective B2B SEO strategy brings your business in front of B2B buyers who seek to engage your services.
Why is SEO important for B2B?
Effective SEO strategies can make your B2B website and business get noticed. Since B2B marketing focuses on generating quality leads, ranking for highly-used keywords and phrases by these leads can lead to conversions.