We are all aware of chatbots and what they do. We have all interacted with them. They can be a little intimidating – frustrating more so. It is not the same as talking to a human being. Some people know how to use their chatbots, and, well, others find talking to them therapeutic, even. Others just freak us out.
If truth be told, robots are not here to take over the whole world but make our lives easy. In this guide, we will show you how to leverage chatbots for the incredible tool that they are. They will take the burden of time-consuming tasks off your shoulders and allow you to better serve your customers in ways that matter most and those that probably skip you.
Effective Use Of AI Chatbots For Social Media Marketing Click To Tweet
People doing social media marketing in Dubai have incorporated the use of chatbots in their strategy. If you have not done this, we suggest you do so after reading this piece.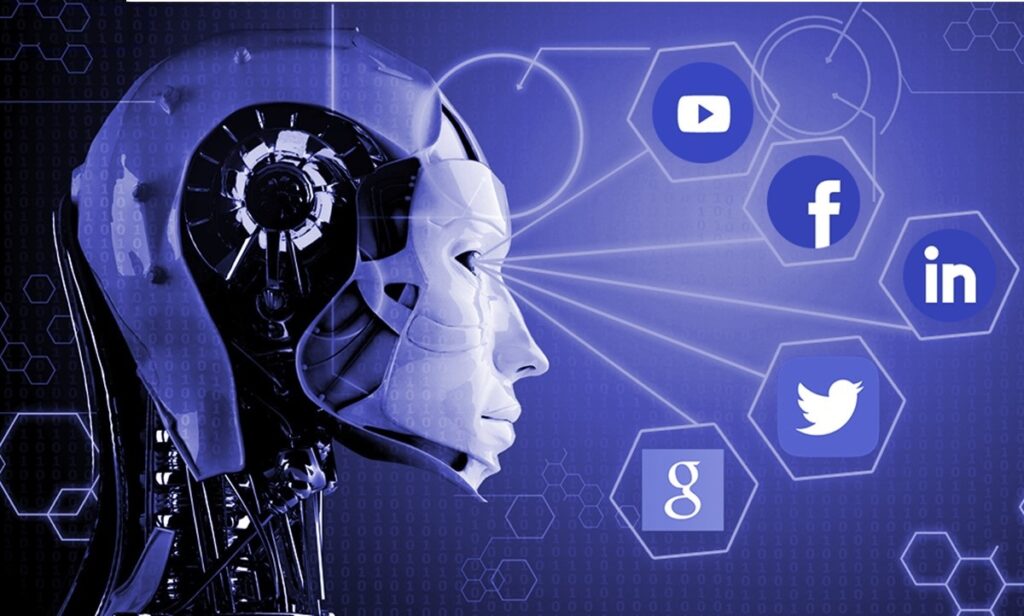 What Are Chatbots?
Chatbots are computer programs manufactured to engage with all the messages they receive automatically. They can be programmed to do just about anything. Mostly, the logic that they are programmed with adheres to recognizing certain keywords. As soon as they do so, the pre-written text is then sent to the human communicating with the chatbot. The concept of machine learning is also utilized here to learn how to talk back to people.
Chatbots leverage chat mediums like SMS text, website chat windows, and social messaging services across platforms like Facebook and Twitter to receive and respond to messages. This is in their core programming. You can likewise interact with a chatbot on your phone or your desktop. Chatbots are made and programmed in all possible digital forms. There are some fun and goofy chatbots like Cleverbot, a chatbot that chats with real people and learns as it goes. Give it a try!
Some Chatbot Stats You Might Be Interested In
Chatbot marketing and chatbots for business are all the rage in modern and digital marketing. Here are some Facebook stats from Sprout Social you might be interested in:
2 billion messages are sent between people and businesses monthly
56% of people would rather message than call customer service
53% of people are more likely to shop with businesses they can message
As per Google, the use of chatbots has grown now that people have begun realizing their potential.
But there are more questions you should be asking than just What Are Chatbots? How do bots save time and create a better experience? What do end-users want to achieve when using these bots?
Here is how you should use AI chatbots effectively for social media.
Save Time and Money
Via automating discussions that would somehow require a worker to reply, organizations set aside time and cash that would then be able to be allotted to different endeavors. Rather than having all of your reps invest all of their energy in responding to inbound inquiries, those people contribute time to proactively discovering applicable discussions to get together with friendly listening tools.
The measure of time you save increments as your inbound message amount increments. Furthermore, since Sprout Social examination shows the number of social messages requiring a reaction from a brand expanded by 18% from 2015 to 2016, you save innumerable hours via automating reactions with a chatbot.
Generate Leads and Revenue
Chatbots utilize direct messages to accumulate data important to offer compelling assistance. For instance, asking clients for what valid reason they are visiting your page is one inquiry that is probably posed in every session. Automating this initial communication permits clients to share the data required for the bo to more readily serve them without requiring a human to request it. For instance, Drift's website chatbot qualifies prospects and accumulates their email addresses so a salesperson can follow up.
Leading Users to Effective Outcomes
Customers don't generally have a clue where to go to discover the data they're keen on. Indeed, your customers may not know what it is they're keen on. Possibly they just heard the name of your brand casually passing by and chose to look you up. By posing a series of qualifying inquiries, you lead clients to the best spot to discover the data they need.
Thoroughly consider many questions to ask that will lead your guest to the ideal arrangement. These inquiries differ by business type; however, some normal ones are:
Would you like individual help?
What problem are you trying to solve?
What are your goals?
Where are you located?
What department are you in?
What industry are you in?
Would you like personal support?
Providing Post-Closing Support
With a chatbot in the mix, you can enable after-hours or 24/7 support. This is the most noteworthy feature of Chatbots that you need to utilize. The most popular use of chatbots is the provision of quick answers, especially when you are not around. Customers will have access whenever they need it.
Final word
Effective chatbot use involves saving time and money, generating leads and revenue, leading users to effective outcomes, and providing after-hours support.
Recommended Read:
UPCOMING TRENDS IN DIGITAL MARKETING THAT YOU SHOULD NOT IGNORE THIS 2021
TOP 10 DIGITAL MARKETING SKILLS YOU NEED TO LEARN IN 2021
5 BEST ONLINE DIGITAL MARKETING COURSES IN 2021
General FAQs
How chatbots can be useful in digital marketing?
Chatbots enhance your brand engagement. They allow you to get connected with more customers, begin more conversations. This helps in improving your customer's experience, generate more sales and build a deeper rapport with customers.
How are chatbots used in marketing?
Chatbot marketing is a marketing technique that employs computer programs to automate interactions with prospects and customers, either on your website or in your app, for the purpose of generating sales.
Why are chatbots important in social media?
They can sell and process orders, track order information, and answer basic customer service questions.