Are you someone who's always on top of trends? Then you know exactly what's trending today – digital marketing! In this blog, I'll share some tips on securing a career in digital marketing.
As people started shifting online, all brands recognised the need to go digital. So, there's no better time for you to begin your career in digital marketing. Knowledge, Hard work, and creativity are three skills that can help you master the art of digital marketing.
How To Start A Career In Digital Marketing? Click To Tweet
The demand for digital marketers in India has been at its peak – and it's only going to get better! In fact, a study suggests that there will be almost 666 million active internet users in India by 2023. Hence, businesses would want to reach this enormous audience and require successful digital marketers for this case.
Do you know the best part about building a career in digital marketing? You don't need to struggle for years to get a degree. Online digital marketing courses can help you gain the necessary skills to start a career in digital marketing.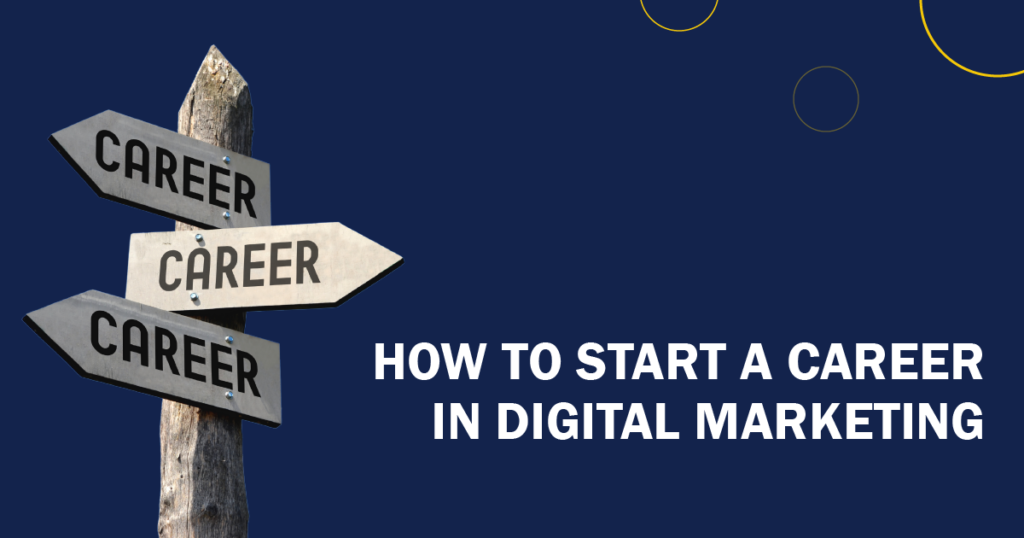 Steps on How To Start A Career In Digital Marketing
#1 Develop Your Skill Set
The first step towards building a career in digital marketing is to skill yourself with the different digital marketing concepts. If you enter the industry without having comprehensive training, you'll find yourself struggling in the industry. This will make it difficult for you to grow in the industry and make a name for yourself.
Here are some skills you should master:
Basic Design Skills
Communication Skills
Content Creation
CRM
Data Analysis
SEO & SEM
Social Media
Online digital marketing courses can help you master these skills and keep you prepared before you enter the job market. Some courses will provide you with agency-based training, which will give you an edge above others from the very beginning.
However, practical knowledge is essential. While you're studying, you can take up a friend or relative's business and apply what you learn for them. This is a great way to gain experience.
#2 Pick A Specialisation
At this point in your career in digital marketing, you can pick a specialisation and learn about it in detail. I've listed some of the different domains you can specialise in while making a career in digital marketing
Social media marketing:
Social media marketing is a field that is evolving every day. Every business requires a social media presence that can complement its marketing efforts. Hence, to companies make the best out of social media marketing, they need social media marketers. Social media is a platform that changes and updates every day – so if you're one to always be on top of trends, this could be an option for you.
Web development, SEO:
SEO is the process of optimising pages to rank highly in search engines like Google. The best thing is that once you rank, search engines will provide you with free, passive, and consistent traffic. However, it has the disadvantage of taking a long time to work. You'll have to be patient to see results, but it'll be worth it in the end.
Online Ads:
This means buying ads on Google, Facebook, and Instagram, among other platforms. In general, this strategy effectively raises the number of visitors to your website. Turning on an ad and letting the traffic flow, on the other hand, isn't enough when it comes to managing online ads. You'll still need some knowledge and experience to avoid losing all of your money.
So, if you have the financial means, go ahead and test and study this channel. Otherwise, it isn't a good match for you.
Content Writing:
Planning, producing, and editing web content are all part of the content writing process, typically used for digital marketing purposes. This includes writing blog entries and articles, screenplays for films and podcasts, and content for specific platforms such as Twitter or Instagram text messages.
These are just a few of the many options available to you if you want to pursue a career in digital marketing. You'll find a pool of opportunities once you're inside; all you have to do now is grab them and make them yours.
#3 Get Familiar With Automation Tools
We've all heard the saying, "time is money, " and using marketing automation saves time. Simple logic says that your marketing budget will be freed up to invest in the game-changing decisions that will propel your company to the next level. Knowing how to use the most valuable tools will make your job easier and help your CV stand out amid a slew of other candidates.
Marketing task automation frees up your time and money so you can invest your money where it's required most, whether that's a higher ad spend to spread your message, premiums on exceptional talent, or any of the hundreds of other possibilities accessible. Bottom line: When adequately deployed, marketing automation technologies almost always result in a favourable return on investment.
You don't have to spend a lot of money on premium membership to get a lot of tools. Experiment with the free versions of the tools provided to see which one is the most beneficial to you.
#4 Start Building Your Portfolio
Depending on the path you take, you'll need to start constructing a portfolio as a compilation of your work, experiences, and any other project you've taken up that you think is relevant. You can list all of the businesses you've aided, the social media accounts you managed while training, and even your favourite assignments here.
Maintaining an up-to-date marketing portfolio indicates your dedication and interest, which may lead to new connections or even job offers.
#5 Gain Experience
Internship:
Working as a digital marketing assistant in an established digital marketing agency is another method to swiftly broaden your skills and knowledge. Most online digital marketing courses will assist you in obtaining an internship after you complete the course.
This is highly recommended because you will acquire significant insight into how a modern digital marketing firm functions and will be able to implement some of their best practices if you decide to start your own agency or work as a digital marketing specialist for another company later.
Freelancing:
Freelancing is a fantastic way to obtain additional experience while increasing your profits. There's a good possibility you've already secured some freelance work if you've been in the workforce for a few years.
#6 Build Your Network
To flourish in a field like digital marketing, you need to have excellent networking skills. The bulk of non-visible, high-paying jobs, according to sociologists, are not earned through your closest relationships. Instead, they're discovered through weak connections, such as casual acquaintances or people with similar educational or cultural backgrounds.
This is why you should constantly be networking.
To begin, choose one or a few persons who you admire in the world of digital marketing. Second, regularly get in touch with them to see what they're up to. You might get a job offer if you follow them and tell them how much you love their work.
#7 Begin Your Job Hunt
Once you've accumulated enough training and experience, you'll need to start looking for positions to launch your digital marketing career. Finding work won't be a difficult challenge once you widen your network.
Make sure your resume and portfolio are up to date with all of your abilities and experiences, and then start applying!
#8 Update Yourself Constantly
Digital marketing methods are constantly changing. Some digital marketers adore it, while others loathe it, but one thing is sure: digital marketing is a dynamic field.
Every year, Google makes hundreds of changes to its organic and paid search algorithms. The Instagram algorithm is constantly changing and the digital marketing landscape, in general, is very dynamic. This means that if you choose to work in digital marketing, you should be aware that you will be learning daily.
That concludes my list. That was relatively straightforward, wasn't it? Whatever path you choose, keep two things in mind if you want to have a great career in digital marketing: networking and learning. From personal experience, I can attest that networking has aided me in obtaining numerous chances. Learning has aided me in making the most of such possibilities.
Was this article helpful to you? Please let me know in the comments section below!
Recommended Read:
IS DIGITAL MARKETING A GOOD CAREER CHOICE IN 2022?
5 BEST SOCIAL MEDIA ANALYTICS TOOLS FOR MARKETERS IN 2022
AMAZING TRICKS TO INCREASE SUBSCRIBERS AND VIEWS ON YOUTUBE IN 2022
General FAQs
Which stream is best for digital marketing?
Digital Marketing degree courses are offered at both UG and PG levels under management stream. At UG level, you can opt for BBA/BMS with Digital Marketing as the specialization and at PG level, you can opt for MBA in Digital Marketing.
Is digital marketing a high paying job?
As for an executive-level position, the highest salary in digital marketing is approximately INR 5,00,000. Wherein for the manager's role, the average highest salary is INR 15,00,000. Although these numbers are highly dependent on the expertise you possess, your experience in the industry, and the size of the company.
Are digital marketers in demand?
According to Linkedin, the industry is growing every year, paying a living wage, and has the greatest number of job openings. Businesses need digital marketers – Every business needs digital marketers to attract and retain customers. You know what that means! digital marketing is the most in-demand career in 2021.