Hi guys, if you are searching for a good career option, passion, job change, or looking for something which gives you financial freedom, then you are at the right place. In this article, I will explain why choosing digital marketing as a career is a smart move in this digital era. So let's begin.
In this rapidly changing environment, where everything will be digital, career paths will also be changing. Nowadays, people spend most of their time using their smartphones and laptop. According to research, an Indian spends an average of 4.6 hours a day on their smartphone. ( Source )
Is digital marketing a good career choice in 2022? Click To Tweet
This thing, business houses know very well. So they are starting putting their marketing budget on digital marketing instead of wasting their hard-earned money on traditional marketing. As a result, the demand for a digital marketer is rising in India and other developing countries. You can take advantage of this golden opportunity to learn, understand, and practice digital marketing. The good thing is that you are living in the 21st century. So, this is the golden era to learn and master any skill by using the internet. If you do that well, then you are ready for your bright career.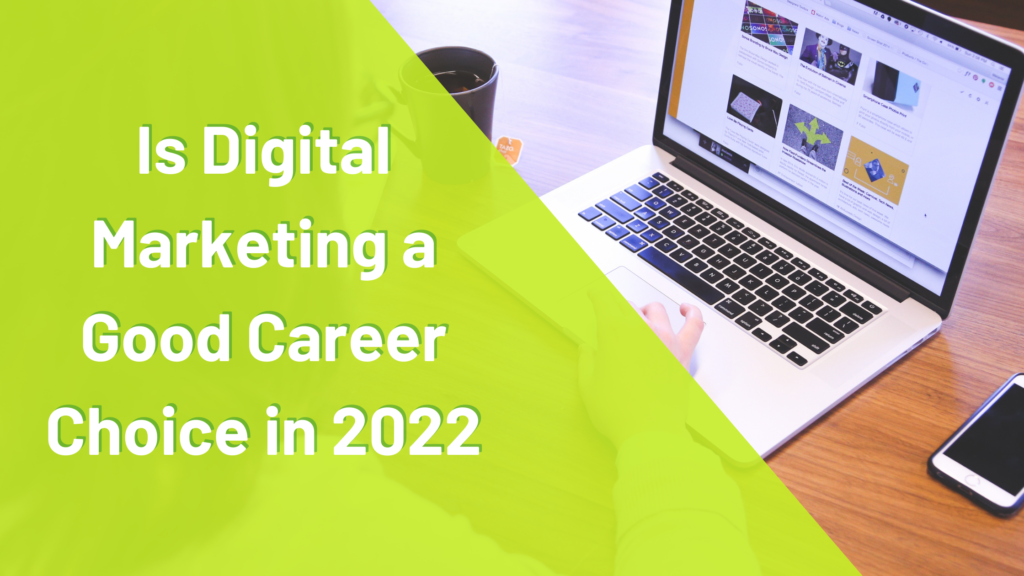 Now come to the main topic of why digital marketing is the best career option. Following are the five big reasons to learn digital marketing.
1. Many career paths after digital marketing course:
After completing the digital marketing course, you have many career opportunities. As I explained earlier, many business houses need a professional digital marketer. So, if you are worried about the job, then this is never-ending demand. But, if you don't want to do the job and planning to start your venture. Then digital marketing also helps you to fulfill your dream as well. Following are some career paths that allow you to pursue digital marketing as a career.
Digital marketing jobs:
Many digital marketing agencies hire website designers, social media marketers, search engine optimization experts, graphic designers, content writers, digital marketing executives, Google & PPC ads experts, Facebook ads experts, and lead generation specialists. Even if you master only one module of this whole digital marketing, you will still get a good job.
2. Freelancing:
If you are willing to work remotely, then freelancing is the best career path for your digital marketing journey. In this, you provide digital marketing services to your local and international clients. So many freelancing portals are there like fiver, people per hour, upwork, freelancer, guru, toptal, flex job, etc. All you need to do is make a profile, work for free at an initial stage, build a portfolio and then charge according to your skills.
3. Affiliate marketing:
Affiliate marketing is the most popular choice of aspiring digital marketers. In this, you sell someone's product on a commission basis. All your need to do is select a profitable niche, make educational content around it, build a healthy community, and sell someone else product through your channel.
4. Dropshipping:
This is similar to affiliate marketing, but the only difference is, you sell someone's product with your brand name. You can either sell products locally through your distribution channel or sell products internationally through aliexpress distribution channel. All you need to build trust.
5. Content creator:
This is also a good career option, creating content related to your interest, knowledge, and expertise. Once you build a community related to your interest, later on, you will monetize it. But it required a lot of patience and dedication from your side. Content can be video, blog, podcast, ebook, infographic, and posts. It's all depends upon your personality type.
6. Start, run, and grow your business:
If you already have a business and you want to grow digitally. Then digital marketing helps you to grow your business digitally. Sometimes you don't have much budget to hire a digital marketing agency, you do it yourself and save your money. But if you don't have a business and planning to start your venture, then digital marketing will also help you to understand the market as well.
7. Digital marketing agency:
You can also open your digital marketing agency. For that, you need a team, office, and investment to market your agency. But I highly suggest, before starting your agency you should get two to three years of experience in this industry.
8. Blogging:
If you are good at writing, then blogging is also a good career option. You can earn through Google AdSense, guest blogging, sponsored blogging, and affiliate marketing. The advance digital marketing course will help you to make a website, do keyword research; do search engine optimization, and do content writing.
9. Selling your courses:
If you are good in any domain, you can make the course and promote it digitally and sell them. But before selling the course, you should build authority and trust in that domain. For that, you need to understand the lead generation funnel.
10. Personal branding:
This is my favourite one. You can present yourself as a brand and build a healthy community. Then later, you will monetize your brand. You can earn through influencer marketing, sponsorship, paid promotion, and brand endorsement.
Note: All the career paths are tested and proven. Many people are already earning well with these options. But remember, these are not quick rich schemes. You have the patience to master these skills first. Once you master these skills, then the sky is the limit.
2. Master other skills as well:
If you want to make a career in digital marketing, you not only master the art of marketing but also develop some other skills. The top demanding skills which you will build during your digital marketing journey are:
Website designing, content writing, pay per click, data analytics, market research, copywriting, graphic designing, video production, scriptwriting, ads campaign, communication, negotiation, presentation, customer behaviour, and many more.
These skills also help to upgrade and build a great personality.
3. Resources are available on the internet:
In other fields, you need an expert to get out of it, when you feel stuck. But in digital marketing, extensive resources are available on the internet. Many tools are there which save your precious time. Learning materials are available on Google. Experts also share their knowledge and expertise on YouTube. If you face any problems, a forum and communities are there which will help you.
4. Demanded a few requirements:
If you are willing to learn digital marketing, you must fulfill some criteria. Prerequisites to know and master digital marketing skills are as follows.
• Smartphone
• Laptop
• Internet connection
• Investment
• Burning desire
If you fulfill these requirements, trust me, guys, you can master any skills in this digital world.
5. Future is digital:
This is the main reason to start your digital marketing journey today. If you master these demanding skills, then you will be a part of this demand. No matter what your age is, you can master these skills easily. If you master digital marketing skills now, later on, you will get benefits from it. According to a Linkedin survey report, digital marketing, and artificial intelligence are the two most demanded skills in the year 2025. ( Source )
Conclusion:
So to conclude, the environment today is quite suitable to start your digital marketing journey. But the question may arise in your mind that how I can start my digital marketing journey? After a lot of research, I found a proven solution for you. Take an advance digital marketing course. If I am talking about the best digital marketing institute in India, then Dforce Academy is the only award-winning digital academy, having students all over India & Abroad. They are offering advance practical digital marketing courses including all modules like search engine optimization, search engine marketing, social media marketing, web analytics, web designing, graphic designing, Facebook advertisement, video editing, email marketing, affiliate marketing, dropshipping, and many more. Yes, you read it right all high demanding modules under one course. I have never seen such a type of mega course. You should take advantage of it. I highly recommend you all. Visit their website to check the curriculum www.dforceacademy.com
Now you know the importance and scope of digital marketing. People are earning well through digital marketing. So, what are you waiting for? Start your journey now.
Thanks for reading. If you have any doubt, leave a comment.
Recommended Read:
5 BEST SOCIAL MEDIA ANALYTICS TOOLS FOR MARKETERS IN 2022
AMAZING TRICKS TO INCREASE SUBSCRIBERS AND VIEWS ON YOUTUBE IN 2022
7 EMAIL WRITING MARKETING MISTAKES AND HOW TO AVOID THEM IN 2022
General FAQs
Does digital marketing has a future?
By 2023, the quantity of dynamic Indian web clients will arrive at right around 666 million. In view of the report of Global Data, the Indian online business market is pushing to 7 trillion rupees by 2023 as a result of lockdowns.
What will be the scope of digital marketing in 2022?
Besides these natural market progressions, the COVID-19 pandemic is driving the scope of digital marketing even further online. While TV remains a prime advertising medium for many businesses, digital marketing allows companies to reach a global audience online.
Why is digital marketing booming?
The increased use of web has brought about the development of online businesses which have resulted into a career growth in digital marketing for the job seekers . The reduced Internet prices with everybody able to afford a smart phone has resulted into wider Internet usage.