More than 70% of small businesses worldwide leverage the potential of websites. However, only having a website is not an ultimate objective. They also require a web space or in simpler words servers to take their websites online. For that purpose, small biz owners looking to buy the best shared hosting plans to get a hosting infrastructure and build their sites' credibility online.
Is MilesWeb Shared Hosting Helpful for Your Small Business? Click To Tweet
Among many web hosting providers, MilesWeb offers the best shared hosting plans. Users can host unlimited websites with MilesWeb and manage their domains easily. Now, the major question in your mind will be why small businesses require websites, and is MilesWeb shared hosting helpful for your small business? In this guide, we will be answering this question briefly. Keep reading this post.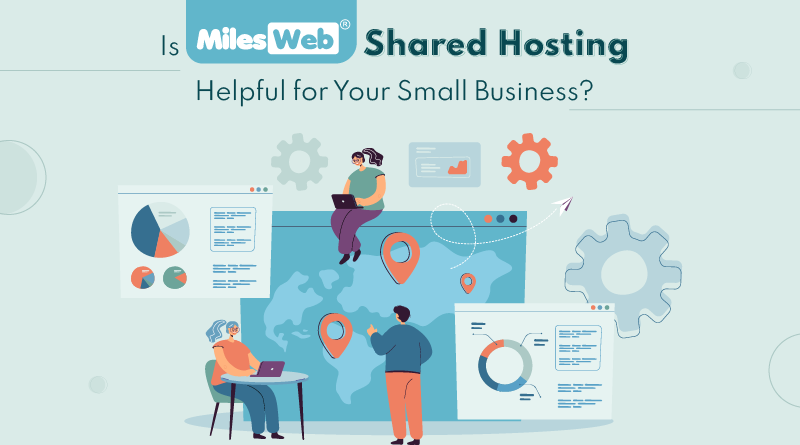 Why do Small Businesses Require Websites?
1. It's the Welcome Gateway
Websites are an online gateway for your visitors. It showcases your brand products, and services to potential buyers worldwide. If your website has a good user experience and user interface, it brings more traffic and engagement to your site. Moreover, it helps in educating your online visitors about your brand and service features. Most consumers prefer online shopping and your website can make it helpful.
2. It Shows Your Online Presence
Your business exists you know that, but how will other customers will get the same information. Without a website, you cannot show your online presence to other customers. Visitors online will learn many things about you and your business offerings. If not that much, at least your website will show that your business exists.
3. It Shows Potential Clients If Your Business Is the Right Fit
Why people should buy your product? As a small biz owner, you need to convince them to buy them. If potential customers are searching for products or services, you want them to visit your website and purchase products and services from it. Educate your customers with the right information on your website. A website is a digital representation of your business and helps you in building a strong online presence of your brand.
4. People Can Find You On Search Engines
In this fast-paced world, most users prefer the internet to find businesses. So, if you want to make your business online and available for all, tap the potential of the website. Optimize your website according to SEO parameters. Search engines prefer SEO optimized websites and give them higher rankings. With the help of SEO optimization, more visitors can search your business website easily.
How MilesWeb's Shared Hosting Is Helpful for Businesses?
1. Hosting Space for Multiple Domains
In your small business, there might be different websites you are running. Therefore, it is important for you to have a reliable web hosting infrastructure that accommodates multiple domains. MilesWeb's turbo shared hosting plan is the best pick if you want to host unlimited sites. While hosting multiple domains, you don't have to worry about the performance of each site. MilesWeb has sufficient SSD storage space to host websites with minimal latency.
2. Unlimited Bandwidth
Whenever we talk about hosting or the internet world, we cannot ignore the bandwidth factor. Thus, small biz owners require strong bandwidth connectivity to host business websites. After all, it is an important requirement to host websites with full efficiency and give your visitors a smooth browsing experience. MilesWeb meets your requirement with their top-level shared hosting plans. Get unlimited bandwidth with their every shared hosting plan.
3. Free SSL
Why you should invest more money in securing your website? You can easily protect your website from all kinds of vulnerable threats and data security breaches with the help of SSL certificates. SSL certificates are the assurance of the security of your website. With MilesWeb's shared hosting plans, get free SSL to protect your domain or websites from hackers, and other data threats.
4. Boost your SEO
Referring to the above information, if your small biz site is secured and performing well, it will also improve your SEO performance. It means that search engines will give them higher ranks to your websites. Most search engines also prefer SEO optimized websites with good uptime. MilesWeb offers guaranteed 99.95% uptime to give your visitors a good browsing experience.
5. Free Website Migration
MilesWeb will not charge you a single penny for the website migration. Purchase their shared hosting plans and migrate your small biz website for free. They will migrate all of your site's data with no data loss and extended downtime.
Conclusion
As a small business site owner, you have sufficient resources (capital and human) to manage your site. Thus, MilesWeb's affordable shared hosting plans are the best ones to prefer to host your website. Get managed 24×7 server support, fast SSD storage, control panel (to manage your site, FTP accounts, email accounts, and many more), and other amazing features. For your growing website, MilesWeb has prominent shared hosting plans.
Recommended Read:
TOP 6 DIGITAL MARKETING COURSES THAT WILL PREPARE YOU FOR A SUCCESSFUL CAREER IN 2022
5 BEST SOCIAL MEDIA ANALYTICS TOOLS FOR MARKETERS IN 2022
AMAZING TRICKS TO INCREASE SUBSCRIBERS AND VIEWS ON YOUTUBE IN 2022
General FAQs
What is shared hosting best for?
Shared web hosting is the perfect solution for new websites. As an entry-level service, it's also ideal for simple websites or anyone with a tight budget. The best hosts don't feel like they're shared. That means uptime, speed, and support are so good you won't even notice you're sharing a server with other sites.
What is the difference between hosting and shared hosting?
The difference between the two hosting types is the type of server on which your website is stored. With shared hosting, your website lives alongside others, which are neighboring users utilizing the same server. With dedicated hosting plans, your website has a server all to itself.
Is shared hosting good for WordPress?
If your website does not require a large amount of resources or server customization, shared hosting can be the perfect solution for your needs, and your gateway to the world wide web. WordPress hosting (opens in new tab) is designed to host websites which are using the WordPress content management system (CMS).