The world is moving fast forward with the internet. Every business has its online presence and it has become a ripple effect that makes it important for companies to have a website. With the growing demand for the internet, the web hosting industry is also emerging. However, limited hosting providers are providing such services. Thus, you can start a web hosting business by opting for reseller hosting plans. Profit making with cheap reseller hosting is easier because, in this type of hosting plan, users are reselling web hosting plans after purchasing them from web hosting providers.
MilesWeb Reseller hosting: The Plan Towards a Business Click To Tweet
Among many web hosting providers name, MilesWeb is the best reseller hosting provider. Choose MilesWeb Reseller Hosting plans to earn profit with minimal investment. Reseller hosting plans are a good business option to step into the business arena with less technical expertise. It is because web hosting providers will take care of every technical aspect like server configurations, installing applications, and so on.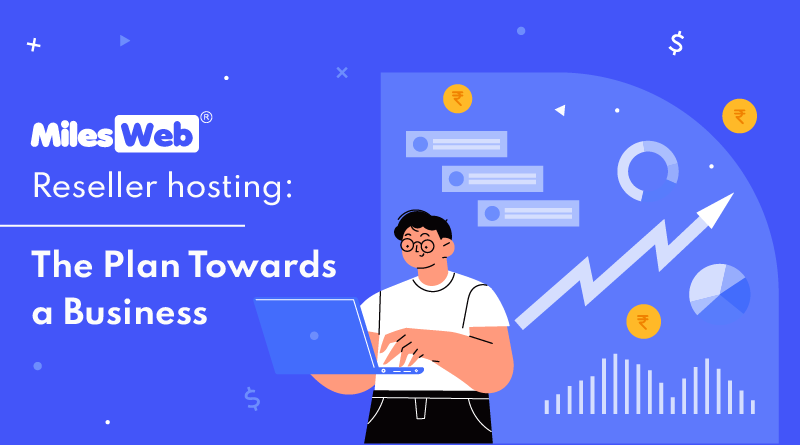 Does Reseller Hosting Give You Profit?
Entrepreneurs who look for setting up a hosting business in the web hosting domain can opt for reseller hosting plans. Reseller hosting plans require minimum investment and users generate maximum profit out of it. Leading web hosting providers offer web hosting services enabling resellers to earn maximum profit. Even some of them like MilesWeb provide 100% white-labeled web hosting services allowing users to resell web hosting plans under their brand name.
Therefore, resellers earn a profit after rebranding and reselling web hosting plans they purchase from web hosting providers. According to reports, the market capitalization of the server market will be worth $145.31 Billion in 2028. The CAGR between 2021 to 2028 will be 7.8%. Hence, we can say that the reseller hosting plan gives you more profit.
Types of Reseller Hosting Services
Linux reseller hosting: It is a hosting service where resellers host Linux OS websites in large volumes. If your clients' websites run on operating systems like Debian, Fedora, CentOS, and Ubuntu, purchasing Linux reseller hosting plans is helpful to generate a profit margin.
Windows reseller hosting: It is helpful for resellers if they want to host Windows compatible websites. Windows reseller hosting plans give good returns if resellers are picking the right target audience.
Most websites worldwide are supported by the Linux OS and Windows OS. So, MilesWeb offers both reseller hosting services at affordable rates. Thus, resellers have an opportunity to host unlimited websites for clients with minimal latency.
Things to Consider While Starting the Hosting Business
Having a basic knowledge of the web hosting industry.
Picking the right target audience.
Determine your goals.
Follow the right trends in the web hosting industry.
Gather all relevant web hosting operation resources (human resources, servers, and much more).
Rebrand web hosting packages.
Create an easy payment model.
Do the right marketing.
How MilesWeb's Reseller Hosting Plans Benefits Users?
1. Providing Reliable Hosting Infrastructure to Your Clients
Your web hosting brand might be the original for your clients, but the fact is MilesWeb provides all sets of hosting infrastructure. They have CPU, RAM, SSDs, and bandwidth to host unlimited domains. Hence, no matter how many clients you manage, MilesWeb's reseller hosting plans have covered them.
2. No Need for Technical Expertise
It is understood that many resellers cannot have 100% technical knowledge to manage all web hosting operations. Instead of investing in technical resources, it is better to purchase reseller web hosting packages from MilesWeb. Get all in-tech support with their plans to maintain servers, configure applications, install updates, and manage all technical operations for carrying out the web hosting activity.
MilesWeb gives email support and lives chat support 24×7 365 days. Resellers can connect with them anytime as per the requirement. In this manner, your clients will not have to wait for long to get technical issues resolved.
3. Host Unlimited Domains          
MilesWeb understands the business scenario and hence provides unlimited domain hosting space. They provide unlimited bandwidth with free SSL certificates and cPanel accounts. Resellers can add as many domains and sub-domains in cPanel accounts with no limitations. With the help of unlimited bandwidth, there is no requirement to invest in additional hardware resources. Host all domains, email accounts, or other web files with full efficiency.
4. Affordable Reseller Hosting Plans Means More Profit
MilesWeb offers affordable reseller hosting plans. Because of this, reseller users can generate more profit and income through reselling hosting plans. Resellers can generate income by providing add-on features like SSL certifications, bandwidth allotment, and others.
Key Takeaways
The reseller hosting business is here to stay and grow. As there are more internet solutions required worldwide, the reselling hosting demand has also increased. MilesWeb is the right web hosting provider to receive reseller hosting plans. They offer WHMCS to manage client domains, billing activity, and other hosting operation-related activities. Moreover, their reliable web hosting infrastructure gives maximum efficiency to all domains.
Recommended Read:
TOP 6 DIGITAL MARKETING COURSES THAT WILL PREPARE YOU FOR A SUCCESSFUL CAREER IN 2022
5 BEST SOCIAL MEDIA ANALYTICS TOOLS FOR MARKETERS IN 2022
AMAZING TRICKS TO INCREASE SUBSCRIBERS AND VIEWS ON YOUTUBE IN 2022
General FAQs
What is meant by reseller hosting?
Reseller hosting is a Web hosting business model in which a Web hosting provider allows some or all of their Web hosting services to be sold by an individual or third party organization.
Is Reseller Hosting Profitable?
Reseller Hosting is a profitable business venture, and the reason is quite simple — you don't need a lot to run it. There's not a lot of initial capital required. You don't need expensive maintenance staff. You are also not responsible for hardware uptimes.
What is the difference between web hosting and reseller hosting?
A shared hosting plan is intended for a single owner. No reselling is allowed on the shared hosting plans as it may affect other server users adversely. Only one control panel is provided for all the domains. A Reseller Hosting plan is for those who want to resell hosting.