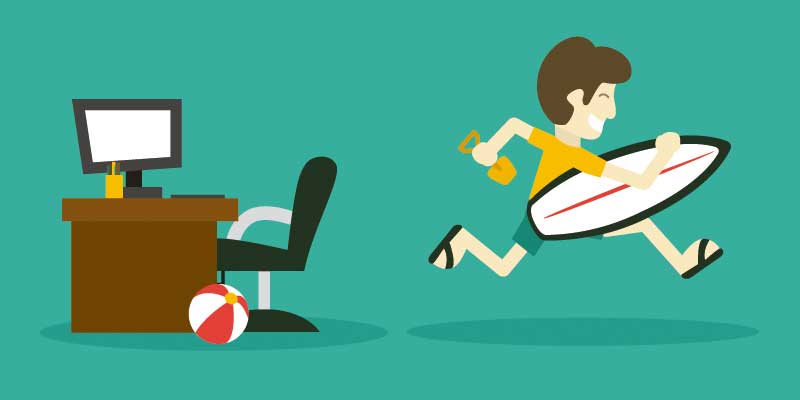 When summer arrives, the holidays arrive: Business activity slows, consumers change their usual place of residence and customs.
But.. Internet does not close for holidays
Unless your company has during the summer peak season, you may drop your visits and your turnover, but that does not mean you should abandon your site and "close for holidays".
You must decide that you want to keep working pace during the holidays and perform certain tasks or send with a frenetic pace in season may be more complicated to rush.
It is a great time to reinforce the foundations of the online presence of our business through a series of tips to improve during the holidays.
In summer it strengthens the foundations of the online presence of your business
Analyze your data
Analyze your past and current information.
Use Google Analytics to learn in detail:
What worked well last year?
What it did not work?
Have there been any milestone or important circumstance?
All the information you can gather will help you keep a better understanding and also will serve to develop a strategy that enhances your strengths and "lime" your weaknesses.
If you do not collect enough information, do not worry, now is the time to create enough to begin to collect infrastructure: use some appropriate parameters tracking in Google analytics, complemented by other platforms that will provide statistics that will provide sufficient information to decide .
Related articles: Optimize Your SEO On Page With XOVI To Reach The TOP 3 In Google
Do not let posting! : Program Content
The ideal is to keep the rate of publication: You can prepare in advance and schedule content articles as they are published on the dates that you enjoy the holidays or you dedicate yourself to other tasks.
If you find it right, maybe you can publish fewer articles, but never let your users without the ability to stay connected with you.
Nor do you allow the descent of positions in the search results for "close your web on holiday".
Post content lighter
Note that most users will be enjoying your vacation, relaxed and trying to regain strength for the new season: offers content that is not dense and let them enjoy without much effort.
Strengthen your most visual channels such as YouTube, Vimeo, …
lighter, easier to read content: you can publish summaries, compilations, better not
Humor brings your publications
Planning strategies
Summer is a perfect time to plan.
When everyday is less intense we can use to plan our strategies next year: we have more time, and more clearheaded.
With the information contained in the analytical you've collected, prepares your goals and set yourself route to get them.
Improve your SEO
Working every day to improve web positioning is essential to achieve visibility and increase business opportunities for our companies.
I recommend you perform monitoring tasks and "maintenance" of your articles
Improve your internal linking structure
Check your external links
Check if you have broken links
Upgrade and expand your items if they have become obsolete
Optimized for your keywords
Prepares New Formats
Surely you are curious to experiment with new formats, but the day to day does not allow it.
Related articles: The Most Common SEO Mistakes To Avoid
You can prepare:
ebooks
courses
seminars
Videos
podcasts
Rest well
Do not forget that the performance of the rest of the year depends largely on what you can relax on holiday: It is important that you devote the time necessary to brighten, charge the batteries so we can come back with renewed energy.