The rising popularity of LinkedIn can be attributed to its fast climb to prominence on the social networking scene. Over the years, LinkedIn has grown from being a platform where people connect and engage professionally to become a trending social media site to build your business quickly.
Workplace productivity is critical. LinkedIn has shown itself to be more than simply a networking tool, but also a way to receive free training and identify leading thought-leaders in your field who can serve as role models.
Promoting Your Business Online Using LinkedIn Click To Tweet
Nowadays, many companies use LinkedIn to locate their target market, discover their target audience, and establish themselves as thought leaders in their specialist sectors. Additionally, LinkedIn offers additional capabilities like live videos to be a handy advertising platform.
Despite this, LinkedIn may help you develop your business and increase your target demographic. However, if you follow a well-designed strategy and utilize LinkedIn to market your business, your brand may flourish.
In this post, you'll learn many LinkedIn-oriented strategies for promoting your business.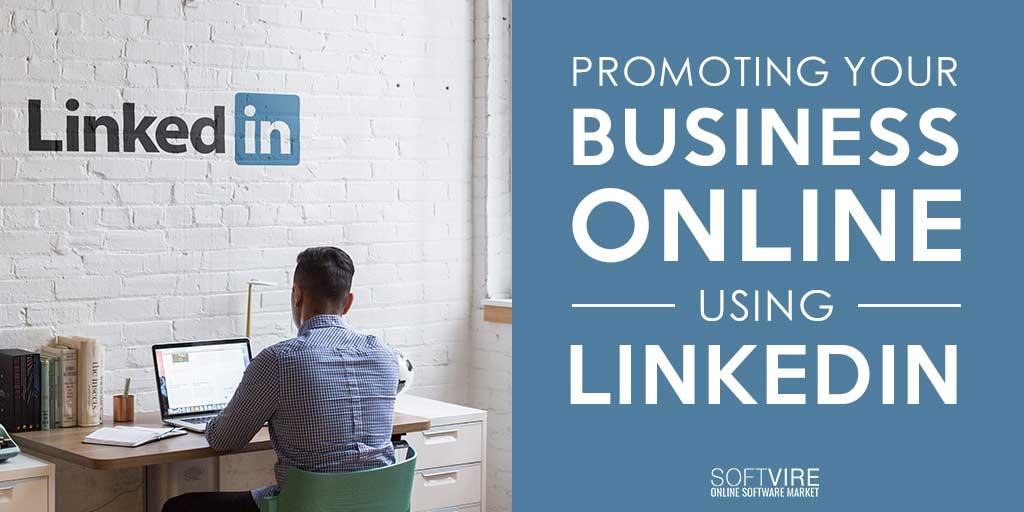 How to Promote Your Business on LinkedIn
1. Make Your Profile Complete And Updated
There's no underestimating the importance of generating an excellent first impression when it comes to your brand. One of the first things prospective clients will see when visiting your LinkedIn or other social media page is your profile.
Individuals in company promotions need to have their profiles current. By choosing to do this, you can demonstrate your trustworthiness and reliability. Your network relationship should be improved by making changes to your contact network profile. Your LinkedIn profile is your most significant asset in establishing your network, and that's because LinkedIn allows you to do business with others. Work for the most optimized profile as close to 100% as feasible. The promotion of your brand on LinkedIn will depend significantly on your profile.
2. Determine Your Desired Purpose
It is critical to identify and define your promotional objectives before embarking on any promotional activities. A marketing target should be set as soon as it is viable, no matter what kind of marketing you are doing. You can safely say that this is a good technique and should always be your first approach whenever you do marketing. It helps you keep track of your progress while also helping you gauge your results.
The goal of having a better brand image, getting an authority position in your field, and acquiring clients are just a few of the many you could achieve. Having a target in place will assist you in formulating a superior marketing strategy that definitely will yield positive results.
3. Increase Your Site's SEO Efficiency
There is a more significant opportunity for visibility in your network and your target audience if the company page is optimized for search engines—in other words, search engines should be able to locate your page. To optimize your page for search engine compatibility, you must put in the necessary work.
When you're writing content that connects to your specialty, try to utilize keywords and phrases that your target audience could use to identify related things and services. These keywords might be used in your 'About' profile section. Although it is essential to apply relevant keywords, make sure you also use keywords relevant to your organization and the items or services you are offering.
4. Design An Effective Corporate Page And Business Profile
You also need to include a corporate page in your LinkedIn marketing strategy. Your marketing operations may choose to funnel all through this platform, which will serve as the focal focus of your efforts. More recently, LinkedIn has morphed from a tool for networking to a highly effective advertising channel. As a result, individuals search for businesses and different products and services on LinkedIn and other social media platforms. Your company profile must be rock-solid, and it must be clear and readable for your target customers.
You should complete your business profile thoroughly and optimize it to increase your sales. Take every conceivable precaution to avoid creating grammatical errors and typos. You have people in your audience who are brutally critical of your mistakes. You can also have a peek at your competitor's profiles to see how they've been successful. Also, a variety of content and multiple learning opportunities should be present on your website.
5. Build And Expand Your Social Network
Your number of followers is the goal of social media marketing. Connecting with people on LinkedIn could increase your ability to attract new customers.
In terms of expanding your network, you have many options available to you. If you're hoping to cultivate clients, your employees, suppliers, and contractors, connect with them through their social media accounts and encourage them to follow you on these social networks. Another suitable method for getting the word out about your LinkedIn profile is using blogs, emails, and press releases.
Share the good work of others. Businesses rely on the contributions of everyone, so if you believe a specific write-up, article, or exciting fact is crucial to your firm, please pass it along to your network of contacts. If you have the opportunity, ask some of your happy and loyal customers to provide testimonials and endorsements and include them on your website. It is a strategy for raising your company or brand's stature. It will help build trust in you, and your network will become more receptive to new members.
6. Create And Share New and Relevant Content
Other essential tasks should be performed for your profile to be valid. A vital component of a successful LinkedIn strategy and campaign is to create and distribute relevant material consistently.
Without relevant content, your LinkedIn account promotion efforts will be wasted, just like any other form of advertising. LinkedIn content marketing can yield substantial success if it is handled correctly.
7. How Successful Is Your Current Strategy?
It is vital to evaluate your efforts frequently to ensure that you have reached your initial goals. Using data-driven marketing tactics on LinkedIn to get insights and identify your promotional needs is an excellent way to go.
You can find out more about your page visits, updates, and followers by using LinkedIn Analytics. When you use the analytics tool given by Facebook, you'll be able to view information such as the total number of page views, likes, comments, clicks, and shares, as well as real-time data on a post-by-post basis. Not only will you learn more about who your followers are, but you'll also have a greater insight into who they are by learning about their demographics. Having all of this insight helps you to strategize your marketing approaches better.
8. Consider Using LinkedIn As A Networking Tool
LinkedIn is an excellent tool for networking. LinkedIn's networking features can be used to their most potential by doing the following:
Attract and engage with individuals
Connect with talented individuals
Communicate and collaborate with others
Attract and engage with individuals
Make strong connections with co-workers and friends. Build and expand from those initial connections by establishing and keeping good interactions with colleagues and friends while also developing new contacts. Aside from that, it is evident that if you like or follow someone, may it be a brand or company, make the effort of establishing a connection. Should you find specific content interesting, use LinkedIn to introduce your brand and connect with them.
Most likely, your company's LinkedIn profile is public. As such, always be open to engaging with new people because your LinkedIn network may bring new changes.
Connect with talented individuals
Unless you've already established a personal profile and a business page, there are extra steps you need to do to secure your online presence.
Your organization's website, social profiles, and business culture should appeal to your target client and potential individuals for target acquisition. While the marketing, communications, and human resources departments are crucial in impressing top candidates, your branding initiatives also play a role.
Determine who you want to talk to and connect with them—zero in on their skills and abilities. Search for profiles of people you think is most likely to be interested in your brand.
Use landing pages that detail the team, organization, or recruiter and include material such as images, videos, or slideshows to attract talented people.
Go ahead and display your work. You and your coworkers know your company narrative better than anyone else. To show that your company is distinct from others, highlight your distinctive culture via videos, images, and customized messages.
Communicate and collaborate with others
Take advantage of LinkedIn's networking potential. Communicate with other users, and use it as a meaningful platform. When you publish your work, you should reply to people's comments and remarks. While you are sharing your work or accomplishments, also provide positive feedback on the work or accomplishments of others. Another way to connect is by engaging relevant groups on LinkedIn. Through those connections, you may simply ask for recommendations and ideas.
9. Share Content on LinkedIn
LinkedIn's massive abundance of resources makes it an excellent resource for content creators. Creating exclusive content for your LinkedIn audience using it as a native publishing platform gives you a considerable edge.
Some people might wonder why you would submit your information on LinkedIn instead of posting it on your blog or website. One good reason is that LinkedIn can vastly help you build your network. The primary purpose of publishing an article on LinkedIn is to boost LinkedIn brand recognition while also increasing social engagement on LinkedIn.
Another advantage is whenever you upload an article on LinkedIn, everyone connected to you gets an alert. This feature is beneficial for you since 45% of top-level executives read LinkedIn articles.
10. Build Your Online Reputation With LinkedIn
Once someone searches for your company's name on Google, having complete control over all of the results displayed on the first page of search results is the first rule of online reputation management. While this knowledge should help you understand that it is essential for your site's content to rank in search results, you should also be aware that it is good to utilize all of your social media accounts, even if you don't intend to use them often.
An individual's name or a business' name typically appears on the first page of results when someone uses a search engine to find them on social media platforms like LinkedIn. With that, your company should have a corporate website and a comprehensive business page that ranks well on search results.
If you ever get terrible publicity, your website and social media accounts will be able to counteract poor reviews and criticism by putting them onto the second page.
Conclusion: Explore ways to Maximize your LinkedIn Capabilities
You'll have the chance to test out your marketing plan as you work your way through the LinkedIn marketing environment. Your website or blog is open to variation in the number of times you post and the types of content you use. When deciding which of your marketing content ideas may lead to higher engagement, figure out which ideas have the most significant potential. Experimentation may also assist you in distancing yourself from competitors while keeping your customers and customers' interests engaged.
LinkedIn is considered too professional for others, yet it is a powerful way to expand your business. LinkedIn is a terrific place to start when you're looking to extend your company page along with your business expansion. LinkedIn has many new normal business strategies to choose from, and the only task required is to determine which approach is ideal for your organization.
Recommended Read:
UPCOMING TRENDS IN DIGITAL MARKETING THAT YOU SHOULD NOT IGNORE THIS 2021
TOP 10 DIGITAL MARKETING SKILLS YOU NEED TO LEARN IN 2021
5 BEST ONLINE DIGITAL MARKETING COURSES IN 2021
General FAQs
Is LinkedIn free for businesses?
LinkedIn Company Pages are free to set up and essentially serve as an extension of your company website. You're able to post job openings, links to company news and blog posts, create "showcase pages" highlighting certain departments or service offerings and more.
What are the benefits of LinkedIn for business?
LinkedIn for business allows you to build credibility, create a meaningful network, and glean insider expertise from established experts in your industry. More than 30 million companies use LinkedIn for business.
What should a small business post on LinkedIn?
Create an inspiring headline, upload a professional photo, and demonstrate your company's ethos with a powerful and well-worded biography. Add any SlideShare presentations, videos, published content, and infographics that can showcase your work experience.