As the fast growing of the internet and social media, the world of marketing is transforming from traditional marketing like TV ads, radio, billboards.. to digital marketing. In the latest updated from eMarketer, you can see that since 2018 to 2020 the spending budget gap between traditional marketing and digital marketing have changed all over the year, and its estimated that to the year of 2023 the spending budget for digital marketing will be double ( 201 billion dollars compared to 100 billion ) of what spends for traditional marketing.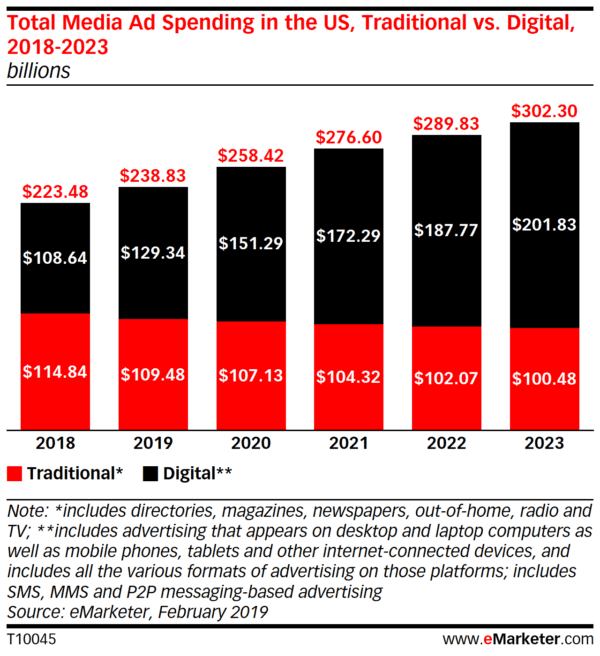 It's time to start investing in digital marketing services that drive valuable results for your business.
Top 10 Benefits of Digital Marketing for Every Small Business Click To Tweet
Are you ready to learn why digital marketing is giving the best benefits to small businesses ?
Then start reading about our 10 benefits of digital marketing for small businesses.
Let's jump in!
1. Digital marketing is the most powerful form of marketing.
Having a website is probably the first thing you need when thinking about having an online business, but having just a website is not enough to attract the customer, find you and click on your site. To be able to bring in customers to your website, your website needs an effective marketing strategy. If no one can find your website, how are they going to know your products and maybe buy it? The only way to bring in customers to your site is by utilizing the right marketing techniques like SEO, PPC, content marketing, social media marketing and much more.
Digital marketing tools and techniques such as SEO, PPC, content marketing, social media marketing, email marketing… help business owners with detailed insights to know about their competition and opportunities to grow a successful business.
2. Using digital marketing tactics is the most cost-effective way to market your business.
Digital Marketing is not only more effective to reach your targeted demographic, but it is so much more cost effective. With traditional marketing, it's very difficult for small businesses with limited budgets to compete with bigger businesses for ad spending. However, with an affordable digital marketing plan, small businesses can get more for their marketing spending.
CPM is an advertising metric that calculates how many advertising dollars you must spend to reach 1,000 people. One of the key factors of any marketing campaign is how to reach out to your target customers as much as you can.
Look at the chart as below from the research from, a small business can expose over 1,000 people to its products and services for less than 5$ by using social media and with specific Facebook ads is even cheaper. Compare it with more than 50$ with direct mail or 17$ on a magazine.
With the traditional marketing, there are additional costs associated with each medium. With direct mail you have to work on design print, printing cost and mailing fee. With TV and radio, you have to consider the increase in prices during golden hour for advertising and which channel to broadcast to, the more popular channel the more you pay. Magazine and newspaper you have to work with the publisher to discuss and pick for the golden position on the newspaper.
Otherway with digital marketing, do you know time is the only "hidden" or fixed cost? Whether it is your time, your employees, or your outsourcing agency's time, you must think of this as a cost. The time to work on creating content, photography or video and some other tactics such as SEO , Google Ads or Pay Per Click.. The gap between you and your customer never closes.
Image source: SocialAXcess
3. Digital marketing is the most measurable form of marketing.

Image source: Freshsparks.com
Imagine you are spending thousand of dollars or hundred thousand dollars for your marketing campaign in a traditional way such as television, radio or newspaper and you aren't really sure if the money you spend is worth it?
In terms of marketing there is nothing more important than measurable, whether it is traditional marketing or digital marketing. In traditional marketing techniques such as placing ads in magazines, on air your new products or the introduction on the popular radio channel. The point here it you can't actually measure how many people are going to buy your products because they have watched or heard your ad on Tv/radio.With digital marketing, it's so easy for you to track the visitor traffics, customer spending time on the web, CTR (click through rate).
There are many digital marketing analytics tools such as Google Ad, Hootsuite Insights, Instagram Insights.. takes the measure work by an analyst of your running campaign every hour or real time checking. By knowing the latest report, you alway know how your campaign is running, good or bad and then you can adjust based on the result. Can you follow your campaign as that in traditional marketing? You may know what i mean now, a successful campaign is all on your hand now.
Too easy for imagination, you have a new product and want to use a social media channel such as Facebook to launch the campaign. You choose to publish the new information about the product through Facebook Pages in the 1 month period. You've decided to publish a series of social media posts over a two-week period. You use Facebook Ad Manager to keep in track your campaign, from the report it's easy to know which post has the most engagement and how can you improve it for the next post or next campaign.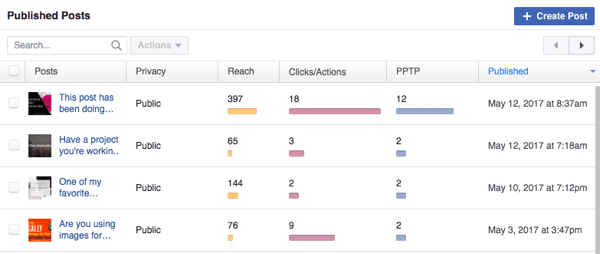 No more guessing game about what's working and what isn't, since now on the marketing game is all on you now.
4. One of the greatest benefits of digital marketing is that it allows you to target your ideal buyers.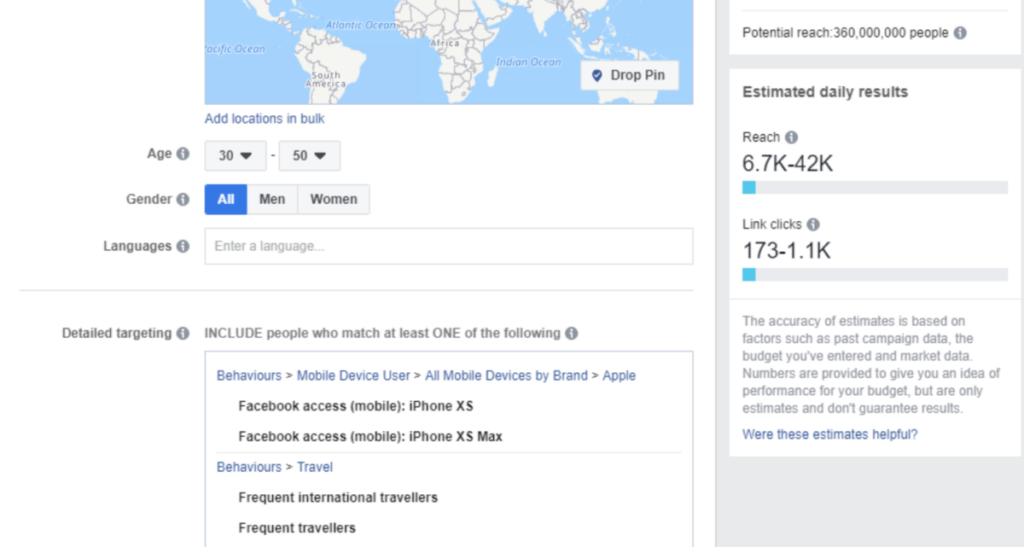 Source: newsfeed
When you introduce your new product on tv/radio or place an ad in a local newspaper, it's like you are playing gamble and hope your cards will help you to win the game or exposure to the potential customers. Of course there is a certain way that your product will connect your products to customers in traditional marketing but if you compare with digital marketing, there is no way that you can assure your are spending ads at the right place, right time and right people.
With digital marketing, you can ensure that your ads are at the right place to reach out to customers. SEO allows you to reach those customers who are searching the web for content and topics that are relevant to your business. While Facebook, Instagram allow you to select the age group, gender, and even locations that you'd plan to reach!
With digital marketing, no more worries about your ads spending will waste for nothing. Have a goal of your target customers, your affordable budget and a good strategic plan, that's all you need to run a successful campaign.
5. More people are now shopping online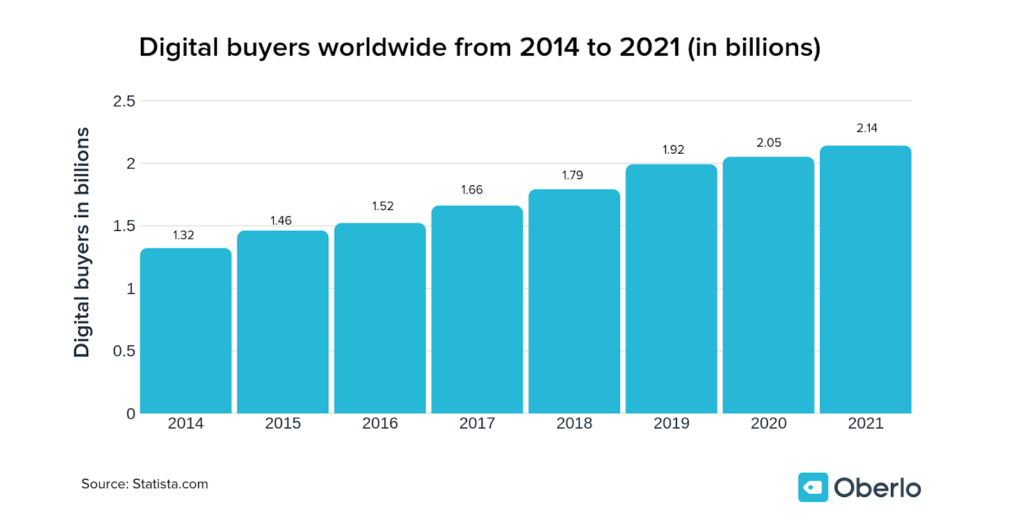 During the pandemic, the rise of ecommerce is faster than ever, the number of online shoppers worldwide rises along with it. In 2020, the number of online buyers is expected to be 2.05 billion. That makes 26.28% of the 7.8 billion people in the world. To make it easy for you to imagine, one of every four people you see around you is an online shopper. These numbers tell us one simple but important thing, that online shopping is the future of shopping, that if you don't follow the trends, your business will slowly or fast drop out the market.
The number of online shoppers is expected to increase and reach to 2.14 billion by 2021. With the worldwide population about 8 billion people, that means 26.8 percent of the global population will be digital buyers.
If you plan to buy something, will you ask your network's friends and family or will you do your own research first. In the twenty century, the internet is growing faster than ever. From the busy city to the rural area, almost everyone can access the internet without barriers. The big search engine machines such as Google, Bing, Yahoo.. help you to find the information you need. And so do your customers, they do all the research about the products or services that they are looking for.
Spending on Google Ads, Bing Ads.. for your target keywords, optimize your keywords of the products/services in your inches .. make you get found easier when the clients do the research on the internet.
By creating relevant and engaging content that's optimized for the search engines, spending on Google Ads, Bing Ads.. for your target keywords, optimize your keywords of the products/services in your inches .. make you get found easier when the clients do the research on the internet.
6. Your customers are on social media, and digital marketing helps you reach them.
Source: fipp
Do you know that Elon Musk's company Starlink is planning to bring high speed internet access across the globle, it's the possibility that in a couple of years, you can access to the internet wherever you are in the world. And the big social media companies are in the race to compete for having more users. It doesn't matter what industry your business is in, there's a big chance that your buyers are spending their time on social media channels like Facebook, Twitter, Instagram or Youtube… and in these social media platforms they create all the ads tools to support the businesses, companies spend and manage the advertising spending on.
There are more than an estimated 2.62 billion people connected via different social networks at the moment, by 2021 the number will rise to over three billion, resembling over one third of the global population.
With traditional marketing, you will definitely struggle by the limit of connecting to your target customers. It's such a headache dealing with oversea market, foreign cultures when you are planning to expand your marketing strategy.
But in terms of digital marketing , there is no such thing as border limited. The time and creation are what you need to invest the most. Do you know if you have even only one trending video, one trending game.. on Youtube or Itunes store, people from across the globe can see that. In Vietnam, the popularity of the game Flappy Bird was made by an Vietnamese Game Developer is one of such legendary examples.
7. SEO and local SEO helps you reach more qualified customers online.
Just imagine you are having a flower shop without having any signs about the store, no brand name, no decorations, no flower showcases…nothing attracts the people walking by, people don't really know what your store offers. As a manager you hope the people pass by and get attractive, ultimately come to the store and check out the products. Look at the opposite flower shop, when you have a shop with a proper name and image of what your products are with the nice decor, this would attract so many people off the street, ultimately they would ask for what you sell, and some of these customers would buy it.
The stories I have just shared with you, the first example is like a website that is not optimized and the second one relates to an optimized website.
For any business, marketing is critical. When any business goes online, digital marketing takes a big part in the advertising budget and as you know, SEO gives an opportunity for a great deal of free advertising. SEO is short for search engine optimization. In the world of digital marketing, this marketing strategy plays an important role in helping you increase your reach to potential customers.
Even though Google doesn't share its overall search volume. Some have estimated it at 3.4 billion searches per day and the volume of searches grows by 10% every year. On the latest research on Statcounter Google has the largest market share at 91,75%, compared to the rest search engines such Bing,Yahoo, DuckDuckGo, Baidu..! By knowing this, SEO is a must do to meet your customers where they're searching and spending time.
8. Digital marketing helps you connect with mobile customers.
Whether you want it or not, developing a mobile marketing strategy is critical. In 2015, Google announced that mobile traffic had overtaken desktop traffic for the first time, and this difference has only continued to increase. In order for your digital marketing strategy to continue to develop, developing a mobile marketing strategy is critical. Over half of all online users are accessing the web from a mobile device. Digital marketing on mobile can help you reach people on a large scale. Adapting your digital strategies to mobile, simply means identifying key elements of your marketing efforts and introducing these to the mobile device of your users.
Just a few years ago, mobile marketing was just secondary, it is considered as a complement to other digital marketing that was targeting desktop users. Nowadays however, this trend has turned itself upside-down, and there is no doubt that mobile marketing is the king.
9. Digital marketing is highly adaptable
When you are running a marketing campaign, the big question for small business owners is usually – Is everything running okay and working out? Fortunately, digital marketing is a very flexible form of marketing. And the best part is that you don't have to wait until the end of the campaign to make adjustments. For example, if your social media campaign isn't producing desired results, you can always adjust your campaign, maybe update photographs, more engagement text, audio, post at different timelines.
With traditional media like advertising through television, radio or newspaper, this is impossible or you have to spend a lot of money to adjust it. You often have to wait until the campaign is complete to see the outcome, and if in the worst scenario the campaign does not bring your expected results, you have to wait and make the changes for the next campaigns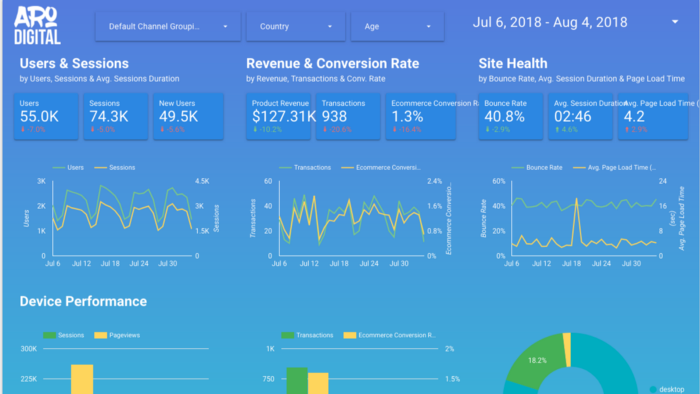 Source: Aro Digital
With many tools support for website analysis such as Google Analyst, you can explore data such as where visitors came from, what course they took between pages while on your website, and where they spent the most (or least) time during their visit. Later, after two or three visits they got converted to customers. With this information, you're able to gain increased awareness of visitors and how they interact with your content throughout the buying cycle. By knowing this, you can always update your running campaign in real-time.
10. Better ROI
Enter return-on-investment (ROI) it's an essential metric for any organization looking to assess the impact of its digital marketing activities. As a metric, ROI is really simple; it is the cost of carrying out an activity versus the resulting outcomes.
Even your toughest competitor can provide you with opportunities to learn! If you feel like your business is successful, that's when you should look to your competitors to determine if there's a way to improve what you may be missing. Businesses are always concerned about better ROI when they invest money in marketing. With smarter marketing plans, brand awareness, and better revenues. Digital marketing can help your businesses to fetch a better ROI compared to traditional marketing. 
With digital marketing, you can generate more traffic that gets converted into sales and leads, which will help you yield better ROI. There are many benefits of digital marketing which can help the business to grow in this competitive market and transform the way to engage the customers. Digital marketing is the best way to reach out to potential customers irrespective of time and place.
Let's wrap it up
50 years ago we may never know how far we can go as the world today and we are living in a digital world where their customers are online as that's where they are spending most of their time. This is the time when brands will have to use different approaches to actually connect and make an impact on the customers.
Therefore, it is essential to understand the main benefits associated with digital marketing compared with traditional marketing and realize how important it is for a business to be able to succeed by using this. In a simple way to say, this form of marketing is concerned with use of digital media for promoting products and services.
We could go on and on all day how digital marketing can positively impact your brand, but the 10 reasons we have shared with you above should be enough to at least peak your interest. If you don't currently have a digital marketing agency in place, you may be losing out on an important opportunity to reach out to more consumers and ultimately left behind your competitors. If you are planning to operate your business in Vietnam, our digital marketing agency in saigon Vietnam is always happy to support you.
Recommended Read:
TOP 10 MOBILE APPS FOR BUSINESS COLLABORATION
HOW TO START A LINK BUILDING CAMPAIGN?
AFFILIATE MARKETING: 7 PROVEN WAYS THAT WORK
General FAQs
What are advantages of digital marketing?
The main advantage of digital marketing is that a targeted audience can be reached in a cost-effective and measurable way. Other digital marketing advantages include increasing brand loyalty and driving online sales.
Why digital marketing is important for small business?
Just having an online presence and a website makes a business appear more trustworthy. Digital marketing also allows small business owners to engage with consumers online, making it easy for them to reach out to potential customers and see what needs to be done to make a sale.
Is digital marketing effective?
More and more small businesses are implementing digital marketing tactics to effectively reach and engage their target consumers online. In fact, U.S. digital marketing spend will rise to about $332 billion by 2021. Digital marketing tactics has proven to be the most cost-effective way to reach potential customers.