SEO is the practice of optimizing content to be discovered on Search Engine Result Pages to get free traffic. 
SEO (Search Engine Optimization) is the process of increasing the quality and quantity of website organic traffic by increasing the visibility of a website or a web page to users of a web search engine. Wikipedia
Top 20 SEO Influencers to Follow on Twitter in 2020
Click To Tweet
The SEO updates and practices can be tricky to get down. That's where advice and insight from today's top SEO influencers can come in handy.
Recommended read: Top 20 SEO Trends in 2020 To Boost Your Organic Traffic
Here is a list of top 20 SEO Influencers accounts you should definitely follow:
#1 Rand Fishkin


Twitter Handle: @randfish
Location: Seattle, WA
Website: https://sparktoro.com/
Joined: June 2007
About: Rand Fishkin is the CEO & Co-Founder of SEOmoz, a leader in the field of search engine optimization tools, resources & community. In 2009, he was named among the 30 Best Young Tech Entrepreneurs Under 30 by BusinessWeek, and has been written about it in the Seattle Times, Newsweek and the New York Times among others.
#2 Matt Cutts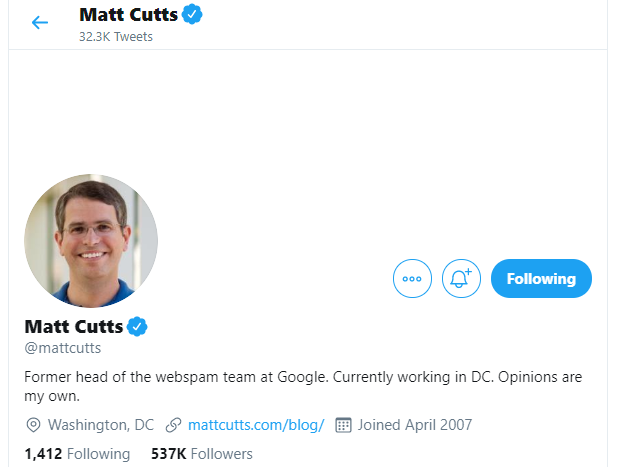 Twitter Handle: @mattcutts
Location: Washington, DC
Website: https://www.mattcutts.com/blog/
Joined: April 2007
About: Matthew Cutts is an American software engineer. Cutts is the Administrator of the United States Digital Service. He was first appointed as acting administrator, to later be confirmed as full administrator in October 2018.
#3 Brian Dean
Twitter Handle: @Backlinko
Location: Boston, Massachusetts
Website: https://backlinko.com/
Joined: November 2012
About: Backlinko founder Brian Dean is an SEO expert in digital marketing. Here he offers a number of great insights that other entrepreneurs can learn from.
#4 Neil Patel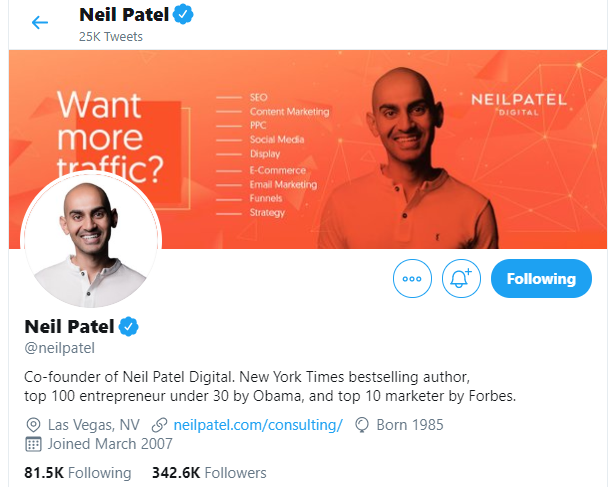 Twitter Handle: @neilpatel
Location: Las Vegas, NV
Website: https://neilpatel.com/
Joined: March 2007
About: Neil Patel is an author, entrepreneur, marketer and blogger. He enjoys helping small and medium businesses grow using innovative marketing strategies.
#5 Danny Sullivan
Twitter Handle: @dannysullivan
Location: Newport Beach, Orange County
Website: https://dannysullivan.com/
Joined: March 2007
About: Danny Sullivan is an American technologist, journalist, and entrepreneur. He was the Chief Content Officer at Third Door Media, and co-founded Search Engine Land, an industry publication that covers news and information about search engines, and search marketing, SEO and SEM topics.
#6 Omar Kattan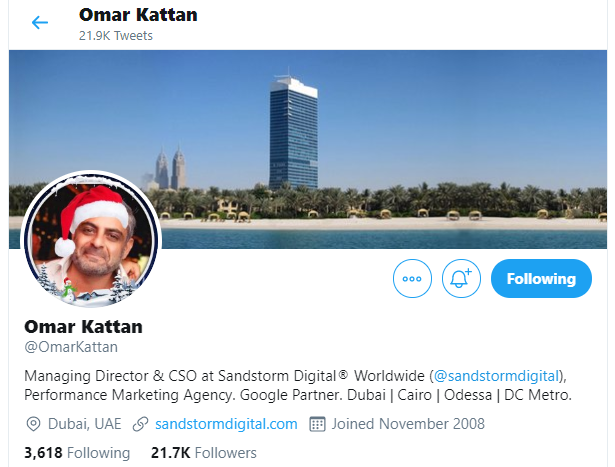 Twitter Handle: @OmarKattan
Location: Dubai, UAE
Website: https://sandstormdigital.com/
Joined: November 2008
About: Omar is Managing Director & CSO at Sandstorm Digital® Worldwide. Omar has over 20 years experience in corporate and branding strategy.
#7 John Rampton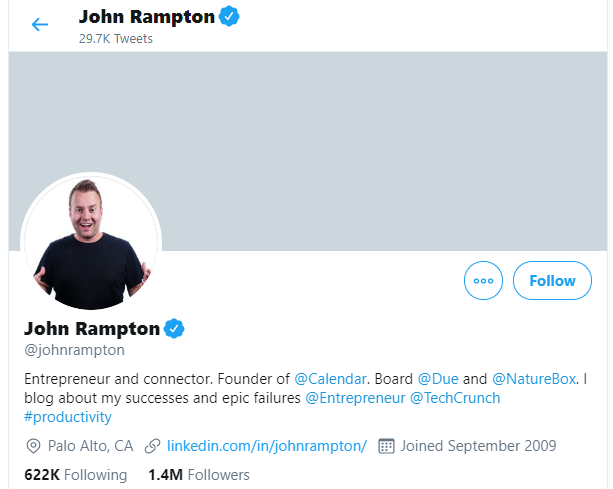 Twitter Handle: @johnrampton
Location: Palo Alto, CA
Website: https://www.calendar.com/
Joined: September 2009
About: John Rampton is an entrepreneur, investor, online marketing guru and startup enthusiast. He is founder of Calendar, Due and NatureBox .
#8 Dan Shure
Twitter Handle: @dan_shure
Location: Worcester, MA
Website: https://www.wgbh.org/
Joined: October 2010
About: SEO Consultant for WGBH (a trusted source of public media content for Boston and beyond, creating experiences that educate, inspire and entertain) @PBS shows, @harvardbiz , Sumo & more. Podcaster, Musician, Husband!
#9 Travis Wright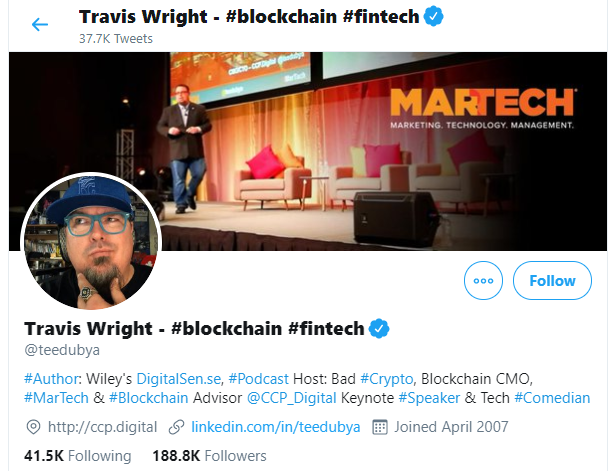 Twitter Handle: @teedubya
Location: Kansas City & San Francisco
Website: https://ccp.digital/
Joined: April 2007
About: Travis Wright is a venture catalyst, keynote speaker, CMTO, marketing technology entrepreneur, data and analytics geek, tech journalist, startup growth hacker, standup comic, and a former digital marketing strategist at Symantec.
#10 Richard Baxter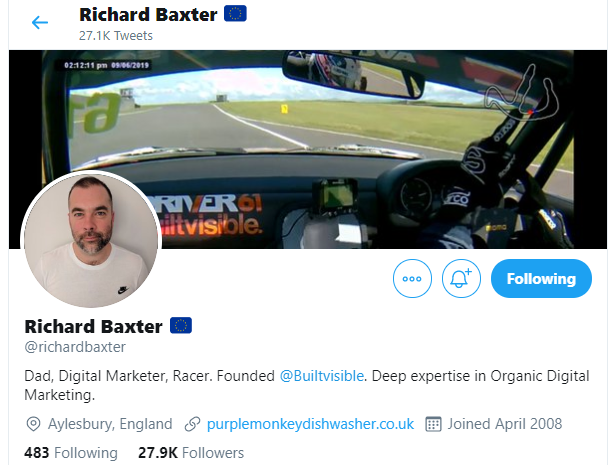 Twitter Handle: @richardbaxter
Location: Aylesbury, England
Website: https://purplemonkeydishwasher.co.uk/
Joined: April 2008
About: Digital Marketer, Racer. Founded Builtvisible (Organic Digital specialists improving the online performance of the world's most exciting brands.). Deep expertise in Organic Digital Marketing.
#11 Barry Schwartz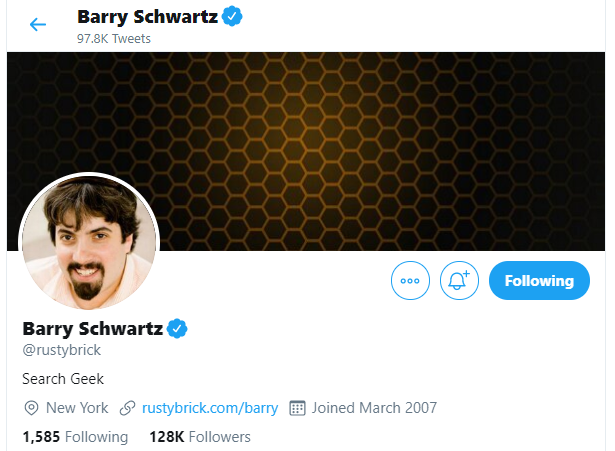 Twitter Handle: @rustybrick
Location: New York
Website: https://www.rustybrick.com/
Joined: March 2007
About: Barry Schwartz is a blogger who writes about search engines and search engine marketing. Schwartz is the founder and currently the editor of Search Engine Roundtable, an online news site covering the search engines and search engine marketing.
#12 Geoff Kenyon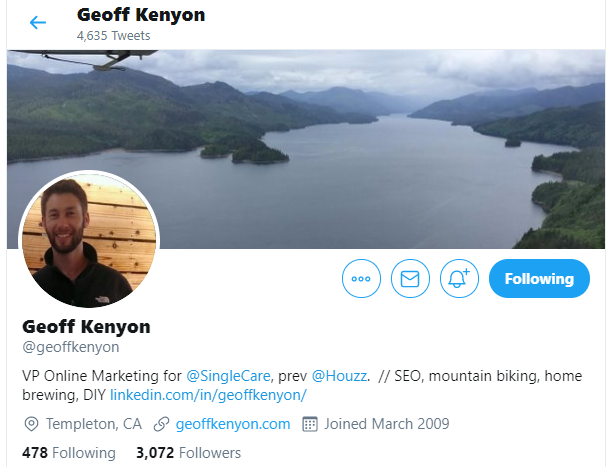 Twitter Handle: @geoffkenyon
Location: Templeton, CA
Website: https://geoffkenyon.com/
Joined: March 2009
About: Geoff Kenyon is an online marketing and SEO expert to help drive revenue for startups and established brands by driving traffic and growing users and customers.
#13 Eric Enge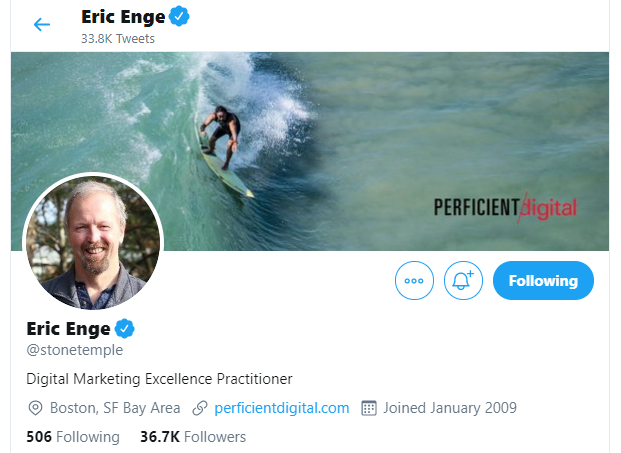 Twitter Handle: @stonetemple
Location: Boston, SF Bay Area
Website: https://www.perficientdigital.com/
Joined: January 2009
About: Eric Enge is a search engine optimization consultant, businessman, author, and public speaker. He is the founder of Stone Temple Consulting.
#14 Wil Reynolds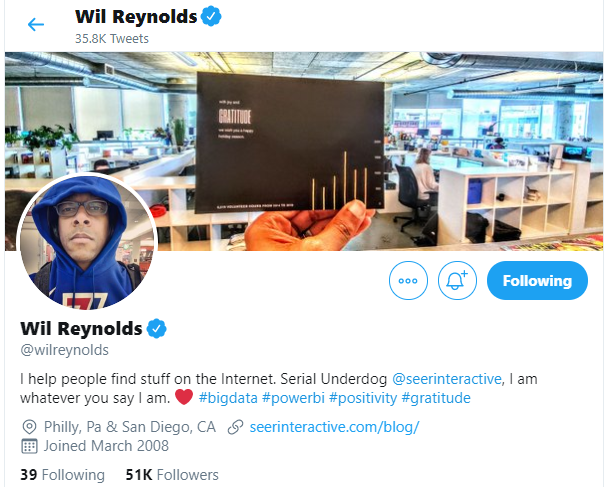 Twitter Handle: @wilreynolds
Location: Philly, Pa & San Diego, CA
Website: https://www.seerinteractive.com/
Joined: March 2008
About: Wil is the founder & director of strategy at Seer Interactive. He has worked across every vertical, including pharmaceuticals & hospital systems to e-commerce and SaaS.
#15 Pam Moore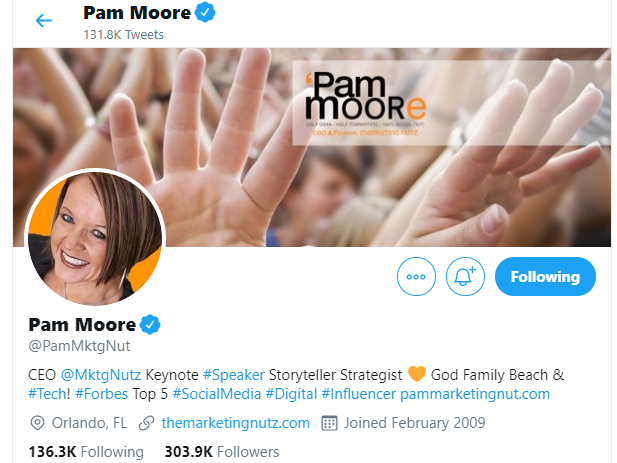 Twitter Handle: @PamMktgNut
Location: Orlando, FL
Website: https://themarketingnutz.com/
Joined: February 2009
About: Pam is globally recognized as one of the most prominent thought leaders on the subjects of social media, digital marketing, social selling and branding as it relates to business and personal brand building.
#16 Bill Slawski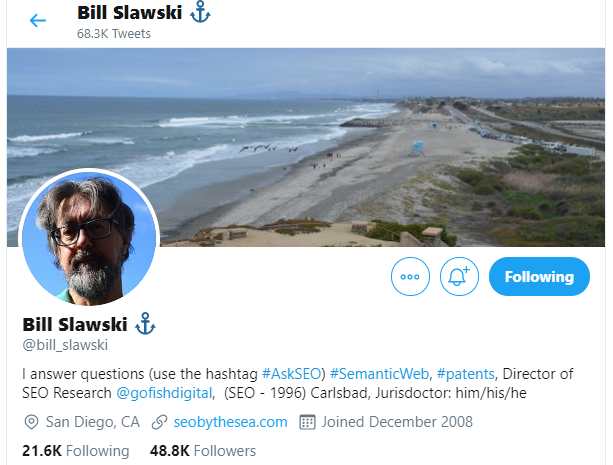 Twitter Handle: @bill_slawski
Location: San Diego, CA
Website: http://www.seobythesea.com/
Joined: December 2008
About: President of SEO by the Sea. He worked for the highest level trial Court in Delaware, Superior Court of Delaware, for 14 years as a court manager and administrator, and as a technologist/management analyst.
#17 Julie Joyce
Twitter Handle: @JulieJoyce
Location: Greensboro NC
Website: https://www.linkfishmedia.com/
Joined: October 2007
About: Julie Joyce owns the link development firm Link Fish Media and is one of the founding members of the SEO Chicks blog.
#18 Dr. Pete Meyers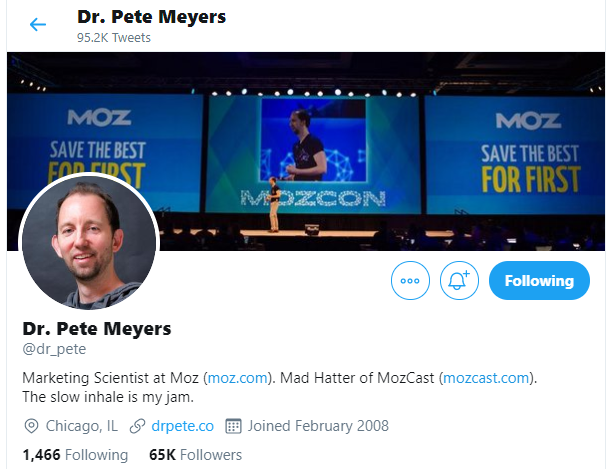 Twitter Handle: @dr_pete
Location: Chicago, IL
Website: http://drpete.co/
Joined: February 2008
About: Dr. Peter J. Meyers (AKA "Dr. Pete") is Marketing Scientist for Seattle-based Moz, where he works with the marketing and data science teams on product research and data-driven content. He has spent the past three years building research tools to monitor Google, including the MozCast Project, and he curates the Google Algorithm History, a chronicle of Google updates back to 2002.
#19 Dharmesh Shah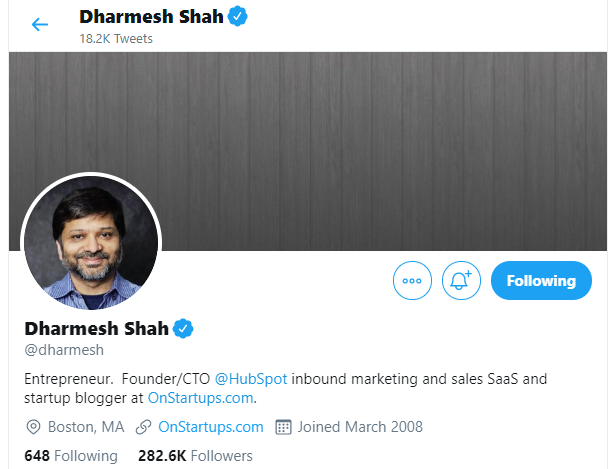 Twitter Handle: @dharmesh
Location: Boston, MA
Website: https://www.onstartups.com/
Joined: March 2008
About: Dharmesh Shah is co-founder and CTO of HubSpot. Prior to founding HubSpot in 2006, Dharmesh was founder and CEO of Pyramid Digital Solutions, which was acquired by SunGard Data Systems in 2005.
#20 Joost de Valk
Twitter Handle: @jdevalk
Location: Wijchen, Nederland
Website: https://joost.blog/
Joined: March 2009
About: Joost de Valk founder and Chief Product Officer at Yoast, spends most of his time working on Yoast SEO and its addons. As Chief Product Officer he makes sure the roadmap for all our products is managed.
This is our top SEO influencers list you should start following on twitter in 2020. We hope you will find all the resources you need about SEO, Content, and Digital Marketing. Feel free to tell us in the comments if you think we have forgotten someone essential.