Learn how to find long-tail keywords in 2020 without getting into complex processes. Using these types of keywords will help you attract relevant visitors to your site, because they are specific phrases that your audience is looking for. Keep reading to know more.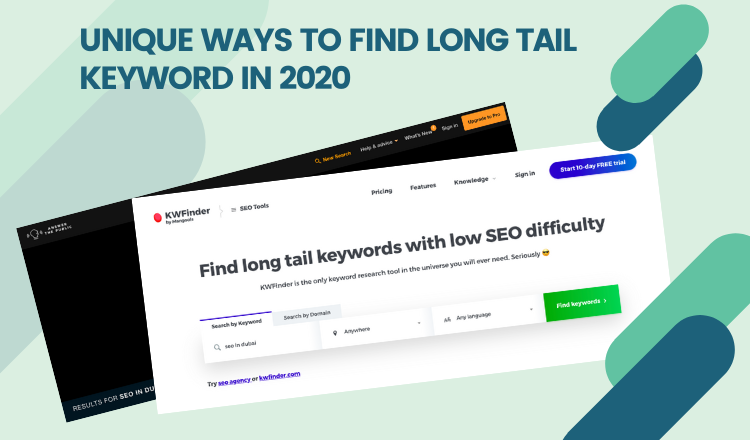 Unique Ways To Find Long Tail Keywords To Beat Your Competitor In No Time Click To Tweet
What Are Long Tail Keywords?
Known in English as long-tail keywords, they are more specific search terms than the standard ones. They generally include more than 4 words.
What sets them apart from the keywords we generally use is that they include more words, hence their name. This makes them more specific. And they also mean a lower search volume and also less difficulty.
In general, they tend to get more engagement and conversions and are responsible for the majority of organic traffic.
People use these words to search for specific things. For example, instead of writing 'Golden Mall', they query 'best golden mall in my neighborhood', and so on.
The importance of long-tail keywords is that people tend to search more carefully and are thinking of doing something with the results.
There are differences between someone who searches 'what is SEO' and someone who writes 'best SEO agency in UAE 2020′. The last one tells us that the person wants to do something, perhaps they are looking to hire someone, while the first one only refers to looking for information.
By targeting long-tail keywords, you'll attract people who want to buy, sign up, or take an action. And it will help you improve the quality of the content. Your end result will be generating more organic traffic on relevant keywords.
How to find long tail keywords in 2020? & the Required Tools?
There are a number of ways to do that but some of the best that we've found are mentioned below. If you follow these steps you can find long-tail keywords with ease:
1. Define your main keyword :
You have to define the term that best describes your website, for example, let's say you sell SEO Services, then it could be "SEO" or " Get SEO Plan". And from there you have to find terms based on this, the variations would be:
Best SEO Services (Location).
Best SEO Services provider in 2020
Buy SEO Plan in 2020.
2. Use Google search suggestions
When you start typing a word in the Google search box it shows you a series of suggestions.
Add a prefix or suffix to your base term that we call it as modifiers. ie "where to find the best SEO Expert", "best SEO Service Provider", "Top SEO Plans for 2020" and so on.
You will see suggestions as we've shown you in the screenshot given below:
You will also find information in the box People also searched. Another source would be the related searches that appear at the end of the SERPs.
3. Put The Base Term In A Keyword Tool
You can use tools such as KWFinder, Answer the Public, among others. Thus you will find a series of opportunities and variations of keywords. This is another way to find long-tail keywords.
Kwfinder is so far the easiest and the fastest way to find keywords within no time. It will help newbies to just sign in to the kwfinder tool at app.keywordfinder.com. Once they have signed in to that account they will have to enter the keyword along with the location where they want to rank for along with the language.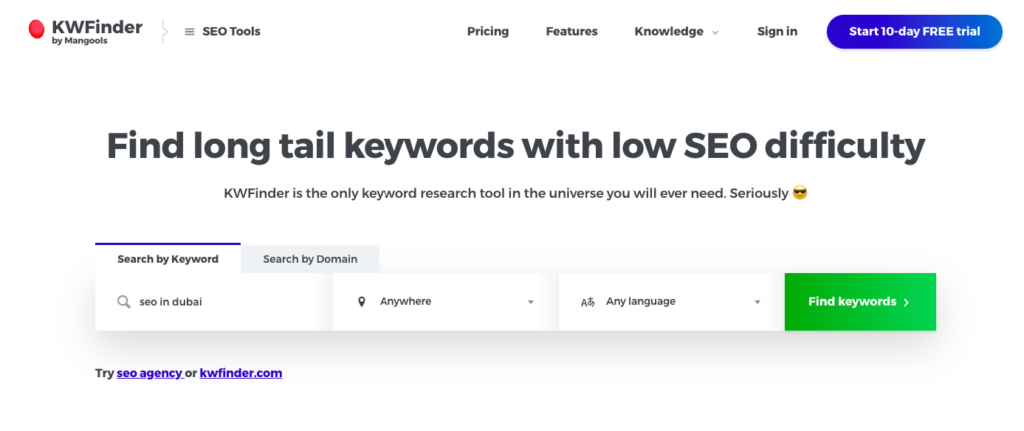 This will form up a whole bunch of long tail keyword queries that will support your main keyword to gain more audience.
Answerthepublic tool helps you find the best long tail queries that you might need to focus on. These are a set of different brainstormed questions and queries that users are looking for. This will help users to find more appropriate answers and helps google to understand the real purpose of content.
This tool is similar to the kwfinder with slight modifications. You can find a whole bunch of queries in the alphabetical order so that you won't miss any relevant term.
You can use this tool for free but there are some of the limitations that you can only avail when you buy a premium account such as export options and all.
4. Use Google Search Console
You don't have to start from scratch while writing content with these new keywords. You'll need to initially brainstorm the ideas, then you can check the search terms by which people find your website in Google Search Console. It may be that you are already positioned for those terms.
Lastly, remember to analyze the long tail keyword. That is, see your search volume, keyword difficulty, and relevance. Knowing how to find long-tail keywords will go a long way in optimizing your SEO strategies. If you need help then do let us know we'll be eager to help you with more detailed answers.
Recommended Read:
BEST BLOGGING TOOLS FOR PROBLOGGERS
20 CREATIVE WEB DESIGN TOOLS TO CREATE STUNNING WEBSITES
General FAQs
Are long tail keywords better?
Long-Tail Keywords: A Better Way to Connect with Customers. Long-tail keywords are longer and more specific keyword phrases that visitors are more likely to use when they're closer to a point-of-purchase or when they're using voice search.
Do long tail keywords still work?
To be fair, there is definitely some truth to this myth where long-tail keywords can save some money and give you a competitive edge, but you will largely be saving money simply because those keywords aren't garnering as many searches and clicks as some of the more generic/popular keywords.
What is short tail keyword in SEO?
Short tail keywords are search phrases with only one or words. Their length makes them less specific than searches with more words. "seo" (1 word) is an example of a short tail keyword, whereas "best SEO services agency" (4 words) is a long tail keyword.