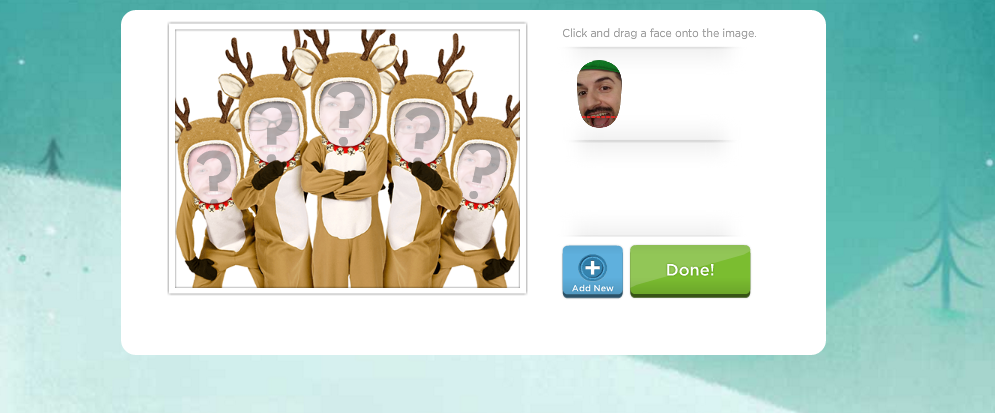 This year send funny Christmas cards with some of these applications to create free Christmas videos 
Some years have passed since that application appeared in 2006 to make free Christmas videos and without the need to spend a single euro of 5 elves with the face of a relative and acquaintance, doing dances of the most horny. We were many who started to create funny Christmas greetings on video as a tradition every year. If you are of ours, this article will like you!
The 4 best applications for making personalized Christmas videos
Click To Tweet
Since then, custom Christmas greetings have become a classic in the digital world and for this reason we wanted to make a summary of the best applications to create funny Christmas videos.
It is true that currently there are different types of applications to make videos that can give good results. But they do not have the specific functionalities or the effects that are going to give such fun results when making Christmas videos.
1. ElfYourself. The most popular of applications to create fun Christmas cards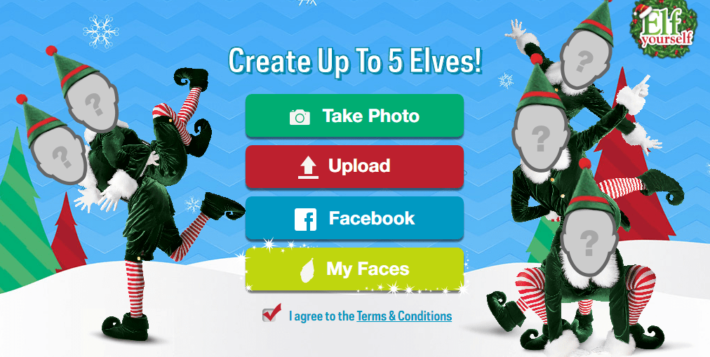 As I said, ElfYourself is the best known of the applications to create free Christmas videos of the most fun. Through this app we will become improvised Elves doing a Christmas dance of the most animated.
Until a few years ago this app to make Christmas greetings was largely free, but recently they have developed a freemium business model with some free personalized dances, and if you want to enjoy being able to send the rest of the videos in the form of Christmas greeting you will have to pay € 0.89 for each one. You can download it both on Google Play and Apple Store.
Related articles: Email Marketing Campaign Success Best Practices
The app is very simple to use and in just over a minute you will have a fun Christmas greeting. You only have to upload the photos of the people, pets or things that you want to include (yes, I have seen everything ?). For this ElfYourself allows you to take a photo in real time, upload it from your device, import it from Facebook or even from My Space. In addition, you can add a small text of Christmas greeting.
Once you have created your free Christmas video, you can download it or share it on Facebook, Twitter, Pinterest, by email or download the code to embed it wherever you want.
This app is renewed year after year and offers new free or paid Christmas videos. Check this year's updates! Without a doubt, ElfYourself has become a classic to create a fun Christmas greeting.
2. PNP 2016 Portable North Pole. Another impressive personalized or free premium Christmas greeting
PNP 2016 Polo Norte Portable began its adventures as an app to create a personalized video of Santa Claus congratulating Christmas. But it has become much more than a free Christmas video app. If you want to check what I say, visit their website www.portablenorthpole.com where you can even get a PNP Certificate signed by Santa to print with all the Christmas videos.
What started as an application to create free and personalized Christmas videos has become a big business. In the videos you can see Santa Claus addressing a specific person directly. There are versions of free Christmas videos and now also premium, all of them full of magic that will surprise anyone who receives them.
As you have seen in the video presentation, there is currently the option for Papa Noel to make a phone call and record the surprise face of the person who receives it.
Without a doubt, this is one of the best applications to create Christmas videos, since they are wrapped in magic and emotion. Children who still believe in Santa will be speechless.
What father can not be interested in sending a message of personalized and free Santa Claus to his children in these so significant and special dates? Hence the great success that Polo Norte Portable is having year after year.
PNP has become a modern tradition to celebrate Christmas in families that enjoy technology and enjoy a personalized experience. You can download it both on Google Play and Apple Store.
3. Jibjab In addition to many other things, a powerful app to create funny Christmas cards
JibJab is another application to create free Christmas videos that you can also find in a web version. In this case it is not an app specifically designed to congratulate Christmas, but it does have a section to create animated Christmas cards.
Related articles: Mobile Marketing Facts – You Must Know!
It really is a very complete application to generate Gif and animations for special days. You can create music videos,, birthday, love, weddings, graduations, Thanks Giving … and as I told you funny Christmas congratulations that is what interests us in this article. The operation to create Christmas Christmas is similar to the previous ones. You must select the version you want to create, upload your photo, upload it from your device or import it from Facebook. And in a few steps you will have in your hands a personalized Christmas video and very fun to send to all your acquaintances.
Undoubtedly, this is one of the apps to create more fun Christmas videos. The versions available are very horny. You can create the story of Santa Claus in rap, the version danced in Twerk of the dwarfs in the shop of Santa Claus, a disco version Christmas Funk and much more.
Download from Google Play or Apple Store.
4. iFunFace. An app with which to also make Christmas videos
iFunFace is another application with which you can create free Christmas videos. It is not specific for it, but it has many possibilities.
In this case it is about creating montages with Christmas cartoons. Its use is very simple, you simply have to upload the faces of the people you want to appear in the template, select where the face is, the mouth and ready. The app will directly create the animated montage.
The catch that we have found to this application is that the free version is very simple. That is, it does not have any background set, fun and personalized. Simply create the animation with the assigned image. If you do the photo at Christmas time and with the decoration consistent background can be very good. Although it is not like that, the possibilities to create specifically free personalized Christmas videos are reduced.
Related articles: Prisa and Amazon – The death of the traditional kiosk

They have a paid version in which you can download different funny electronic, birthday, Christmas cards and of the most varied. That if, after paying € 0.67 .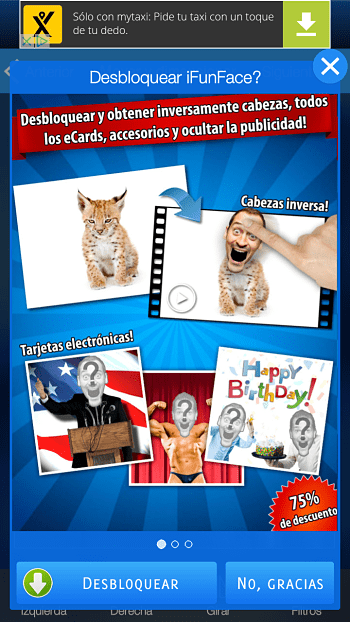 You can download both Google Play and Apple Store.
Do you know any other application to create free Christmas videos that you think should be on this list? Leave us your comment!