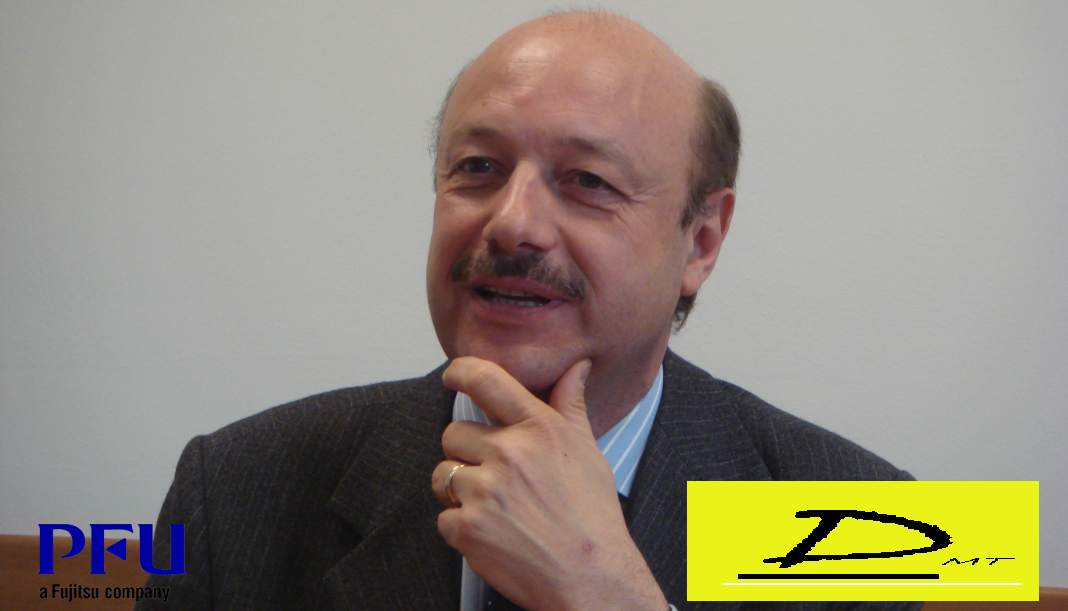 The digital transformation has involved changes in most of the sectors. From DigitalMTrends wanted to know firsthand how this change has affected large and small companies.
On this occasion, we interviewed Lorenzo Todeschini, director of the South and Manager of the subsidiary PFU, one of the leading companies in the scanner market, which has more than 25 years of experience in the sector, an annual turnover of more than $ 1 trillion and operations in Europe, Middle East, and Africa.
Through its products PFU supports the digitization of companies through digitizing paper documents. How has the company changed and has adapted to the PFU digital transformation? Keep reading!
1. Lorenzo, so that our readers are located, can you tell us briefly what your relationship with Fujitsu PFU?
The brand Fujitsu scanners are designed, manufactured and marketed by PFU Limited, a subsidiary 100% owned by Fujitsu Limited in Japan. PFU is a global IT provider that designs, manufactures and markets hardware, peripheral products and professional software as a wide range of document scanners for professional and home use, plus desktop environments, workgroups, high-volume production and networks and it is one of the leading companies in document scanners.
2. What has meant the arrival of the digital world to companies?
Digitization arrived today virtually all sectors and has been a big change in mentality. Who would have thought possible a decade that would be virtually paperless office, where all the original paper documents can be scanned and available immediately at any time he makes only. Digitization has been a big step for saving resources and time.
3. And specifically PFU, as is living this transition to the digital age?
The digital age has been a great opportunity for PFU. Thanks to our strong commitment to innovation we have developed products that adapt to the new needs of the current user in terms not only mobility but also in ergonomics, functionality, connectivity and hardware.
Related articles: 3 Creative Digital Campaigns That Created Engagement and Reflection
We work primarily to facilitate and make the lives of people more efficient. We offer our customers the document imaging latest generation for personal and professional use, both for desktops and workgroups and network environments and high volume production. Together with our partners channel and software and systems integration, our customers get capture solutions that improve their business processes. In this sense we are adding value to our proposal to achieve total customer satisfaction.
4. What are the sectors that have been most affected by this change?
You really can not speak of a particular sector. Our clients come from all industries.
For example, I can tell you that digitization has entered stomping on everything related to the legal sector. Specifically in Spain we have the "Law regulating the use of information and communications technology in the administration of justice" as last modification was made in October 2015 in response to the Action Plan E-Justice developed by the European Union is definitively boost new technologies in communications professionals.
5. Is any other sector also particularly affected?
Other areas where we are focused are health and insurance.
For example, insurance agents can now sign their contracts when they are at the customer, instantly scan, pass them to the cloud application and send them immediately to the central office.
With this new system work, you not only gain in time, but it avoids the traditional manual transcription errors data.
6. We all have in mind those great devices to scan. I can not imagine how you can go shopping carrying something to the customer's home.
As I mentioned before, progress in the design of devices in recent years has been incredible. We managed to minimize the size of our products making them more user-friendly, easy to carry and store in any small space devices. While these mobile scanners have the same features as the classic desktop.
7. Lately we are hearing a lot about ICT classrooms. How they are helping companies like PFU to this change happen?
We are very proud of our contribution to this change in the way we teach and learn. Currently students take their notes or documentation on paper, scanned immediately and go directly to any of your digital devices. A real breakthrough will not turn back and making more efficient and interesting education.
8. What are the most immediate challenges of PFU?
Maintain and optimize our quality standards that are allowing us to be leaders in the market.
9. What are the reasons that guarantee the continued success of a company like Fujitsu?
As a representative of PFU, maker of Fujitsu scanners, I can say that we are by far the largest supplier of scanners success. We have long been at the forefront of the industry and hard work so that this remains the case. We make some of the best scanners on the market.
10. Finally, can you imagine PFU ten years time?
This evil I say, but our reputation for quality, reliability and excellent performance is a fact. In addition, our channel is key to our strategy because 100% of our business is done through channel and I think this will continue in the coming years. We continue to invest in our partner network keeping the end user in our central focus. On the other hand, I am clear that continue to grow, as evidenced by the opening of our new branch in Spain recently.
Lorenzo Thank you for this interview and for participating in DigitalMTrends!