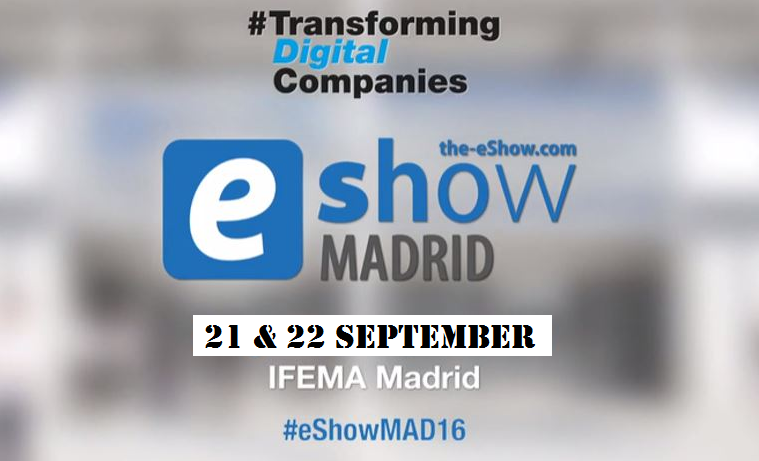 Finally, starts the eShow Madrid in which Digital Marketing Trends will be present as a means of invited press, so we will inform you of all that live there.
The theme this year is #TransformingDigitalCompanies and will feature more than 100 exhibitors and 250 expert speakers in the digital sector. The last day was held in Barcelona and attended by more than 11,000 visitors increasing by 20% the number of attendees over the previous year Did you exceed again this year?
EShow Madrid in 2016 you can learn the latest trends and digital strategies that are underway, both national and international, leading companies achieving success for your company through digital solutions.
Agustin Torres, CEO of eShow says:
Companies will be digital or not. It is a reality that companies are already experimenting in Spain, Latin America and around the world. Apart from having or not a business offline, the presence and coherent digital strategy is now an essential tool for business growth "requirement.
eShow Madrid 2016 will address different aspects of the digital industry as the eCommerce in fashion, travel online, the ePayment, the challenges of eLogística, advancing mMarketing, business opportunities in shared mobility, marketing one-to- one or the preparation of ecommerce facing the Black Friday, among others.
In the Main Theatre will present their relevant experiences companies like LinkedIn, Facebook, Google, idealista.com, Hawkers; Iberia Express; Uber, Red Refrigerator, BeeBee, Ulabox, Doctoralia, BlaBlaCar or eBay.
2016 Mardrid eShow offer discussions and presentations in formats such as bold and dynamic Jam Sessions, in which two experts will meet face to face to discuss controversial issues and industry trends.
Agustin Torres says:
EShow day today is a showcase presents and analyzes digital solutions of the most successful companies, an unmissable event for all businesses that want to develop strong digital strategies
Some recent data on the digital sector in Spain
According to a study of the company RetailMeNot and other recent studies of the sector:
The e-commerce will grow by 13% over the next two years.
It is expected that Internet sales in Spain in 2016 reached 12.81 billion euros.
It is estimated that there are 17 million online shoppers in Spain.
Each Spanish allocated this year to 661.62 euros purchases
Investment in digital advertising in Spain grows 2014 against 20.86% and stood at 1,288.9 million euros
The investment of digital media advertising now accounts for 25.5% of total investment of conventional means
Are you going to miss it?