Facebook has been a revolutionary force in the whole internet business world. It is one of the most widely utilized social media platforms. People spend on the platform about 5-12 hours every day.
It is no more a mystery with the popularity of social media and the way we connect with people on this treasure trove of information. Nothing can be done on these platforms, from sharing daily events to fun at social events.
Facebook Marketing for Business: Things you Need to Know Click To Tweet
Advertisers are now willing to pay big dollars to sell ads on Facebook. In the past, this space was entirely monopolized by Google. Over the last three years, Facebook has created an ad system that is easier, more expensive and faster than Google's. These higher costs have increased advertisers' engagement and made Facebook an attractive option for businesses marketing on Facebook.
Facebook is an efficient marketing tool for keeping customers updated, building brand recognition, and growing your reach, whether you're a startup or a small local business. There is much inconsistent information to shift through when it comes to marketing. In this article, we will guide you on how to choose the right strategy for Facebook Marketing.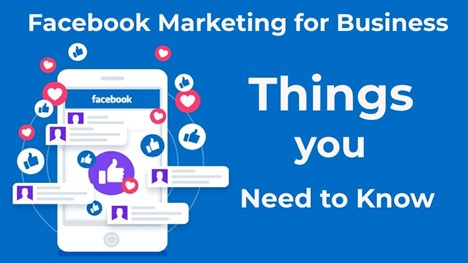 How is Facebook Effective for Marketing?
Facebook is an effective marketing platform because it allows you to connect with many people quickly and easily. You can also use Facebook to build relationships with potential customers and promote your products or services.
When you create a Facebook page for your business, you can use the Page Insights tool to see how many people have liked your page, shared your posts and clicked on links in your posts. You can also use the Audience Insights tool to see which demographics are most interested in what you are doing.
You can also use Facebook ads to reach more people with your message. Ads are targeted based on interests and demographics, so you can ensure that the right people will see your ad.
You can use Facebook to:
1. Reach a large audience quickly: With over 2 billion active users, Facebook is one of the world's most popular social media platforms. You can use this platform to reach a large audience quickly. Groups allow you to share content with a group of people who are interested in what you have to say.
2. Build relationships with potential customers: Through Facebook, you can build relationships with potential customers and promote your products or services. Doing this will help you grow to trust and credibility with these individuals, which will lead to more sales.
3. Promote your brand: By promoting your brand on Facebook, you can create a positive image for your business and attract new customers.
Making a Facebook Marketing Strategy
It would be best to think a few things when making a Facebook marketing strategy.
Decide what you want to achieve with your Facebook marketing strategy. The strategies, postings, and ad styles you'll utilize to attain your aim are all determined by your goal. You can split your plan down into smaller interim goals. As a result, completing each one will bring you closer to your ultimate aim.
Analyzing your target audience is critical because it will influence the strategies, ad layouts, and tone of voice. Create a customer profile to collect and save all the information you need about your target market and streamline the process. Location, age, gender, work title, and salary level should be included.
Create a budget and timeline for your Facebook marketing campaign.
Develop a plan of action for each platform, including scheduling posts, targeting audiences, and creating ads.
Monitor and adjust your Facebook marketing strategy as needed. Your plan will not function on its own. Its effectiveness is essentially determined by how successfully your target audience engages with your brand. Monitoring their interaction will provide you with a clear image of which approaches perform best for you and frighten your followers away.
Finally, you need to build a strong social media brand awareness strategy for your business. In other words, create accounts on Facebook and Twitter and posting regularly about your company and its products.
Types of Facebook Marketing Campaigns
It may be somewhat daunting for advertisers to set together a Facebook campaign with the hundreds of different targeting options on Facebook, the various placement options to pick from, and the various Facebook advertising formats.
The goal is to understand the different sorts of Facebook ads, so you can decide which Facebook advertising formats need to use for your company.
Video ads
It's a fantastic method to show off your product's features in action. Facebook allows users to use several types of video to achieve specific objectives, such as short videos and GIFs to rapidly capture attention on the go or In-Stream videos for a lengthier TV-like viewing experience.
If you don't have the money to construct a film, an image ad is an excellent way to create a high-quality commercial quickly and easily. The particular approach will assist you in increasing brand awareness and directing traffic to your website.
Carousel ads format allows you to include up to ten photos or videos in a single advertisement, each with its link to a product page. Because you may highlight one product in detail, a few different products, or tell a storey, it opens up many possibilities for creativity and interactivity.
It's like putting a short catalogue of your products right in a Facebook post. A Collection ad comprises one original video or image and four smaller images arranged in a grid below it.
It's a video-like format that works well even if your internet connection speed is slow. You may make an ad with several stock photos, video editing software, and even music.
It was created to generate leads, particularly for mobile users. When a user taps on the image in such an ad, a subscription form appears right in the ad, allowing them to opt-in to your newsletters with just a few taps.
Cost for Facebook Advertisement
There is no one answer to this question, as the cost of advertising on Facebook will vary depending on the type of ad you choose and the amount of exposure that your ad receives. However, some general ballpark figures that may help you estimate the cost of advertising on Facebook include:
• Display ads: These are ads that appear on the main newsfeed of Facebook users. They typically have a higher price tag than other advertisements because a large number sees them as people.
• Sponsored stories: Sponsored stories are similar to display ads. They are placed in people's newsfeeds but also have a higher click-through rate (CTR) because they specifically target users.
• Ads in News Feed: Ads that are precisely placed in people's newsfeeds have a lower price tag than other ads because they're less likely to be clicked on.
Rewards of Facebook Marketing
Facebook marketing is a great way to connect with potential customers and promote your business. It can be used to reach a large audience quickly and easily, thus cost-effective.
Some of the advantages of Facebook marketing include:
• It can help you build connections with potential buyers.
• It can help you to Increase Website Traffic
• It can help you generate information and deals.
• It can help you track your marketing efforts and learn how people respond to your messages.
• It can help you measure the effectiveness of your advertising campaigns.
Conclusion:
Facebook marketing is not only effective, but it's also adaptable and scalable. You can use organic tactics and a few targeted ads when you start marketing. As your reach grows, Facebook opens up a slew of new possibilities.
Your business can benefit from using Facebook to reach new customers and increase brand awareness. The best way to do this is by creating a strong profile that immerses your fans and lets them know what you are offering or doing in their area of interest.
Our team at DigioPeople will help you get started with your campaign on Facebook! We'll provide everything you need including images, videos, links and more so that when we're done, all of the challenging work has been done for you!
If Interested? Click here now to start building your brand today!
Recommended Read:
TOP 6 DIGITAL MARKETING COURSES THAT WILL PREPARE YOU FOR A SUCCESSFUL CAREER IN 2022
5 BEST SOCIAL MEDIA ANALYTICS TOOLS FOR MARKETERS IN 2022
AMAZING TRICKS TO INCREASE SUBSCRIBERS AND VIEWS ON YOUTUBE IN 2022
General FAQs
Is Facebook Marketing suitable for businesses?
A Facebook page is a great free marketing tool for businesses. These pages let businesses identify themselves – not just through listing product offerings and services, but also by sharing links, images, and posts on a customizable page to give a better sense of a business's personality and character.
How does Facebook marketing work for business?
Facebook's tools cater to the business that wants to form an authentic relationship with their audience. It allows marketers to create and distribute quality content that's helpful for users. And it allows sales and customer services reps to connect with consumers interested in a brand.
Why is Facebook good for businesses?
As well as allowing you to post text, Facebook lets you upload pictures and videos from your business. This can be a powerful way to communicate with customers and potential customers, allowing them to see your product or service without having to visit your premises.