Garmin is always the best in nailing user experience and they give the best features and performance in the Fenix 7. The Garmin Fenix 7 is a great watch for those looking for a reliable and durable watch for outdoor activities. It comes with a wide range of features and functions that make it a great choice for any adventurer. The Fenix 7 is there to help you understand your current fitness level and provides you with tools that will help you set goals and achieve them. The Fenix 7 has all the features that made Fenix 6 stand out in 2019 and also has new upgraded features.
Garmin Fenix 7 Review – Multisport GPS Outdoor Smartwatch Click To Tweet
The Fenix 7 is a sophisticated sports watch that is designed for serious athletes and adventurers. It has a sleek, modern design with a 1.2-inch display that is easy to read and navigate. The watch is made from premium-grade materials and is designed to be robust and durable. It also has a stainless steel bezel, which gives it a stylish look. Garmin Fenix 7 watch bands are mostly QuickFit bands which are interchangeable to help you customize your looks.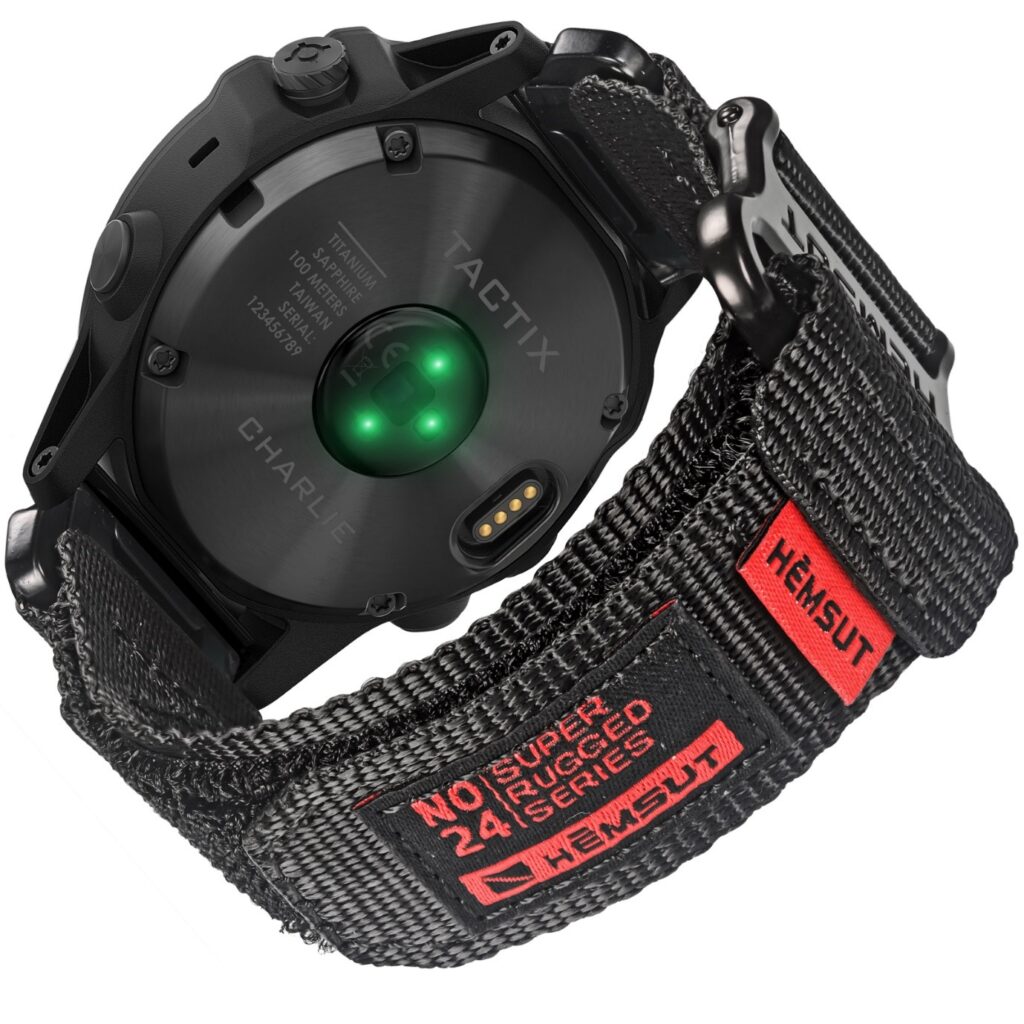 The Garmin Fenix 7 is an outstanding smartwatch for those who want the ultimate in ruggedness, reliability, and performance. It is packed with features including GPS, GLONASS, and Galileo support, a barometric altimeter, and a wrist-based heart rate monitor. The watch also features fitness tracking, sleep tracking, and activity tracking. It is built to withstand extreme temperatures, dust, and water, and its battery life is second to none.
In terms of fitness tracking, the Fenix 7 offers a wide range of features. It can track your steps, calories burned, and distance traveled, as well as monitor your heart rate and estimate your VO2 max. It also includes advanced training features such as a training load balance and recovery advisor, which can help you optimize your training regimen
Specifications
Fenix 7 watch band material: Silicone
Size: 1.3 inches
Weight: 79 grams
Water Resistance: 10 ATM
Battery life: 37 hours
Features
Thermometer
Alarm
Long Battery life
GPS, GLONASS, and Galileo support
High-resolution color display
Durable design
Performance metrics
Connected features
Design and Display Review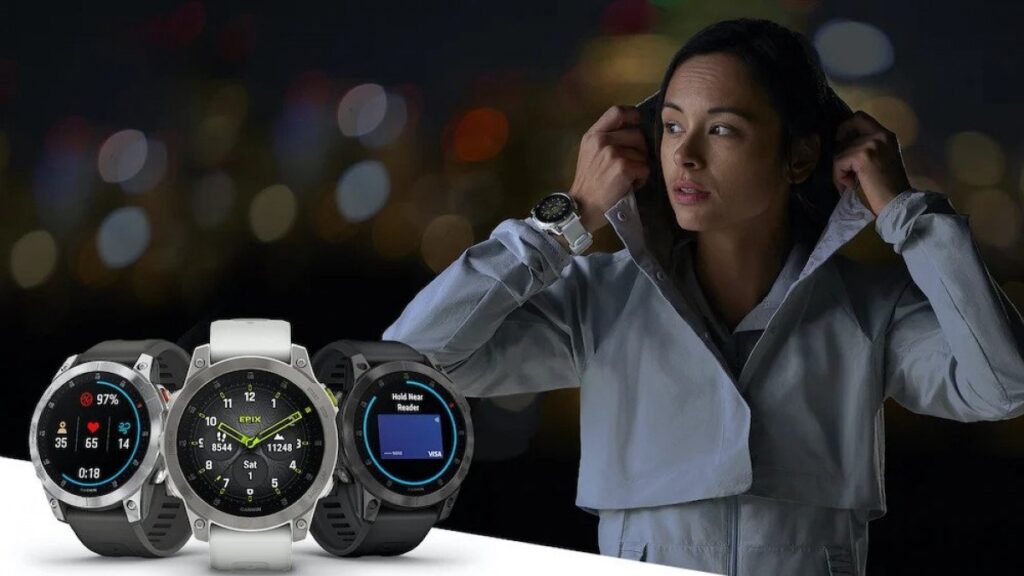 The Garmin Fenix 7 comes in 3 sizes 42mm, 47mm, and 51mm. These sizes all have the standard, solar, and sapphire solar models. Each model is available in multiple colors. All these models of the Fenix 7 are a little bit thinner than their Fenix 6 models. They are all scratch resistant but the sapphire solar is more resistant to scratch.
One of the standout features of the Fenix 7 is its large color display. It has a 1.3-inch display with a resolution of 240 x 240 pixels, which makes it easy to read in bright sunlight or low light conditions. The display is also protected by Corning Gorilla Glass 3, which helps to prevent scratches and other damage.
You can always read what's on the screen at a glance as the display is sharp and natural. While in most smartwatches, you need to focus and read what's on the screen which might take time especially when you're running.
The Fenix 7 watch bands are comfortable and gentle on the wrist even when running or working all day long. The 47mm is liked by many users over the 51mm because of its weight and is more comfortable for outdoor activities as it is a friendly size. The 51mm is more suitable for activities that do not include arm movements like hiking.
The Fenix 7 watches have a MIP display just like the Fenix 6. So if you want an AMOLED display, you should try the Garmin Epix. The display on the Fenix 7 is great for outdoor activities but not as good as the AMOLED display. Fenix 7 wouldn't be a bad choice for indoor visibility, but the sapphire solar adds more reflections to the standard screen display.
Pros
Compact and lightweight design
High-resolution, full-color display
Full-featured activity tracking
Impressive battery life
Compatible with a variety of sensors and accessories
GPS and GLONASS navigation capabilities
Built-in music storage and playback
Integrated Bluetooth, Wi-Fi, and ANT+
Cons
Expensive
No built-in heart rate monitor
No built-in altimeter for measuring elevation
Frequently Asked Questions About Garmin Fenix 7
Does the Fenix 7 have a touchscreen?
Yes, the Fenix 7 has a touchscreen display. It also has five physical buttons that allow you to navigate through the watch's menus and features.
Can you disable the touchscreen on Fenix 7?
Yes, you can.
Does Fenix 7 have a microphone for making calls?
No, the Fenix 7 does not have a microphone for making calls.
Can Garmin Fenix 7 detect heart problems?
No, the Garmin Fenix 7 does not detect heart problems. It can, however, track and monitor heart rate and provide alerts when your heart rate is outside of the preset range. It also has other health-related features, such as tracking stress levels, sleep habits, and activity levels.
Can Fenix 7 work without a phone?
Yes, the Fenix 7 can work without a phone. It has built-in GPS and GLONASS navigation, allowing it to track your location and provide navigation without needing a phone connection. It also has built-in Bluetooth and ANT+ connectivity, allowing it to communicate with compatible heart rates, power meters, and other sensors.
No, Fenix 7 is not always on. You can set it to power off after a specified period of inactivity.
Does Fenix 7 have wireless charging?
No, Fenix 7 does not have wireless charging capabilities. The Garmin Fenix 7 is an amazing watch that will satisfy the needs of any outdoor enthusiast. It features a range of features that make it a great choice for any activity. Its GPS capabilities make it an ideal choice for hikers and runners, while its comprehensive health and fitness tracking features make it an excellent choice for anyone looking to improve their health and fitness. With a long battery life and a robust design, the Fenix 7 band will help you enjoy it more and is sure to be an invaluable part of any outdoor enthusiast's gear.
Recommended Read:
MUST-HAVE ONLINE TOOLS FOR DIGITAL MARKETERS IN 2023
HOW AND WHERE TO LEARN SEO IN 2023?
TOP 5 WAYS TO IMPROVE LOCAL SEO RANKING IN 2023
General FAQs
Is Fenix 7 worth buying?
The Garmin Fenix 7 is an ultra-premium product, brimming with high-end technology and useful tracking capabilities. We rate it as one of the best fitness trackers (opens in new tab) currently on the market.
Is Garmin 7 better than Apple Watch?
Garmin watches have a far superior GPS. If accurate GPS tracking is important to you, Garmin is the better choice. Both the Apple Watch 7 and 8 models have better accuracy than the Apple Watch 3, but they are still much patchier than Garmin.
What is the difference between Fenix 7 and 7X?
Fenix 7 is the "normal" size. It measures 47 mm in circumeference. Fenix 7X is the large size. It measures 51 mm in circumference and is suited for the ones who want a large display.