Amazon is an eCommerce giant and is one of the largest companies in the world. Its biggest asset is its brand and eCommerce platform that no other company can compete with. In addition with its free shipping and its same-day Amazon Prime shipping, companies like Ebay are simply not able to compete. But did you know that Amazon also spends millions each quarter on R&D to improve its eCommerce platform's conversion rate too? It's constantly tweaking its algorithm and eCommerce website design to improve conversion rates for Amazon sellers.
How Amazon's eCommerce design helps its sales? Click To Tweet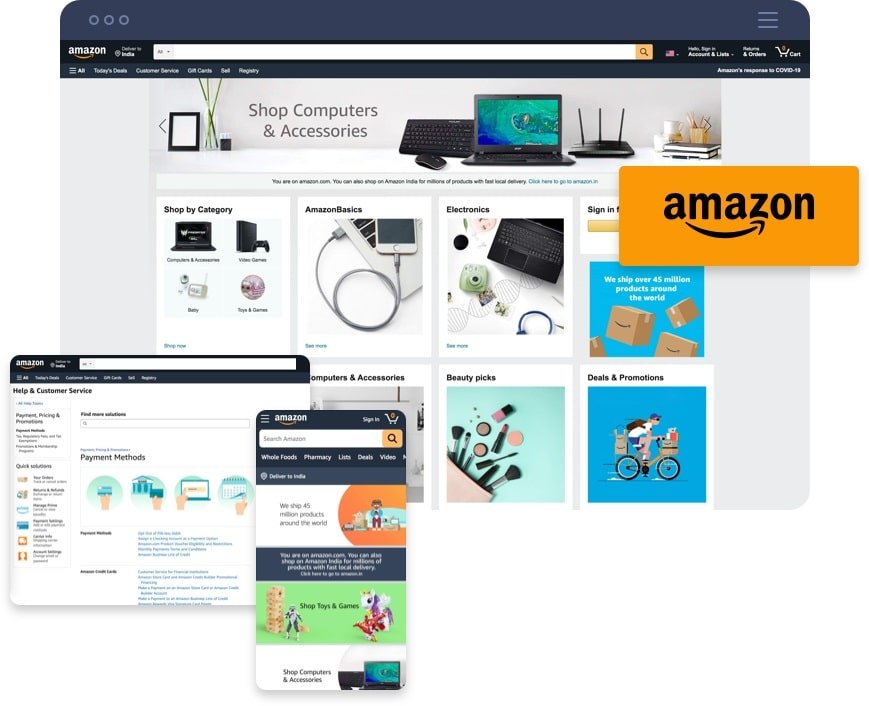 Amazon focuses on functionality over too much aesthetic distractions
Lots of eCommerce platforms use bright colours and fancy animations and images. But the result is a slow website that takes too long to load. If a customer has to wait for more than 3 minutes on their phone, they'll probably click off your website and buy from a competitor. That's not to say that your company should develop a mobile app but rather invest in a good eCommerce developer who understands how technical aspects of eCommerce website design will affect business and sales.
Go on Amazon's homepage and you'll immediately see its different shop categories. If you're logged in, they'll show you products similar to those that you've ordered before. Instead of a large banner that takes up the entire page, they show you a showcase of some of their products and their search bar is clearly displayed at the top of their page as well. This is no accident and Amazon employees have spent thousands of hours testing the ideal location of the search bar and where it's easiest for customers to find it.
Use reviews to convey trustworthiness
Click on any product category and you'll be able to see the rating and number of reviews for each product. You can then click onto a product page and read reviews in more detail. A lot of eCommerce platforms try to use clever ways to display reviews such as showcasing a Youtube video of customers giving happy testimonials. But what about the negative reviews? Amazon is open and honest about bad reviews and makes no attempt to hide them. This results in customers trusting goods reviews since all the bad reviews are out in the open as well.
Amazon's eCommerce website design also allows customers to upload photos of their received package. This could either be a happy unboxing or an unhappy customer venting about a broken part. Either way, this better helps customers with decision making which all in all leads to a better customer experience with Amazon.
Recommended Read:
TOP 6 DIGITAL MARKETING COURSES THAT WILL PREPARE YOU FOR A SUCCESSFUL CAREER IN 2022
5 BEST SOCIAL MEDIA ANALYTICS TOOLS FOR MARKETERS IN 2022
AMAZING TRICKS TO INCREASE SUBSCRIBERS AND VIEWS ON YOUTUBE IN 2022
General FAQs
Why Amazon is the best ecommerce platform?
Consumers buy more on Amazon than on any other platform, thanks to customer-friendly policies and services like Amazon Prime. Quite simply, Amazon offers more paying customers, and customers who pay more.
What is the secret to Amazon's success?
Customer obsessed is different and better than being competitor obsessed. Customer obsession is key to Amazon's success. Carr explains to us that Amazon is a customer-obsessed company, not a competitor-obsessed company.
How does Amazon use ecommerce?
Amazon's online retail services allow businesses to sell their products on the same platform as the Amazon retailer, Amazon.com. After creating an account, businesses are able to upload their product inventory, sell their products and capture their payments online. Amazon payment options are available.