What is a website?
Website is a set of webpages with common content in a single Domain name which published by at least one web server, worldwide web constitute the accessible of all public website there also have a private website which is designed for company purpose on a private network
Generally, the website is designed to dedicate a particular purpose and represent an infrastructure of any particular topic or product such as education, food, commerce, supermarket, entertainment, and social networking. Website work on the basis of hyperlinking between web pages guides and navigation of the sites which often starts with a home pages.
How To Set Up a Website for Business? Click To Tweet
Today generally all The website can access by the user on all range of devices such as desktop, laptops, smartphone, tablet, web browser software the application used on these devices is called a web browser.
There is two type of website
Dynamic website
2. Static website
Why you should setup a website?
Website is one of most important tool which is very used to communicate with people and this is one of the unique ways by which you connect with the world, the website is a way by which you can represent your business in the front, anyone you can show your passion tower designing, music cooking, anything with help of a website, you can sell your product and can increase your productivity, there is no limit what you can do with the help of your website.
Benefit of setting up a website
Your website you can Earn two times more in term of revenue per employee
In this digital world consumer not consider any type of business if you don't have a website the more client and consumer create and use the website to discover and involve with business according to a survey almost 75 percent of consumer make a judgment on the credibility of the company on the basis of the company website
If you have a website you can increase the growth of employment
A website can help you to beat the competition with the industry,
Your website can help you to represent you and your business in a short time when you share your website link to anyone you don't need to give the answer of What do you do offers, who are you, and how do I connect you to business and other things
Website helps you to reach social media diminishing
How to setup a website for business in 14 steps
Step #1: Purpose of your website
The purpose of a the website is to turn visitor and consumer into the business prospect by represent you and your business, they visit your site, speak about their requirement and needs and take a next step toward business, at this time people not only use the website to give a query about of business also they visit website to find out the address and location to know about the latest technology, making the website is very easier than you think, many people want to show their online presence in term of business and passion but they depend on others just because they think that it's not easier, you don't need to depend on a social media platform like Twitter account, Instagram and Facebook profile do the set up your website and give your 100% online presence in your presence, our website is your number one marketing asset, with the website you can be popular anywhere and you can make your identity in the world.
Step #2: Choose a domain name
Domain name booking is the first step when you create your website, this is your website name and website address website seem like www.myshop.com and most of the people prefer to get.Com, you can be anything, if you are a booking a domain name for your company then your company name should be in the domain com,.net or .org and if you are booking domain for your personal name then your name should be in domain honey.com
You can go for a free domain but they are not that much impressive than a paid domain, generic domains are .com,.netor .org., .edu.for location .de,.fr,.ru, , the website builder provides free domain for one year such as Wix, jimboo, Weebly, and Godaddy
Godaddy
Godaddy is one of the best and Largest Company which provide domain and all services by which you can show your online presence, Godaddy has best search tool and domain name generator tools by which you can find out the best website name according to your suitability and requirement,
Bigrock
Bigrock  is also one of web presence solution provider company, they provide complete e solution to show their presence online including with domain, they have around 6 million domain by which you can book your domain
Step #3: Get a web hosting account
Webhosting is server where you can keep all the information and files to make a website and application and when you connect this server with the internet then you can share these stored files with the users, here you can operate your website with your server but for this, you need skills and understanding about technology and tools and patience too to handle web hosting
Web hosting account through Hostgator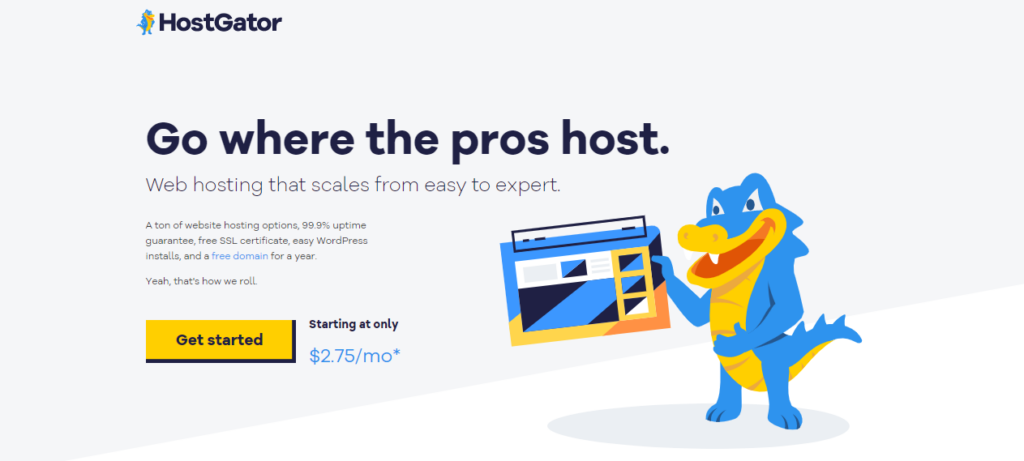 Hostgator server provider company which provide all type of server such virtual private server, reseller, and provide all secure and website hosting services Hostgator helps you get your business online. You can get anything related to web services to start from domain names to affordable hosting plans, you get the whole thing you require to set up your website
Type of Web Hosting
Shared Hosting
Virtual Private Server (VPS)
Dedicated Server
Reseller Hosting
Grid Hosting
They provide Linux shared hosting the package comes with cpanel php, apache and more
Window shared hosting – they provide the latest One-click Script Installs, ASP.NET Hosting, Plesk Onyx 17.5
Open source website hosting where you can start your website just in one click
Step #4: Set up website using Wix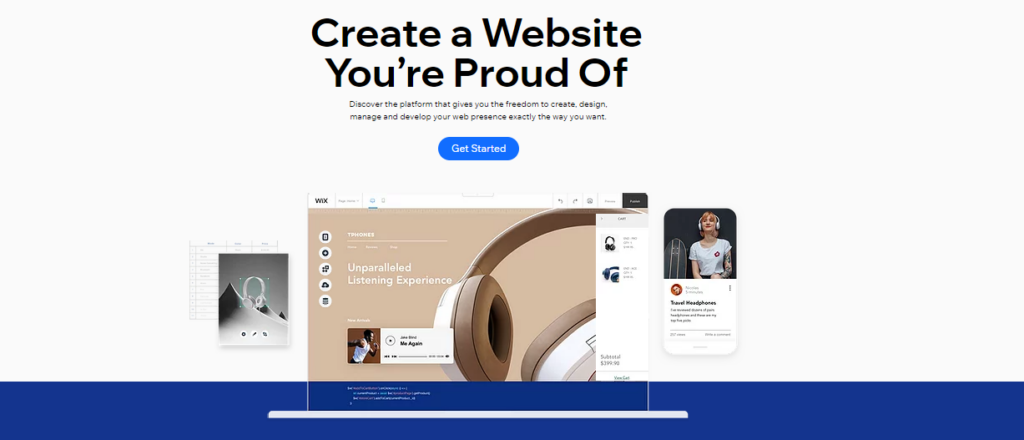 Wix platform is one of the easiest ways by which you can create your website, this platform will provide you a single package where you will get the best design and template to your website including hosting, editing and you can book domain with name, email address, and operation support. You difficult tasks will be handle by Wix, so you have to just no need to worry for a simple website, Wix software company provide all cloud-based web development services, it gives HTML5 website to users
There is many other website builder platforms which offers you to create a free basic website on your subdomain with ad-supported, before you purchase the offers just check packages and prices,
Step #5: Select a theme and design your website
When you set up your website the first step you book the domain and then the second challenge comes to choose the best theme and templates to give an excellent look to your website below are a few tips which help you to choose a good theme
Choose theme according to your website type and product type
When you choose the theme you can go for the free or paid theme so just consider all prices and no need to compromise the term of quality
Keep patience and take your time to choose the website, there is no need to design a website on the basis of one or two themes only
Always focus on flexibility and on customization option
Give your preference to always choose a responsive theme and template
Your theme should be SEO friendly
Step #6 Build important pages and content (Elementor or Leadpages)
When you create a website your website purpose should be clear your theme will be dedicated to your product and website should have important pages which easier to access to users and easy to read in allPages have useful to information about your product and services
Below are the are mention few pages which every website need to look excellent and to provide information
1. Homepage. Is the first page of the website which is the firsts impresser to the user which provide all knowledge about the services and product this page help you to get potential business and client
2. About page. In this page you have to show your services and the backbone of your company …
3. Contact us page. The contact us page is the page where you can add all details related to reach you out by user such as address, phone number, and mail address Blog page.
4. Search results page this page is the page where you can search anything related to the product, services, contact, packages, etc.
WordPress with Elementor

Elementor software for plugin is a WordPress page builder which help you to create an attractive and easily accessible website  this platform provide you powerfully, simple and flexible and without any coding world press services  
Elementore have WYSIWYG Editor where no need to code just add it to your theme they provide you more than 150 professional templates and a complete design structure.
Leadpages
Leadpages is the best way to get online and grow your business Create code-free websites and landing pages to engage your audience from first click to final sale.
Step #7: Set up a navigation menu on a website
A navigation menu is a collection of links which add-in important areas to the pointing of website pages in website a website is incomplete without the navigation menu this provides a good structure to your website and help to provide a proper result when user visit your website to find out your services,
Below are the few navigation menus which generally, add in website pages
HTML is the first Navigation menu where you have to create HTML code for website also require element like <nav> element with a<div> elements inside series of anchor-wrapped
2. After HTML we have to move toward the CSS.
3. Round off the corners and fix the borders.
4. Color it in
5. Change the color when hovering.
Step #8: Setup your payment the system if applicable allow
As this is a digital world and everyone moving toward online, payment system allow the customer to purchases product and pay online with the device at any time, the payment system usually require for e-commerce sites
When you add payment system you have to focus on below point
· Simplicity
· Security
· Guidance
· Easy website integration
· Flexible
· Low upfront and ongoing costs
· Not time taking
You can buy any software or can hire a developer to integrate payment functionality on your website, this payment should be linked with click to pay page which takes user or customer to your secure payment server to input payment information.
Step #9: Test and Launch your website
Test your website before publishing because your website represents you and your business today in the digital world peoples go online do everything online such as payments shopping, supermarket, health everything, if you want more productivity then your website should be attractive, and impressive, so test all pages of the website, content, hosting, flexibility, and payment mode make sure all form and pages fully function when you found that everything is running smoothly and you have tested systematically and properly then you can launch your website and make it publically.
Step #10: Website analysis – add Google Analytics
Below is the stepwise process to website analysis where you have to use analytics with the website
Here you collect all the data from your website with Analytics
Step 1: do the signup with analytics account and get Analytics tracking ID
Step 2: Add Analytics tracking on your device then open a new Google site, go to setting and then go to analytics and enter your valid tracking ID, its take almost 24 hours for upload data to display in analysis
Step 3: you can check your data to open analytics
Note – at the time of publishing a page or will create a new URL and can affect your data tracking with Analytics.
Step #11: Register with Google search console
Google search tool is a tool which helps in monitoring your performance in Google search result when you add your site with Google search this is also called Google Webmaster Here you can check your result matches with other site and your all performance
Below is the process how to make an account with Google search console
First, go to Google Search Console tool then go to search dropdown and click on add the property, add your website URL in the given box and click to continue button then click to expand option in HTLM tag after that do the copy of Meta tag and going your word press website and go to SEO and click over there here the SEO' settings will enlarge will provide you with additional options but you have to Click on 'General option you will get the option of webmaster tool just click on it do the verification by pasting code than to in the Google field and past the code and click on Save and confirm Changes then again Go back to the tool Google Search Console and click on Verify and finally, your account is got ready.
Step #12: Promote your website
A website is nothing without promotion in this competitive world you may have the best product but without the promotion of website, nobody will know about your product, to get more attention, more flocking, more audience and make your existence, you need an effective advertising
Below are the tips by which you can promote your website
Do SEO.
Do email marketing and branding of your website,
Start blogging,
Try guest blogging.
Give your presence on social media.
Give your site to online directories.
Post your website on forums.
Reach out with outreach marketing.
Step #13: Set up your email list (AWeber)




AWeber Free: Email marketing for free. No credit card required.

Aweber is the tool which provides email list to provide subscriber this gives an involved a list of subscribers is the key to email marketing success. They not only provide subscriber they also provide the right audience and right people–they target that audience who have real interest in your brand and services
Below are the few steps on the basis of Aweber work
Create a sign-up form
Types of forms. Do the signup and fill the form on forms the signup form is located where your website visitors submit their email address in order to subscribe to your list and get your emails. These forms permit you to obtain other info, like name, geographical place, exact interests, and more.
Types of Form
· Static sign up form
· Pop up form
· Notification bar form
· Slide-in form
The copy- when readers come to your site the form should tell that where the reader will go in next step after signup
The call-to-action
This also one of type of sign up form where reader take action to go for the next step.
The design
a good design play a major role in your sign up form design which should reflect the look and feel of your website and brand.
Make incentives
people always love to get the gift in return offering few offers, gift, the voucher can attract to more audience which inspires them to sign up to your email list – especially individuals who are on need of a product
Step #14: Set up social media profiles
Connect with social followers-
A social platform like Facebook, Instagram, Twitter, LinkedIn they provide you genuine followers when you do the setup of this profile you can call to action button in the signup form to get genuine follower, give your daily presence on this platform, add a post on a daily basis related to your product and services with offers so that can attract the customer toward your website.
Recommended Read:
5 BEST ONLINE DIGITAL MARKETING COURSES IN 2021
HOW TO USE VIDEO MARKETING FOR BRAND AWARENESS IN 2021?
General FAQs
How much does it cost to set up a Web site?
Website Cost is depending on your needs, website development costs anywhere between $100 and $500. If you need a feature-rich, custom-built website, it can go as high as $30,000 or more. To build a small website, you'll need to have a budget for the domain name and web hosting.
How long does it take to design a website?
A typical website will take 14 weeks at a minimum from start to launch. This includes 3 weeks of discovery, 6 weeks design, 3 weeks initial development, and 2 weeks of modifications. It could take much longer if you wait until the end to start writing content.
Do websites need maintenance?
Regularly updating and maintaining your site is crucial to ensuring that your site is running at full capacity. Just like cars, websites require maintenance to operate properly. Properly maintaining your site helps to ensure site security, increase the number of new visitors, boost returning traffic, and more.