As we're approaching the summer, business reports of all kinds start coming in. Marketing and customer service assessments aren't an exception. Given the chaos of last year and the sudden switch to remote work, the substitution of the real-time meetings with Zoom calls, customer behavior was bound to change too.
How exactly has it changed and how has it shifted the paradigm of promoting products and services and providing them to the general public in an engaging yet authentic way?
Marketing Trends That are Changing Customer Experience Post-Pandemic Click To Tweet
This 'overnight' transitioning to the overly digital realms has not only prompted companies to adopt new, internet-friendly strategies to run businesses but also customers to adjust their shopping preferences. The latter is reported to have caused a 49% surge in online purchases in comparison with pre-Covid times.
With 43% of consumers confessing their willingness to spend extra on convenience in the future, it's only normal to start planning for the change today.
Let's take a look at what the 'new normal' holds for marketers who are flexible enough to adapt, not react, to the new customer demands.
Interactive storytelling is taking over
We can already get a glimpse of this on Instagram and Facebook where stories – temporary photos or videos that vanish in 24 hours – have become the new currency of social media marketing. These handy tools help brands not only improve reach and engagement rates but also involve customers in content creation.
The concept isn't necessarily new – companies have long been including their customers to appeal to their target audience. But with the rise of social media, this practice has been brought back to the forefront of the marketing agenda filled with strategies that work.
These days there is no shortage of mediums through which you can connect with your customers. Podcasts, videos, and even public relations specialists can all be used to source stories and put an interactive spin on your brand's digital presence. Enable your customers to fill in surveys, do quizzes, and participate in giveaways by incorporating this content into your medium of choice and you're guaranteed to capture people's interest in times when the attention span is as short as ever.
Spotify is a great case to explore when talking about data-driven storytelling. They put their data-collecting policy to work; it's the exact reason that helped them analyze over half a million playlists labeled 'Pride' or 'LGBTQ' and come up with the most popular artists in each U.S. state on the Pride celebration day.
Budgets for influencer marketing reaches all-time highs
Speaking about social media marketing, it looks like influencers – those who endorse products and services in exchange for a fee – aren't going anywhere. In fact, they're staying put while more and more companies begin recognizing the value these people bring to the table and allocating hefty budgets for this unbiased advertising method.
How come?
70% of teenagers put their trust in influencers over other celebrities
Influencer marketing pays $6.50 for every dollar spent on social media campaigns
Over two-thirds of marketing and communications professionals promote content via influencers
These are just some statistics that depict the power of influencer marketing in this day and age.
Authentic opinions have always been priceless, but their magnitude has risen significantly over the past few years. If anything, the pandemic has only amplified the impact of digital influencers on consumer demand due to the restricted ability to shop in-store. The trend is ongoing this summer, as consumers are still not comfortable with physical shopping.
It makes sense to jump on the trend. To do so, do your research and pick the influencers in your niche with trustworthy portfolios and reasonable rates. You can even go for micro-influencers if you're on a budget – they are perceived to generate 85% higher engagement than those with 100,000 followers.
No matter what type of influencers you choose to 'hire', you should make use of metrics like Click-Through Rate (CTR), UGC-based cost of conversion, and the influencer-provided conversion rate.
Inclusivity became a 'must-have', not a 'nice-to-have'
You don't need to be a marketing wizard to know that if you aren't catering to everyone, you're catering to no one. Discriminating based on age, gender, race, religion, sexual orientation, disabilities, and the likes is not only not cool but also a big taboo in the world of business where inclusivity is encouraged, not hindered. Taking notes of companies that are continuously making headlines with their inclusive campaigns and initiatives will give you a good idea of what customers like to see.
One size truly doesn't fit all, and the sooner you'll apply that concept to your marketing strategies, the better off you'll be. A study conducted by Accenture shows that modern consumers aren't merely turning away from retailers that don't share their values but are also turning towards those that do. With 29% of all shoppers likely to switch to a retailer that reflects inclusivity and diversity and 42% of ethnic minority shoppers' predisposition to buy from those committed to I&D, changing the trajectory of your marketing towards a more diverse one becomes a no-brainer.
How does one do that? First off, you must educate yourself on cultural diversity. Take it from Proctor & Gamble's "The Talk" campaign that brings the behind-the-door conversations between mothers and their children about racism and prejudices associated with it; it shed light on the impact that bias makes on all kinds of discrimination in society.
Secondly, make an effort to celebrate diversity. Connecting with global audiences isn't easy but is possible with the help of inclusivity-based campaigns that speak to everyone. Knix understood this at the conception stage when they came out with an ad portraying a wide array of lingerie pieces tailored to every age, skin tone, size, and body shape under the sun. Sounds so simple – a brand that offers products that reflect their customers – yet their approach is still regarded as revolutionary for some reason.
Talks about sustainability became actions
While nature was catching a breath during the pandemic, it became clear that we should focus on 'important work' – becoming seriously concerned with the state of our environment and doing something about it.
In a Nielsen survey, a whopping 81% of global responders revealed that they feel strongly about companies helping the environment. And it's not only the younger generation that demands corporate sustainability – Gen X, Baby Boomers, and Silent Generation are loud and clear too.
Enter – sustainable practices. This doesn't imply you starting to aggressively promote the use of solar energy and brag about recycling every pen ever brought by your employees in the office but rather conveying to your customers small but steady steps you're taking towards sustainability on a monthly/quarterly basis.
Making marketing decisions with sustainability in mind should align with your company's identity. You can use social media to create weekly discussions about the environment with a company-specific hashtag of your choice or provide every customer with a branded tote bag that will serve as a visual reminder about what your company stands for.
L'Oreal, the beauty giant in the cosmetics industry, made it a priority to combat climate change by 2030. They took it upon themselves to create tangible goals and long-term plans targeted towards eliminating CO2 emissions and empowering their business ecosystem that will ultimately lead to cleaner surroundings.
Augmented and virtual reality are replacing the traditional one
If COVID-19 has taught us anything, it's that physical reality can be overrated. With fewer outings with friends and real-life meetings, virtual reality had to come to the rescue. And while it might not replace the actual human contact, it can very well be used for maintaining your interest in hobbies, entertaining you when it gets lonely, and even replicating your office environment.
As per the market research company NPD Group, it seems like people are using this opportunity to their full advantage. In the US alone, the sales of video game hardware have increased by 37% since August 2020 totaling $3.3 billion. Due to the absence of live entertainment, consumers aren't snoozing and are switching to at-home options instead.
VR technology is predicted to reach $8 billion by 2030. Not too shabby, right? The head of strategic solutions at Verizon Media Julia Edwards asserts that "With the help of the third dimension, businesses will have the chance to engage their audiences through showing how a product may look in their physical location. It will be a whole new way of connecting companies with customers."
Indoor cycling is one of those niche markets to which companies could apply their augmented reality expertise. Feel like transporting to a sunny Cabo and cycling along the coastal beaches while getting your workout in? No problem. Heading up the hill of picturesque South American Patagonia? Incline settings are turned on. Zwift – a popular interactive training platform – has gotten close to offering this reality to its customers. It allows cyclers to connect their bikes or treadmills to an app where they can get immersed in a virtual world of their choice.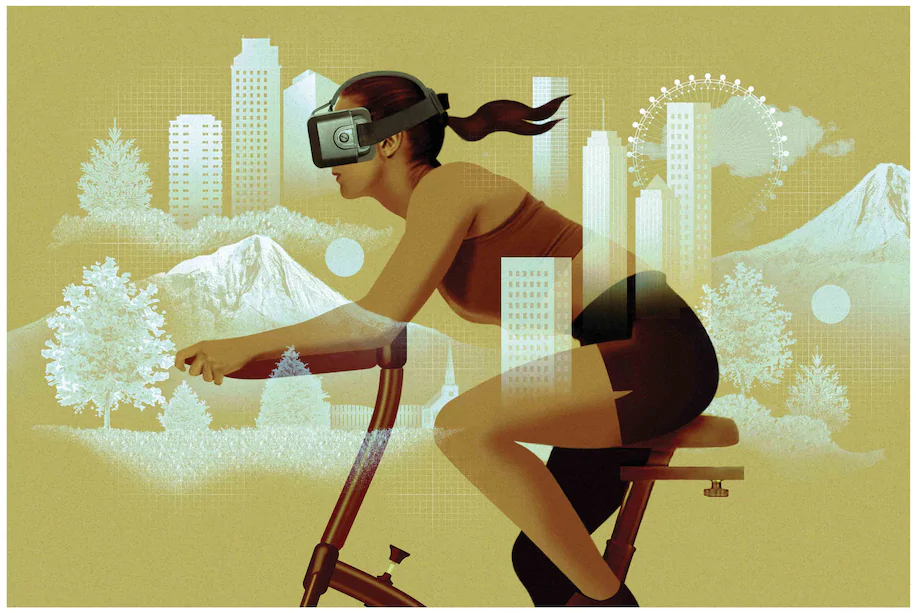 Voice assistance – the magic wand for marketers
Unless you've been living under a rock, you should be fairly familiar with a virtual assistant AI technology known as Alexa that was launched by Amazon over 6 years ago now. There's also Apple's Siri, Google Home, and Echo Dot. These smart speakers are taking over for a good reason – they don't only make it easier for you to search for certain things without having to manually type the information in, but they cut your screen time and save you time.
When applied to the business world, there are plenty of opportunities for them to replace, or at the very least, aid to the customer experience with your products. By optimizing your content and making it voice-search friendly, you are expanding your reach and boost the traffic coming from thousands of search queries. The result? Your company remains relevant to your customers for the years to come.
It is projected that by 2024, the number of digital voice assistants will reach 8.4 billion units – a number higher than the world's population. This number is likely to increase as the years go by given the number of companies already employing voice assistance in their strategies.
Here are just a couple of examples to get you started:
Domino's Pizza enables its customers to order takeout with the help of a voice-assistant technology
Nestlé came out with a skillet that allows you to listen to voice instructions while you cook
PayPal customers are now able to use Siri to transfer money
Virtual events won't go anywhere
As virtual and augmented reality will continue gaining momentum, so will virtual meetings and events. They might've started out as a replacement for their real-life alternative, but that doesn't mean they're not staying for longer. They're not only staying, but they're also getting more advanced.
People are now realizing that in the majority of cases, over-the-screen events allow for flexibility, accessibility, and ROI, too. Bonus point – they're still as engaging to your audience as ever.
The so-called hybrid events are forecasted to get even more sophisticated. We're talking about special audio and video effects, larger digital venues, and interactive elements that make participants feel like they're a part of the event. This digitalization of human interaction will equip businesses with the never-seen-before connection methods that will only bring people closer together.
More businesses are focusing on implementing local SEO
If your SEO game is still not strong, we're not sure what you're waiting for. In 2021, having a website well-optimized for search engines is a must. Considering that it's a cheaper way to market your services, it makes all the sense in the world to focus on making use of the best SEO practices and minimize the number of paid ads you can't get enough of.
Unlike traditional SEO, its local counterpart has a lot of hidden potential that businesses are now coming to see. Think about it – people who search for a certain company located within their geographical location are more likely to purchase there. This conversion is as straightforward as it sounds.
To not lag, follow these simple steps to get your head start:
Sing up for Google My Business (you can create a new listing or claim the existing one).
Get verified by Google.
Use location-specific keywords when describing your business.
Voila, now you'll be recognized by your fellow customers. A quick tip – mention a famous landmark if there is one next to your business's location and you'll have better chances of being found.
What to expect when expecting
The way businesses are run is constantly evolving, and that's to be expected. Marketing, an essential part of them, is up there with commerce that seems to be undergoing the biggest changes year after year. How do you ensure you're up-to-date with the newest marketing strategies used by companies of all shapes and sizes? You analyze your business's strategy and implement the trends that align with it the best all while keeping customer's needs and desires in mind. 
Recommended Read:
UPCOMING TRENDS IN DIGITAL MARKETING THAT YOU SHOULD NOT IGNORE THIS 2021
TOP 10 DIGITAL MARKETING SKILLS YOU NEED TO LEARN IN 2021
5 BEST ONLINE DIGITAL MARKETING COURSES IN 2021
General FAQs
What are consumer trends in marketing?
The term trend does not refer to specific brands or styles that may be in vogue today, but rather underlying values that drive consumers toward certain products and services and away from others.
Which of the key trends in customer experience is the most critical of all?
Transparency in the digital age is one of the most important and pressing customer experience trends.
What one change would improve the experience of our customers?
Ask for feedback whenever someone buys a product from you. Use both the positives and negatives to further optimize the customer experience. People take actions when they trust a brand so share information about your company and its values in an honest way while addressing the needs of your customers.