The use of email marketing as part of your digital marketing strategies remains to be one of the most effective. Though one of the oldest tactics, it has withstood the test of time and marketing strategies' evolution. Over time, email marketing has proven to give the highest return of investment, and email automation is one of the best ways to nurture your leads.
4 Ways to Use Email Automation to Nurture Leads Click To Tweet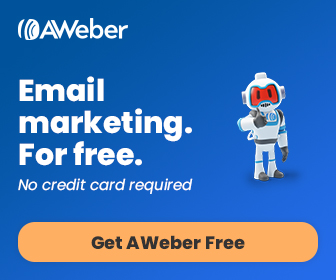 There are many newer marketing strategies you can adapt these days. The growth of social media, the influx of influencers, the rise of video marketing, and more, are just some of the tools that evolved with digital marketing. However, email marketing continues to remain a strong force in lead generation and sales conversion.
Statistics show that more than 80% of companies and businesses still use email marketing tactics as part of their marketing campaigns. The open rate of emails is still astonishing. The number is compelling enough to always bank on email marketing to help reach your audience, connect with them, build relationships, and augment sales that are essentials in growing your business.
Email Automation and Nurturing Leads




AWeber Free: Email marketing for free. No credit card required.

Email automation means creating emails that can reach your right audience containing the right message at the right moment. Since automated, this means that you do not need to do the work every time you need to send an email.
Referred also as triggered emails, automated emails allow you to give your subscribers the best and most relevant content. This tactic helps improve your conversion rate of 50%. With email automation, you can also personalize your customers' buying journey and overall experiences.
Email automation is an excellent way to nurture your leads before you can convert them into sales. It can help raise brand awareness and establish trust among your audience. It can be one of your best tactical ways to attract new customers, drive traffic, and ensure conversion at the end of the sales funnel.
Ways To Nurture Leads With Email Automation

Here are four ways to use email automation to secure your leads and establish a positive relationship vital for your brand's growth and success.
1. Educate Your Customers
When a customer subscribes to your email subscription list, most are not yet ready to purchase. One reason they subscribed is that maybe they have become smitten with your blogs or contents. Some may have already developed an interest in your product offerings and services, yet they are still waiting for the right time to make their necessary purchase. Whatever their reason for subscribing, these customers are looking forward to your emails, and you can take full advantage of this interest.
It may be tempting to do hard selling on all interested customers; however, you must remember that a sales-y approach can shun off your customers. It may direct to lost opportunities as they can easily unsubscribe from your mailing list.
To avoid this, you can nurture these leads by educating your customers. Instead of urging them to buy any of your products, you can send emails about your niche industry's latest trend. You can share your market updates, or you can send them innovative ways to use your products should they purchase it. You can also communicate with random topics that would suit their demographics and interest to connect with your products or services.
2. Reminders For Your Non-Action Prospects
Some of your website visitors who have checked your website and subscribed to your email list can remain inactive for months. These potential customers have somewhat become interested in your content, your products, or your services. That means you can easily encourage them to take action by sending them a personalized email that can catch their interest again and hook them with your product and service.
If you noticed that some of your existing leads haven't interacted with your email campaigns over the last few months, send some re-engagement email. To make it more appealing, you can offer them an exclusive discount if they make any purchase. To see if they will engage, you can also provide a limited free trial on your products. You can also give them a compelling coupon that they can use on their next purchase, making sure that they will have to interact with you again.
If any of your non-action leads respond, you should make sure that you create a series of automated emails that will nurture them until they are converted to make a purchase.
3. Reconnect With Your Existing Customers For Upsells
Marketers and business owners often focus their attention on lead generation that they fail to remember existing customers. What makes this crucial is that you should have happy existing customers for your business to thrive. They are your company's bloodlines and can effectively promote your business for free by referring it to their family and friends.
While existing customers are not prospects, they can become your most significant lead for upsells. Make follow up emails asking how the products went after their first try, what are their experiences in using the product and asking them to share some feedback on your services. These follow-ups or check upon emails can be an excellent opportunity to sneak some additional products that can help sales engagement. You can include the latest product releases that suit your customers' interest.
4. Product Instruction And How To Get The Most Of It
If you are selling software online like antivirus or operating systems, you should take note that not all of your customers are tech-savvy. Some may find it frustrating that they are lost with how to install a product or how to operate it after making an expensive purchase. You may feel that some instructions are just self-explanatory or are easily understood. However, not all of your customers feel the same way or have the luxury of time to understand installation instructions.
It would be best that when a customer makes a purchase, you send them emails bearing simple directions on how they can use or install your products on their own. You can also send your customers on how to care for products and how to make it last.
Your customers would also appreciate it if you send them some best practices, hacks, and other techniques that will allow them to get the most of your products and maximize their money spend.
Final Thoughts

Relying on emails to nurture your lead is still one of the most effective yet most cost-efficient ways to improve your sales and grow your business. Email automation can help you build your relationship with your audience and engage with them until they have trusted you enough to make their purchases. It can be your most excellent marketing strategy to fill in your pipelines and have quality sales.
Recommended Read:
USING EMAIL MARKETING TO CONNECT WITH CUSTOMERS
General FAQs
How does automated email work?
They are placed into different audience segments based on their location, interests, behavior, etc. They set the rules/triggers, create the drip campaign, schedule the emails, etc. The person receives emails based on the conditions and campaigns set by the marketer.
What is email and marketing automation?
Email marketing automation is a robotic-sounding term for the strategy of making your messaging more personalized and timely — two of the most important aspects of any successful email marketing campaign. Email automation is simply converting the dispatch of email messages from a manual process to an automatic one.
What are the benefits of marketing automation?
1. Increased marketing efficiency. Automate time-consuming, manual tasks.
2. Enhanced ability to generate more and better-qualified leads.
3. A multichannel view of prospect behavior.
4. Better alignment of sales and marketing goals.
5. Improved lead conversion and ROI.