Email marketing has proven to be one of the most efficient advertisement channels for businesses worldwide. According to Tech Jury, 87% of marketers plan to invest more resources into email marketing in 2022, with 81% of customers enjoying email marketing content.
However, while email marketing is helpful and can bring new leads to your online or retail shop, it can also backfire if you mishandle it. Many businesses have ended up being reported as spam and being blacklisted by major email platforms such as Gmail, Yahoo Mail, and Microsoft Outlook.
7 Email Writing Marketing Mistakes and How to Avoid Them in 2022 Click To Tweet
Writing your email marketing content with proficiency, precision, and professional tone of voice is very important, no matter who your target audience is. What are the most common and concerning email writing mistakes, and how can you avoid them to better communicate with your email list moving forward?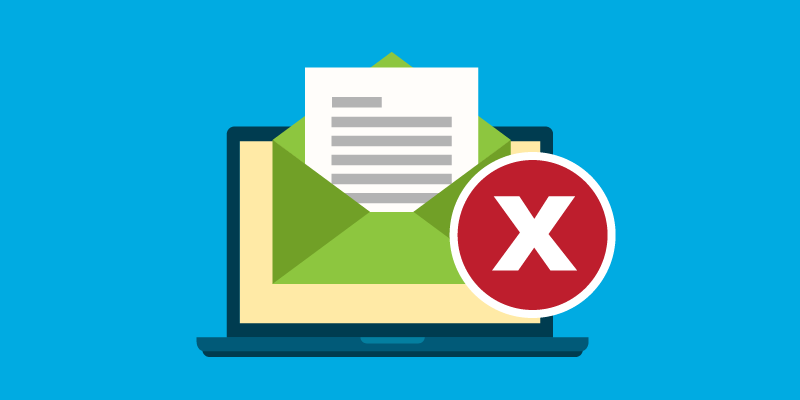 Improperly Written Subject Lines
Your email subject lines can often make or break an email marketing campaign. Whether your recipients open emails via desktop or smartphone, they will see your subject lines before anything else. Your subject lines must be culturally appropriate, respectful, and professional.
Avoid using all caps, exclamation points, emojis, or special characters. Ideally, you should introduce your brand and yourself as its representative before going into further details. Keep your subject lines under 60 characters in length and make sure to avoid grammar errors.
Broken or Invalid Links
As a business, you are bound to send links to your website, social media, and other online resources via email marketing. Sending invalid, broken, or links infected by malware is an extremely bad scenario. People who decide to open, read, and then follow up on your emails won't do so if your links are suspicious or invalid.
Moreover, they will be quick to tag your emails as malicious spam, which will be even more detrimental for your business. To avoid that, you should double-check each link you embed into the email marketing content. Use an antivirus tool and go over your links before sending them to your email list to avoid poor PR. You can go a step further and use an email protection service such as Avast to scan and certify your emails as safe for use.
Lack of an Unsubscribe Button
The truth is that you don't want people to unsubscribe from your newsletters and sales offers. They will do so, however, if you don't provide them with an option to unsubscribe freely. Allowing people to opt-out from receiving your emails is considered sportsman-like.
People will appreciate you being upfront and transparent with them, and most of them won't unsubscribe anytime soon. You can position your unsubscribe button in a small space in your email content's footer, for example. It's also a good idea to include a short survey in the link to determine "why" people are unsubscribing.
Poor Personalization Efforts
Personalization is one of the most important aspects of contemporary digital marketing. According to Forbes, 70% of millennials are frustrated with brands that send them irrelevant emails, with personalized emails being 26% more likely to be opened. Improper personalization efforts can be even worse than lack thereof.
Your business will likely target different demographics with different lifestyles, age groups, and product expectations. Instead of sending them a single mass email, you should try to personalize your emails to each person as much as possible. Using personal pronouns is also a huge plus since addressing a customer called Brian by "Brian" and not "dear customer" is a much better prospect. Take the time to personalize emails instead of sending generic content and hoping for the best – your customers will appreciate it.
Proofreading and Formatting Errors
One of the major red flags of email marketing is directly related to grammar, spelling, and formatting. The way you handle English or any other language will reflect on your brand. If your target audience is in any way informed about paper writing or academic papers, they will spot your writing inconsistencies instantly.
Working with students who need paper writing assistance and think, "I'd like to buy essays from a professional service," will require you to be mindful. Make sure to always spellcheck your emails, format them into paragraphs, bullet points, and add numeric data for easier reading. The more readable your emails, the better odds you'll have at convincing people to engage with their content and, subsequently, your website.
Sending Emails from Multiple Different Campaigns
Whether you work as an eCommerce shop, a SaaS platform, or a service outsourcing business, the odds are that you will have multiple marketing campaigns in mind. However, running several different campaigns via email marketing at once isn't a good idea. You don't want to confuse your customers with multiple sales offers and discounts which are happening concurrently.
For example, it's better to adopt your marketing campaign planning to holidays and events such as Halloween, Christmas, or Easter. Play to your customers' expectations here – people are far more likely to buy things on Black Friday than they are on a random July weekend. Avoid running and sending multiple email marketing campaigns with the same email list, and your engagement rate will reflect those planning efforts.
Sending Multiple Emails to Same Recipients
Email list segmentation is an important aspect of email marketing personalization and campaign planning. You don't want emails to overlap in different email list segments, however. If some emails overlap and receive multiple pieces of content from you, they might avoid interacting with you. This is considered a mistake in email marketing, and you should be mindful of email list overlap.
Go over your segmented email lists by hand before sending email marketing content their way. Ensure that you correctly segmented your target audience and that everyone will receive the emails they are meant to. While this means sending less content to each person, you will send everyone precisely what was written for their customer profile.
Successfully Avoiding Email Marketing Mistakes (Conclusion)
If you successfully manage to maneuver your way around email marketing mistakes, your email campaigns will perform much better than they would otherwise. Don't rush into email marketing and make rash decisions on how to proceed with your content.
Take a methodical, deliberate approach instead and write emails with your readers in mind. Keep an eye on your email marketing metrics via whichever email platform you are using, and adapt your approach as you go. You will find your business' email marketing silver lining before long and benefit from it greatly.
Recommended Read:
AMAZING TRICKS TO INCREASE SUBSCRIBERS AND VIEWS ON YOUTUBE IN 2022
TOP 10 DIGITAL MARKETING SKILLS YOU NEED TO LEARN IN 2021
5 BEST ONLINE DIGITAL MARKETING COURSES IN 2021
General FAQs
What is a danger of email marketing?
Some of the potential problems of email marketing include: Spam – commercial email or 'spam' irritates consumers. If your messages aren't targeted to the right people, the recipient may delete your email or unsubscribe.
What are the 5 Ts of email marketing?
We all know that content marketing can help build your brand, drive customer engagement and increase revenue. But in order to be truly effective, follow the "5 Ts": Tease, Target, Teach, Test and Track.
Is Gmail good for email marketing?
Gmail for email marketing is a great choice for small businesses with manageable email lists. And when you combine Gmail with free email marketing tools, your email marketing can soar to a whole new level!