Pinterest is a powerful tool for generating new traffic and leads. It's a place where people find great products, inspiration, and solutions to needs.
7 Reasons Why Pinterest Should be Part of Your Marketing Strategy in 2022 Click To Tweet
Brands and businesses can connect with their customers organically on Pinterest. Research proves time and time again that it's one of the most effective marketing platforms available:
478 million people use Pinterest every month to find ideas and inspire their next purchase.
97% of Pinterest searches are unbranded.
85% of Pinners say Pinterest is where they go to start a new project.
80% of weekly Pinners have discovered a new brand or product on Pinterest
Your content's lifespan on Pinterest is 4 months to forever compared to 48h on Instagram or 15 minutes on Twitter.
So if Pinterest is such a great place for brands and businesses to market their products, why are so many struggling with it?
Most brands aren't utilizing Pinterest in the right way. They are treating it as a social media platform when it's really a visual search engine. They are not mapping out their customer journeys from pin to product, which makes them miss  the opportunity for conversion.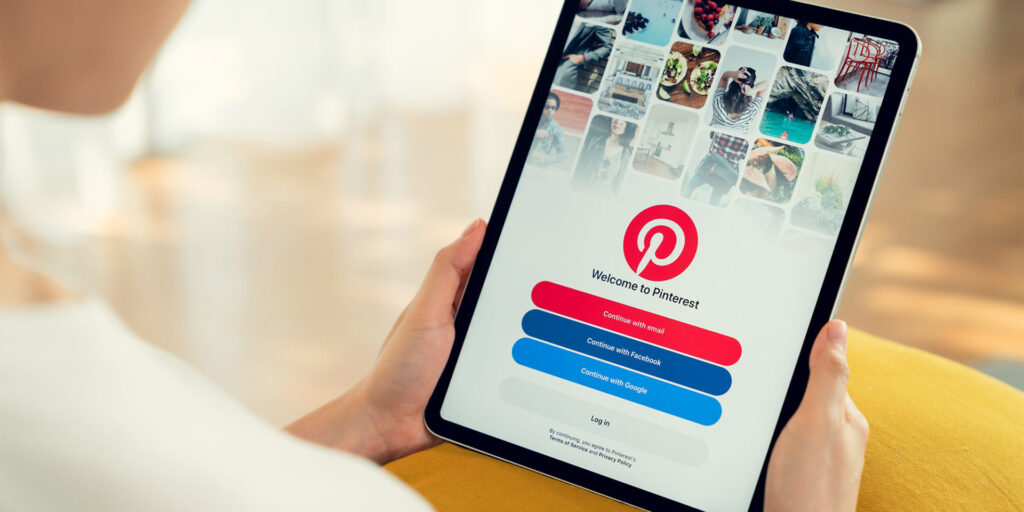 What Brands Are Doing Wrong
The main reasons companies might want to market their business on Pinterest is to send new traffic to their website and generate leads. But they fail to do so because they treat Pinterest like a social media platform.
Unlike social media, Pinterest requires a particular kind of content. It has to engage users and encourage them to click through. It has to inspire them to save it or repin it to one of their boards. And to do that, they must really create their pins strategically; choose the right images and write good copy.
On top of that, brands fail to create a marketing strategy specifically for their target audience Pinterest. Not having a clear goal—like increasing traffic to your website or gaining a certain amount of followers on the platform—will lead to inconsistent results.
How To Energize Your Brand's Pinterest Account
By avoiding the common errors brands make on Pinterest, you can easily breathe some life into your account.
#1 Make sure you create a Pinterest business account.
You can't take full advantage of the opportunities on Pinterest if you're using a personal account. Switch to a business account, then make sure you do the following:
Claim your website
Link your Pinterest to any other social media accounts you have
Enable and set up Pinterest Rich Pins
Install the Pinterest tag on your website—even if you don't want to start with Pinterest ads immediately, the tag will start recording your website visitors
#2 Make sure your brand image is reflected on your page.
Think of your Pinterest account as an extension of your website and your content. That means your brand image should be clear and easily identifiable in:
Your name
Your logo
Your cover photo
Your pin designs
#3 Identify your ideal audience.
To create an effective strategy, you need to know who exactly you're targeting your content to. Your audience on Pinterest might be different from your audience on social media. The reason why people follow you on Instagram for example might be different from why they're looking for you on Pinterest. Do some keyword research, test your pins and try to figure out the following:
What keywords they're looking for
What solution they need to their problems or needs
Why are they generally on the platform
#4 Know your keywords.
Since Pinterest is technically a visual search engine, Pinterest SEO is key—and by SEO, we mean keywords!
Prepare a list of keywords relevant to your product or service, ideal audience, and probably the season (if that's relevant to your brand) . You can find them through the Pinterest search bar and on the Pinterest Trends page.
And once you find them, use your keywords EVERYWHERE. On your profile, your boards, your pin title and description.
#5 Create keyword-driven boards.
Start by creating 5-8 boards relevant to who you are and what you do or the products you sell. Be sure to use keywords in both the board title and board description.
If you already have boards, clean up and delete those not relevant to your brand anymore. Don't mix your personal boards with your business ones. Keep your personal pins in a separate personal Pinterest account.
#6 Start pinning!
Now that you've got your profile set up and your boards ready to go, it's time to start posting pins. Here are some tips to follow to get more traffic to your pins:
Your pins should be vertical (9:16 ratio)
They should include a text overlay or a call to action
They should include your brand name
They should link to a product page or a blog post located on your website
The pin title and description should be filled with keywords. The description shouldn't feel like a robot wrote it. Make it flow naturally, as if someone is talking and describing the pin.
And just like any other platform, it helps to use new features to gain more exposure as early adopters are always rewarded. Pinterest released story pins in 2020 in the U.S. to beta test. They're now called Idea Pins, and they're available to everyone—so make sure you're using them!
Pinterest is currently experimenting with LIVES. It's only available in the U.S. right now, so make sure you're using it if you have access.
#7 Be consistent.
Your Pinterest will stay stagnant if you only post now and then. Be consistent with your content, and your traffic will be much more likely to grow.
Revive Your Account Today
Posting on Pinterest can be a powerful marketing strategy if used in the correct way. If you're not getting the results you deserve on Pinterest, try these tips to boost your traffic and get your account back on track. You never know what will work until you try it!
Recommended Read:
TOP 6 DIGITAL MARKETING COURSES THAT WILL PREPARE YOU FOR A SUCCESSFUL CAREER IN 2022
5 BEST SOCIAL MEDIA ANALYTICS TOOLS FOR MARKETERS IN 2022
AMAZING TRICKS TO INCREASE SUBSCRIBERS AND VIEWS ON YOUTUBE IN 2022
General FAQs
Is Pinterest good for marketing?
Pinterest offers businesses of all sizes a unique way to market themselves — as a visual search engine, Pinterest is great for exposing new potential customers to your brand.
Why Pinterest Is Good for business?
Pinterest is a social network where people can find inspiration and ideas for their interests and hobbies. Pins can also link back to websites, which is why Pinterest is great for driving traffic and sales. And most importantly for businesses, Pins help people find more information on products they're looking to buy.
How has Pinterest changed the marketing industry?
Pinterest introduced Pinterest search ads. These ads are available for keyword targeting and shopping campaigns. This new ad feature gives Pinterest the ability to tap into consumer purchase behavior more than ever.