Food is something that brings people together. It is the goal of every food businesses to bring this spirit to the world and be seen through branding. Yummy foods are seen everywhere from restaurants to supermarkets. One thing that can please both parties is to come up with a Custom Logo Design India that reflects their love for this food.
Delicious Food Logo Design That Will Make Your Jaw Drop Click To Tweet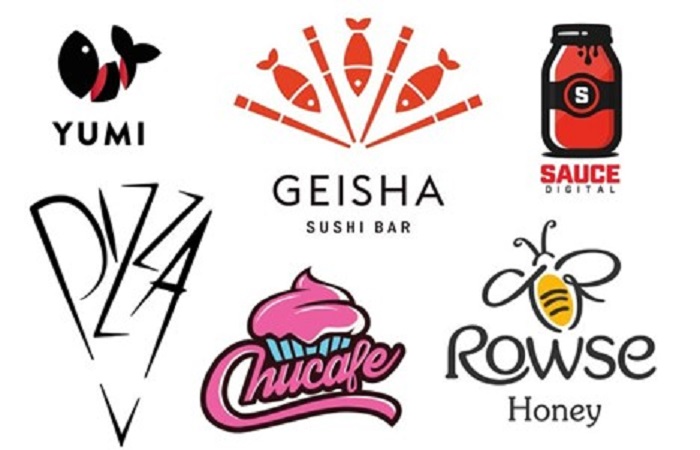 What characteristics distinguish an excellent food logo?
Food logos need to be visually appealing, memorable, and consistent with the brand's identity. They should also be easy to integrate into marketing materials and should withstand the test of time. Additionally, food logos should communicate the flavour and texture of the food.
When it comes to creating a food logo, be sure to keep in mind the following tips:
Be creative – A food logo should be unique and expressive, so use your imagination!
Be versatile – A logo can be used for different types of food, so ensure it can accommodate a wide range of flavours and styles.
Be consistent – Your logo should be adapted and updated as necessary to reflect the brand's current image and messaging.
Be visually appealing – A well-designed logo will look good on any media, from print ads to social media posts.
If you are an industry leader in the food service and manufacturing businesses, it is of atmost importance that you make the right impressions with the logo. The perfect logo design india should convey the good taste of foods and other product offerings.
Here is a collection of some delicious logo designs that are eye-catching and storytelling: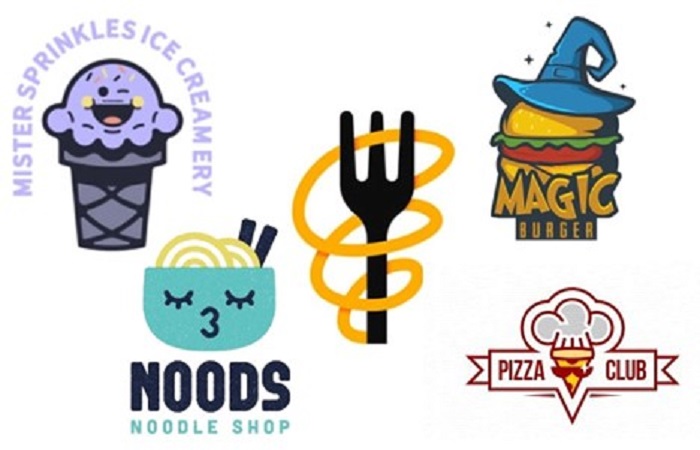 Logo designs that is simple and minimalist:
Minimalist logo designs are becoming increasingly popular, as they are perfect for businesses that want to focus on their message and not waste time on extra details. Such logo designs are simple, sophisticated, memorable, and it can be tweaked to fit your specific needs. Let's look at some amazing food logo designs that are simple and minimalist.
Cartoon food logos that are appealing to the eye:
Cartoon food logos are an interesting and fun way to promote your food products to a younger audience. They are often used on restaurant menus, food labels, or marketing campaigns. They are also used to promote healthy eating and raise awareness of specific foods' nutritional benefits. Check out some fascinating examples of cartoon food logo designs.
Food logo design with flat illustrations:
Flat graphics are the golden middle for many logo designers and brands, sitting between a cartoon and a simple logo. They stimulate the senses with vibrant colours, yet they are far more sophisticated and intellectual than traditional cartoon logo designs. Let us see some of the best designs of flat illustration food logos.
Food logos that is bold and confident:
A bold and confident food logo design is eye–catching and easy to remember. The logo must be versatile enough for both food and beverage products. It should be designed with a modern, sleek and minimalist style that is easy to print and use in food and beverage branding. The logo should also adapt to different typography and colour schemes. Here are some of the best bold and popping logo designs.
Food logos with creative typography and lettering:
There's nothing like a good food logo combined with creative typography and lettering to liven up a boring food package. Whether you're looking for a healthy snack, tasty meal or dessert, a food logo with creative typography and letters can help your product stand out from the competition. Here are some of the best food logo designs with creative typography and lettering.
Logos that highlight the product's constituents are particularly effective in this regard. Typically, these logos are quite simple and have clear lines. They're uncomplicated and uncrowded also can be detailed and realistic, or both. Colours and typefaces can go in any direction as long as the image maintains cohesiveness and its components are easily recognised.
Conclusion:
Thank you for reading! In this blog, we post delicious food logos that makes your jaw-dropping. These designs have something for everyone, from cartoon logos to flat illustrations to creative typography and lettering. Whether you're in the food industry or just happen to love good food, these logo designs will pique your interest. So what are you waiting for? Scroll down and start making your logo with LogoPeople today!
Recommended Read:
TOP 6 DIGITAL MARKETING COURSES THAT WILL PREPARE YOU FOR A SUCCESSFUL CAREER IN 2022
5 BEST SOCIAL MEDIA ANALYTICS TOOLS FOR MARKETERS IN 2022
AMAZING TRICKS TO INCREASE SUBSCRIBERS AND VIEWS ON YOUTUBE IN 2022
General FAQs
What is a good logo design?
A good logo is distinctive, appropriate, practical, graphic and simple in form, and it conveys the owner's intended message.
What is the best color for food logo?
In a nutshell, warm colors—red, orange and yellow—work best for food branding. Of these, red is the best for inciting hunger (perhaps due to the abundance of red foods in nature). And because warm colors pair nicely with each other, you see a lot of red-yellow or red-orange food branding.
What are the 3 types of logo?
There are really only three main types of logos: wordmark, icon, and combination mark.