Digital marketers today have the luxury of abundant tools and resources to improve their skills. Marketing products and services in the digital age can be challenging because of the tough competition. However, if you hone your skills and know the right strategies to outrank your competitors, you can be a competitive and much sought-after digital marketer.
Top 10 Digital Marketing Skills You Need to Learn in 2021 Click To Tweet
Marketing concepts may remain the same because the goal is to get your brand out there, get leads, and drive conversions. But the tricks of the trade, though, continuously evolve as technologies evolve. For one, there is a vast amount of data available for digital marketers now more than ever. Big data permeates all kinds of markets, as the world movies towards automation and personalization even more.
The surge in digital marketing technologies has caused a gap in skills and technical expertise that 74% of marketing executives face today. Nearly half of the marketing agencies are scrambling to recruit or reskill digital marketers to bridge the gap.
If you are a digital marketer or aspiring to be one, then don't get left behind. Now is the time to upskill and be as competitive as you can in 2021.
10 Skills You Need as a Digital Marketer in 2021
1. Brand Development
Before you can master the tools, you need to master the skills. Digital marketing is not just about the tools you use but also about using these tools to create the most effective marketing strategies. Just as the hand does not function without the brain's command, digital marketing tools will not bring you far without skilled people behind it.
Hone your brand development skills because it sets the tone for every campaign. It directs where the team is going, how they would get there, and what they would need along the way.
Brand identity is the recognizable public face of a brand. It involves elements like design, logo, and color that aim to stamp the brand in consumers' minds. It also involves the values a brand stands for, how a brand communicates what they offer, and the manner of interaction they have with their consumers.
As a digital marketer, your job is to bring together the concepts of a brand's identity and materialize them in your branding activities and promotions. You need to create campaigns to give the brand strategically you are representing a recognizable personality.
Along with that, you need to bridge that brand successfully to its target market. You need to find ways how consumers can relate with the brand, connect, and build a robust brand-to-consumer relationship.
You can say branding is successful when you can propel a business forward in consumer engagement, sales, and brand awareness.
2. Project and Team Management Skills
Digital marketers often work in teams composed of marketers, sales, creatives, client representatives, and the like. Whether you are handling a big or small project, organizational skills are critical to your campaign's success.
Project management capabilities include directing and overseeing internal and external teams.
Managers must have technical expertise, but they must still be able to get down to the task. They must express complaints effectively and help teams build a cohesive experience.
Project managers need to control their workflow process. They should be comfortable with Trello, Basecamp, or Wrike. Agile development techniques and CMS management frameworks would be required (CMS).
3. Marketing Analytics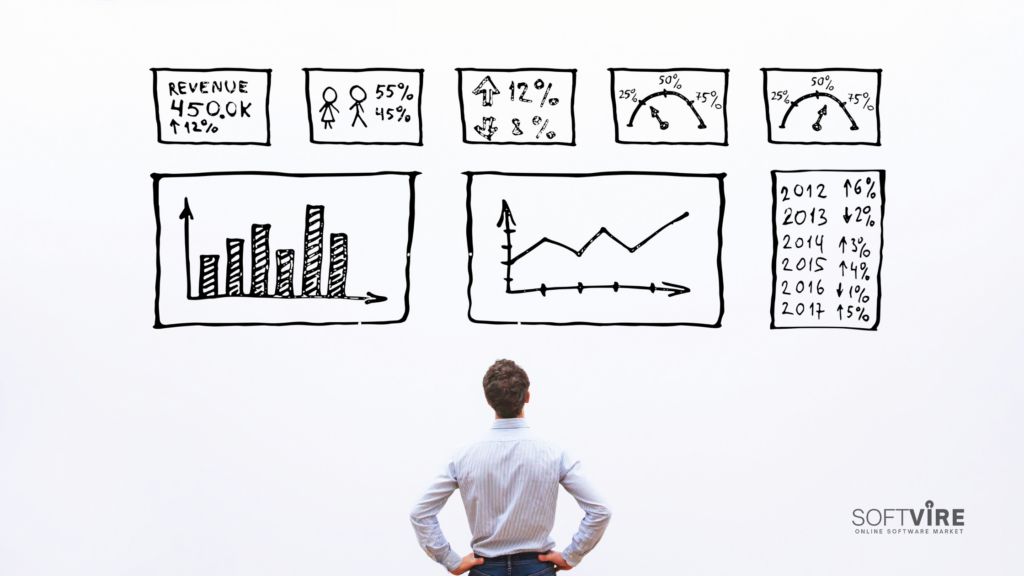 Marketing analytics may sound intimidating, but it's all about measuring, through data, how effective your digital marketing strategies are and discovering new ways of getting better results.
It is essential to grasp analytics better to predict consumer behavior better and provide the best possible user experience (UX). You can turn any raw data into a superb digital marketing action plan to get leads and conversions.
Data is more efficient and readily available than ever before in 2021. Traditional ads relied more on guesswork, but today it's all changed.
Businesses require professional digital marketers who can evaluate data analytics to obtain insights into business growth.
Data cleaning comes along with data interpretation. It's all about deleting wrong, duplicated, or missing database records. As a digital marketer, you need to regularly rid your archive of obsolete, irrelevant data to prevent ineffective business decisions.
4. Competitive Research
In order to succeed in the digital marketing world, one must understand how to conduct competitive research and analysis. This kind of investigation involves identifying a brand's major competitors and researching them to gain a better understanding of their sales, products, and marketing strategies.
Digital marketers need to know how they stack up against competitors. Otherwise, how could they distinguish themselves as the better choice for consumers?
Digital marketers monitor competitors' online ads, set up alerts to follow media coverage of their brands, watch content published by competitors, and develop branding strategies and reports.
These efforts combine to further a single purpose: Ensuring that the brand has the information needed to develop a marketing campaign that frames its products and services as better-suited to consumer needs than its competitors'.
5. SEO
SEO (Search Engine Optimization) is the process of increasing your website's visibility to add traffic to your website. Google has heaps of metrics in its algorithm that judge the value of a website. The algorithm determines the best websites to address user's questions. It is how content marketing will boost rankings.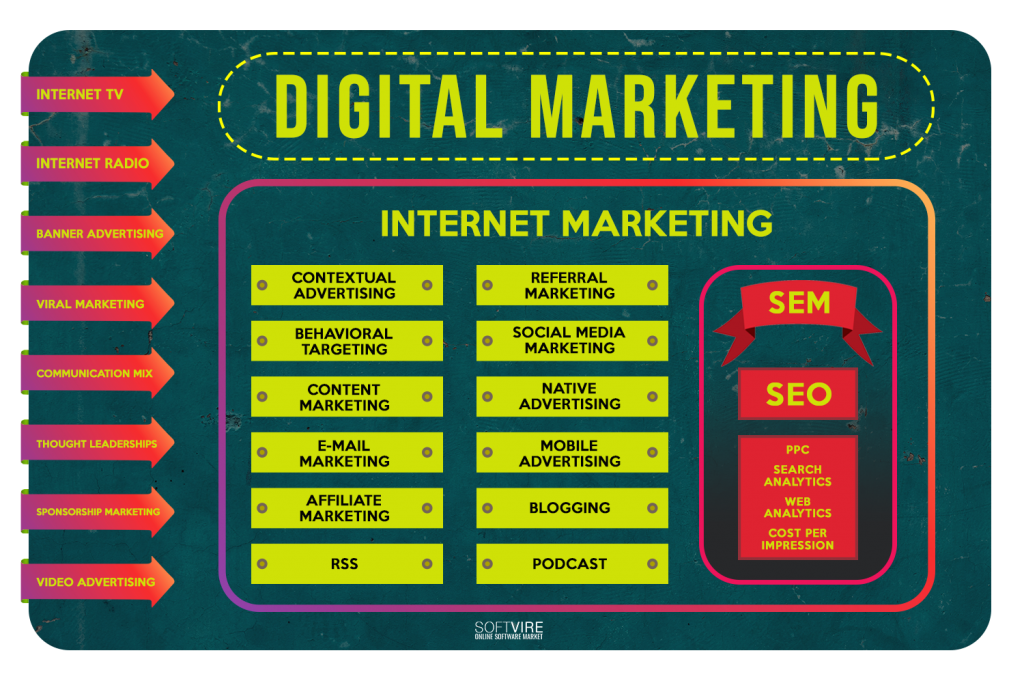 This 2021, the top SEO skills you need to focus on learning involve specialized skills for sitemap building, schema markups, and handling redirects. You also need to be focusing on local SEO even more, as it brings targeted leads and more efficient conversions.
Digital marketers also need to know how to build quality backlinks and analyze site data to improve SEO strategies.
But SEO is not just about technical skills. You also need to brush up on your writing skills to improve on-page SEO like blogs, meta descriptions, titles that rank, tags, and more. A good grasp of User Experience (UX) design is essential to make your site more user-friendly and accessible.
Effective SEO strategies is a way to acquire customers via organic means. Paid ads are promising for sales, but it is best to wean from Pay-per-Click (PPC) ads to more organic ways of getting leads and conversions.
With great content and the technical application of SEO, you will be able to rank in search engine results pages or SERP and bring your website sustainable, lasting growth.
You can use SEO free tools such as Google Trends, Google Analytics and Google Data Studio for analytics, Google Search Console for indexing, Google My Business for local SEO, and optimization tools like Yoast, SEMrush, and Ahrefs.
6. Content Marketing Strategy
Great content tells a great story. Content marketing is a critical skill to go beyond promotion but inspiring customer attention.
You need to learn how to do content research, keyword research, traffic analysis, and competitors' performance. You also have to develop your eye for high-quality content like blog articles, compelling videos, high-quality images, and even engaging audio.
For content to be high-quality, it needs to be strategic and data-driven. If you rely on data, all the more, you can optimize creativity in producing engaging, educational, and compelling content that adds value to people.
High-quality content can bring thrice the leads that PPC ads get, which dramatically improves your company's bottom line.
7. Video Content Making
Video advertisements are now commonplace, thanks to improving digital technology and evolving buyer behavior. It is why video marketing will continue to trend as a critical digital marketing tool for 2021.
The recent world crisis may have caused digital marketing budgets to lessen, but digital marketers prioritize solutions that bring the most ROI.
Video marketing is one of those strategies that effectively improve lead generation, consumer engagements, and conversions. Since more and more people are online, including businesses, organizations, and enterprises, videos give brands an edge across all niches.
Videos are a big part of the consumer's journey these days. As a matter of fact, 86% of businesses use video marketing and will continue to increase to as much as 61% in 2016.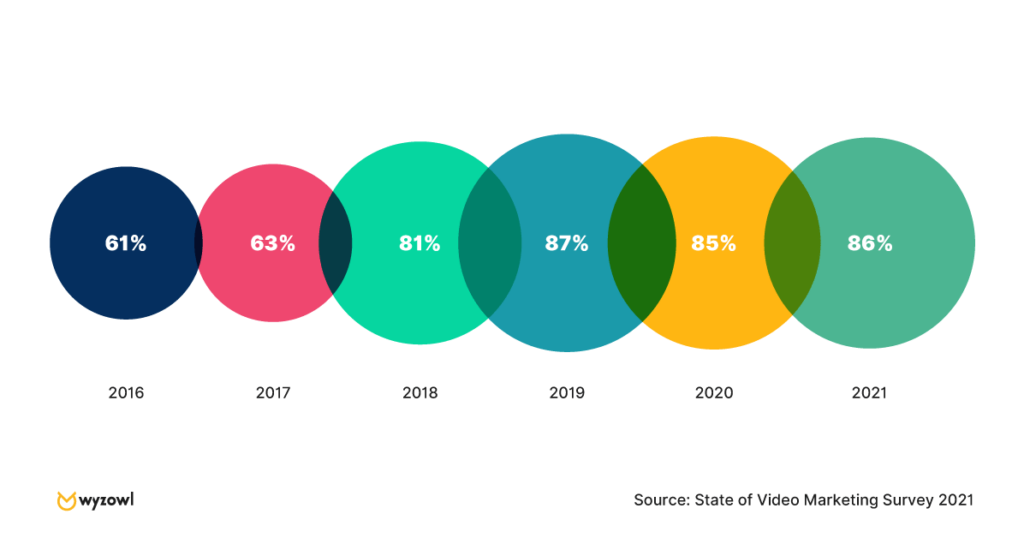 Video increases sales and conversion by 80% wherever it is used. The effectiveness of videos also builds trust among consumers because it engages them and bonds them more with the brand.
In addition, the higher engagements from videos promote the brand even more on search engines. Since Google now owns YouTube, their ranking of videos can affect your search engine ranking.
YouTube is the most popular platform used by 87% of video marketers, followed by Facebook used by 70%. In 2020, the pandemic pushed webinars as one of the most popular and valuable video content.
From less than half of the market using webinars pre-pandemic, the number rose to 62% during the height of the pandemic. Almost all who used webinar video content experienced an increase in engagements, lead generation, and ROI.
For a highly on-the-go generation, video is also the most convenient content type to consume. It appeals to mobile users the most because they can watch videos even when doing other tasks or in transit. Videos can engage even inactive buyers and can generate the most social shares among other content.
Additionally, Google reports that smartphone users are twice as likely as TV viewers to feel a sense of personal connection to brands that use video content.
It is also high;y educational. Thousands of text can be in a minute of video content.
As a digital marketer, discover how to conceptualize, create, and edit videos. Learn new tips and tricks on editing videos so you can fully maximize the use of videos in your digital marketing strategy.
8. UX Design and Web Development
UX or User Experience design is an important skill that digital marketers must also have. It aims to make your website accessible, user-friendly and produce the best possible customer experience.
With good UX design, you can increase your dwell time rate and decrease, even avoid, high bounce rates. If consumers are able to use your site without any glitch or issues, you also boost your chances of landing a sale or making a conversion.
It is why digital marketers must make UX design a priority. You can even draw more new users, increase engagements, user retention, and turn users into loyal customers.
It is crucial that you are able to integrate UX design into your marketing strategies to deliver unique experiences so you can outrank the competition.
You also need to have at least a basic knowledge of web development elements like HTML, CSS, and different coding languages in-demand today. Web design and development skills help you effectively modify and improve your website's frontend and backend functions, and not rely solely on your in-house or outsourced.
You can also identify urgent issues that need to be resolved to boost your site, if you have acuity in frontend and backend web development.
So, learn the best practices for UX design and upskill on your know-how on web development. The goal is beyond making a good first impression with users, but to build a strong one long-term.
9. Artificial Intelligence and Machine Learning
We have only seen the tip of the iceberg into what Artificial Intelligence (AI) can do for digital marketing. In essence, AI is designed to make people's lives better. As this technology continues to grow and improve, digital marketers must be adept in the different marketing tools that are powered by AI.
For instance, AI-powered machine learning models also run a lot of data-centric activities in your web and tools. Digital marketers are taking advantage of AI technologies to spot and catch trends on the web and social media. You can also use AI and machine learning for in-depth and accurate customer research. Ai can also be used for content marketing, web design, UX design, and the SEO process.
10. Customer Data Security and Privacy
There is growing risk to consumer personal information as online transactions become more frequent. We have to protect the privacy of our customers and take care of their data.
After all, a serious breach or violation of data can hurt the reputation of a company for years to come. Only 25% of consumers are confident that most companies handle their sensitive personal data responsibly. According to the poll, 72% of consumers think the government is best equipped to protect consumers from data breaches.
Security in handling consumer data is a top priority if you want to build and keep your consumer's trust. Digital marketers must find the best tools and practices in handling and managing data, and be well-equipped for trends, attacks, and continuous development that comes with the territory.
Conclusion: Hone Your Digital Marketing Skills to Stay Competitive in 2021
There is a plethora of information to help digital marketers learn or develop their technical skills and acuity in marketing strategies.
You must hone your digital marketing skills in all aspects to be truly effective and insightful. Be continually updated with digital marketing developments, marketing tools, and industry experts. 
Do not be afraid to experiment and try out different methods so you learn by doing. It's a great opportunity to learn and thrive in an increasingly more integrated business world.
Recommended Read:
UPCOMING TRENDS IN DIGITAL MARKETING THAT YOU SHOULD NOT IGNORE THIS 2021
10 SKILLS EVERY DIGITAL MARKETER NEEDS IN 2021
5 BEST ONLINE DIGITAL MARKETING COURSES IN 2021
General FAQs
Is Digital Marketing a hard skill?
Digital marketing is no different; it's just that the dialogue occurs over electronic platforms. While the soft skills required for marketing have not changed—communication, curiosity, empathy, for example—the hard skills for digital marketing are slightly different.
Do digital marketers need to know coding?
Understanding code has become a major asset for any job, particularly those pursuing careers in digital marketing. It's time for digital marketers who lack this necessary skill to step up their game.
How important are digital skills?
Digital Skills allow businesses to build customer relationships. Businesses need to respond to changing expectations, engaging with their customers and building relationships through a diverse range of channels – these could include email, social media, mobile apps and more.